NOTICE: THERE IS AN IMPORTANT PIECE OF INCORRECT INFORMATION CONTAINED IN THIS EDITORIAL.  SOUND STAGE RENTAL IS NOT $15K-$30K/DAY BUT RATHER PER MONTH.
A FOLLOW-UP BLOG CORRECTING THIS ERROR APPEARS HERE.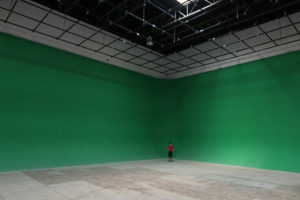 One of the most controversial decisions made during the three-year saga (so far) of AXANAR was the choice to build Ares Studios (now Industry Studios) rather than to just rent a local sound stage in Los Angeles.
In a recent Fan Film Factor interview, ALEC PETERS said that the original plan was NOT to shoot Axanar in Los Angeles but rather to film in upstate New York on James Cawley's Star Trek: New Voyages sets:
I certainly wish we had done what I had originally planned on and shot Axanar at the Star Trek: New Voyages sets. Instead, Christian Gossett–our former director–felt he couldn't shoot at those sets because of the limited space and the volunteer crew. Ironically, Rob Burnett did a beautiful job when we shot the "Heroes" vignette there. You'll see his work as an "extra" when we release Axanar.
If we'd done that, we would be finished with Axanar by now and probably avoided the lawsuit.
Now, I don't claim to know the details of whether the decision not to film on the New Voyages sets was made solely by Christian Gossett or solely by Alec Peters based on Christian's reservations or as a team decision.  But I do know that it changed everything about Axanar and immediately turned it from a fan film that could be made for potentially a couple of a hundred thousand dollars into a fan film that would cost between a half million and a million dollars (or more)…
…even if they'd rented a sound stage.  In fact, BUILDING a studio instead of RENTING one actually saved them money!  Let me 'splain…
Continue reading "It was actually CHEAPER for AXANAR PRODUCTIONS to BUILD a studio than to RENT one!"