Want to help support a fan film or series?  Find a list of active crowdfunding campaign links here.
And if you have a fan film or series with a currently active campaign that isn't listed below, please contact us at news (at) fanfilmfactor (dot) com.
---
RENEGADES: THE REQUIEM post-production funding campaign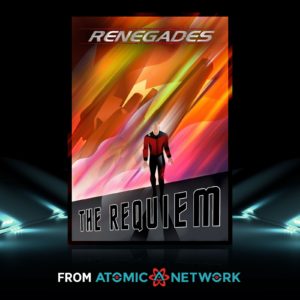 Welcome to our final crowd-funding campaign for Renegades: the Requiem. If you've donated previously, you've seen that we've already released the first half of the film. The donor feedback we've received has been amazing – universal acclaim, and we are so happy that our fans love it. The second half is almost done – shooting is complete, and we are very, very close to completion. But we need your help for one final push to get us to release.
We are seeking post-production funding to expand and finish our visual FX work, and to finish up the audio, mixing and color correction. This campaign will also allow us to add many new VFX shots to enhance the story and dramatically increase the visual production value – if you've viewed part one, you've seen what an amazing job the team has done with the effects! Renegades: the Requiem is so close to public release, and we are eager to offer the dramatic conclusion to the film. Spoiler alert: the Renegades universe will never be the same!
To find out more or to donate, please visit: http://www.atomicnetwork.tv/shop/renegades-requiem-p2-fund/
---
PACIFIC 201 (online "in demand" Indiegogo campaign)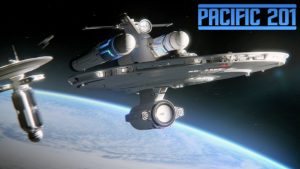 Pacific 201 tackles an unseen era of Star Trek history, telling our idea of how Earth reestablishes itself as a positive interstellar influence after the devastating Romulan War. Forty years have passed since the cease-fire was signed, establishing the Romulan Neutral Zone, and ending the war. But the problems are far from over, as mistrust and a general wariness of the unknown have plagued humanity for years. That era is coming to a close as the children of those who fought in the war are tired of hiding from the galaxy. The time has come for Earth to regain its confidence and make a name for itself in the stars. Those hopes are embodied in the launching of Earth's newest flagship: the Starship Pacific, which will embark on a bold mission towards a mysterious and uncharted region of space.
We've raised many of the funds required to go forward with production, but as much of our budget requires our team to spend a lot out-of-pocket, continued contributions will only serve to make Pacific 201 even better!
To find out more or to donate, please visit: Indiegogo crowd-funding campaign page
---
Electron Blade – Independent TV Pilot
Tommy Kraft, creator of Star Trek – Horizon, a Star Trek fan film garnering over 5.5 million views on YouTube, has teamed up with actress and writer Callie Bussell in creating quality science fiction, forming their company TK2 Films.
After years of cultivating a friendship, Tommy and Callie bonded heavily over dealing with unrelenting mental and physical health issues. Electron Blade started as a seed of an idea, and flourished under their necessity to find meaning in what often felt like a meaningless existence. As the themes in the story will show, it became their hope in the face of despair. After a winter's worth of writing, rewriting, rerewriting, casting, creating, and growing their team of talented individuals, everything has fallen into place, except one thing: the funds to make it happen.
The Electron Blade Universe, called Fal'Rath, is a persistent universe spanning across multiple media genres including graphic novel, television, film, music, and novelization. In building this universe from the ground up, all of the media will heavily interconnect, sharing multiple characters viewpoints, and uncovering pieces of Fal'Rath's history and mystery layer by layer.
Though Tommy and Callie have quite a bit of experience making something from nothing, this project is bigger than anything they've done before. From renting a studio, to hiring their electric team, and most importantly paying their actors, designers, and crew, the money they earn will be spent on hiring the talent to truly grow the project. Of the $60,000 they are asking for, not a cent of it will reach Tommy or Callie's pockets. Even if they don't earn the whole budget, they're still going to do everything in their power to bring this project to life.
To find out more or to donate, please visit: https://www.indiegogo.com/projects/electron-blade-independent-tv-pilot/x/11427109#/
---
Melbourne: Balance of Terror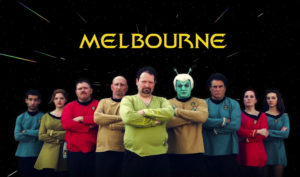 Thank you so much for all your help and support on getting our first film "Storm Front, part 1" out.
---
THE CIRCUIT: A Sci-fi Anthology Series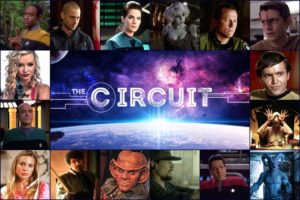 10 Sci-fi Stories, 10 sub-genres, 1 Location.
"The Circuit" is like "Black Mirror" or "The Twilight Zone" except each seemingly unrelated episode is a piece of a deeper story line.
Each episode takes place in the enormous city of 'Urbiessa', a cross between "Metropolis" and "Gotham" and will concentrate on a specific sub-genre such as Sci-Fi Action, Sci-Fi Mystery, etc…
These stories are in the capable hands of 10 amazing directors, a group of talented star actors, a professional crew, and of course the incredible FANS that will collaborate and work side by side with us to energize each story.
The purpose of this Kickstarter is to finance the very first episode of "The Circuit" anthology. Help us make an incredible episode, and maybe more! It's up to you!
We have a fantastic group of actors who are all excited to be a part of "The Circuit". They are icons of sci-fi, fantasy, superhero, and horror. Here are some of them, in their most famous roles.
This is the full list of the actors that are on board so far:
Walter Koenig (Star Trek)
Tim Russ (Star Trek: Voyager)
Gigi Edgley (Farscape)
Robert Beltran (Star Trek: Voyager)
Armin Shimerman (Buffy the Vampire Slayer, Star Trek: Deep Space Nine)
Terry Farrell (Star Trek: Deep Space Nine)
Robert Picardo (China Beach, Star Trek: Voyager, Stargate Atlantis)
Ethan Phillips (Star Trek: Voyager, Benson, The Island)
Valerie Leslie (The Paranormal Hour, 5th Passenger)
JG Hertzler (Star Trek: Deep Space Nine)
Robert O'Reilly (Star Trek: The Next Generation)
Corin Nemec (Stargate SG-1)
Hana Hatae (Star Trek: TNG/DS9)
Rob Archer (Lost Girl, Pixels, Kick Ass 2)
Jai Koutrae (Death's Requiem)
Mindy Robinson (V/H/S/2)
Olivia D'abo (The Wonder Years, Conan The Destroyer)
Cody Saintgnue (MTV's Teen Wolf)
Doug Jones (Hellboy, Star Trek: Discovery, Pan's Labyrinth)
Miltos Yerolemou (Game of Thrones, Star Wars: The Force Awakens)
Manu Intiraymi (Star Trek: Voyager, One Tree Hill, J. Edgar)
and many more to be announced!
To find out more or to donate, please visit: https://www.kickstarter.com/projects/836297110/the-circuit-urbiessa?ref=nav_search
---
Relativity Speaking – A Star Trek Fan Production
To find out more or to donate, please visit: https://www.indiegogo.com/projects/relativity-speaking-a-star-trek-fan-production/x/11427109#/