Want to help support a fan film or series?  Find a list of active crowdfunding campaign links here.
And if you have a fan film or series with a currently active campaign that isn't listed below, please contact us at news (at) fanfilmfactor (dot) com.
---
RENEGADES: THE SERIES (online "in demand" Indiegogo campaign)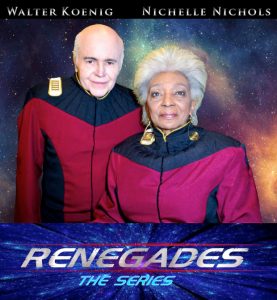 You can help fund post-production on the groundbreaking Renegades 2-part episode "The Requiem."  Originally titled Star Trek: Renegades, the fan series chose to remove all references to Star Trek when the new fan film guidelines were announced by CBS and Paramount.  But it still features Walter Koenig as "the Admiral" (and we all know which one) as well as Nichelle Nichols, both of whom will be giving their iconic characters a well-deserved swan song…even if we can't call those characters Chekov and Uhura.
Renegades is now an original, independently fan-funded sci-fi web series, executive produced by Sky Conway and directed by Tim "Tuvok" Russ.  In addition to Walter Koenig and Nichelle Nichols, the production stars Tim Russ, Adrienne Wilkinson, Terry Farrell, Robert Beltran, Gary Graham, Cirroc Lofton, Aron Eisenberg, Manu Intiraymi, Hana Hatae, Bruce Young, and many more.
They are currently finishing production on "The Requiem" parts I and II and are now in need of funding for post-production – editing, sound, visual effects, etc.  They need $150,000 for post production on both episodes and raised $120,000 during the initial campaign phase.  However, since they surpassed their stated goal of $60,000, they are still up on Indiegogo as an ongoing "in demand" campaign.
To find out more or to donate, please visit their Indiegogo crowd-funding campaign page.
---
PACIFIC 201 (online "in demand" Indiegogo campaign)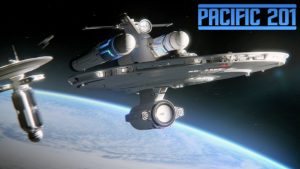 One of the most eagerly anticipated fan films to come along in a while, Pacific 201 is one of those "in between" time period pieces, bridging the gap from the end of the NX-01 era and the dawn of Kirk's 5-year mission.  And unlike the upcoming Star Trek: Discovery or Prelude to Axanar, both of which look at the period only a decade or two before Kirk, Pacific 201 is set smack dab in the middle of the gap.  From the description on their crowd-funding page:
Forty years have passed since the cease-fire was signed, establishing the Romulan Neutral Zone, and ending the war. But the problems are far from over, as mistrust and a general wariness of the unknown have plagued humanity for years. That era is coming to a close as the children of those who fought in the war are tired of hiding from the galaxy. The time has come for Earth to regain its confidence and make a name for itself in the stars. Those hopes are embodied in the launching of Earth's newest flagship: the Starship Pacific, which will embark on a bold mission towards a mysterious and uncharted region of space. 
Even with little money to work with at first, the costumes, sets, and visual effects (especially the starship design) still impressed and excited fans.  Now, with more funding under their belt, thanks to a successful Kickstarter campaign that ended in September of 2015, Pacific 201 designed and built even better costumes and sets and has begun filming.
Hoping to follow the new fan film guidelines from CBS and Paramount, Pacific 201 has set up a new Indiegogo crowd-funding campaign, which surpassed their $20,000 goal at the end of July 2016 and is trying to reach the full $50,000 allowed by the guidelines.  (Technically, they can reach $100,000 if they film a 30-minute production in two 15-minute parts.)  It's definitely a fan project worth checking out and supporting if you can.
To find out more or to donate, please visit their Indiegogo crowd-funding campaign page.