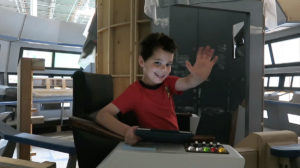 This past Saturday, my son Jayden and I drove to Industry Studios in Valencia to help pack up the Axanar Productions items for a move east to a new production facility in Atlanta, GA.
It was a sad day for me because I really loved Industry Studios.  I'd loved watching it evolve from a stark, gutted building with no individual offices and a huge, echoing warehouse with loud concrete floors…into what looked like (to my eyes, at least) a high-end Hollywood studio and sound stage.
Jayden and I had watched for months with excitement as piles of stacked wood were cut, molded, and sculpted by industry professionals, slowly morphing into a starship bridge, a turbolift, a transporter, captain's quarters, and a Klingon bridge.
Even though my visits weren't particularly frequent, I still felt as though I were a part of Ares Studios (later renamed Industry Studios)—helping to fund it, volunteering to do everything from carrying carpet rolls up the stairs to assembling IKEA furniture, and even sorting and packing perks.  I watched all the work that went into making the dream of a studio dedicated to Star Trek fan film-making (not just Axanar) grow and take shape from basically nothing into a facility that fans could be truly proud of.
I can already hear the detractors typing feverishly about the hubris of starting a "for profit" studio based on donations obtained from unapproved use of copyrighted material owned by a Hollywood studio.  And I'm sure others out there are already halfway done with comments about the folly of signing a 3-year lease on a location with a $12,000 monthly rent when all Alec Peters ever needed to do was make a simple fan film, not build a full sound stage!
All are fair points when viewed with 20/20 hindsight—and all are arguments made and countered hundreds of times over.  But that's not what I'm here to talk about today.  Instead, I want to give you a tour of Industry Studios…
Continue reading "A FAREWELL TOUR of INDUSTRY STUDIOS! (editorial and video)"