I'm sure that Alanis Morissette would appreciate the irony.  After years of accusing ALEC PETERS of lying (and a host of other evil deeds), one prominent detractor actually lied about flying to Georgia and attending Axacon this past weekend.
SHAWN P. O'HALLORAN is one of the three admins for the Axamonitor Facebook group, one of the main hang-outs for Axanar detracting.  If you're not familiar with just how negative they can go, while I'm loathe to send anyone there, take a look at how they reacted to photos of the bridge that they all said would never be completed.  Sour grapes have seldom been so sour.
But the detractors hit a new low when Shawn O'Halloran PRETENDED to go to Axacon and then lied about what he saw and did there (since he wasn't actually there).  How do we know he wasn't actually there, and how did he try to make us think he was?  Sit back, my friends, and watch how the hoax unfolded…
As you might remember, Alec Peters made it known that Axanar detractors would NOT be welcome at Axacon.  The event was intended to celebrate Axanar and be enjoyed by those who shared a love and support for the project.  There's no reason to play host to those who spend way too much of  their time and energy trying to belittle, bemoan, besmirch, and bedevil the efforts of those involved in Axanar.  As the comments I linked to above demonstrate, the detractors just can't allow Axanar fans to feel excited or proud without trying to find something discouraging and nasty to say.  So sorry, Shawn, but you wouldn't be invited to the party.
Shawn took that as a dare and decided to surprise everyone by buying a plane ticket from Las Vegas (where he lives) to Atlanta, and posting this "update" to the Axamonitor Facebook group on Friday morning…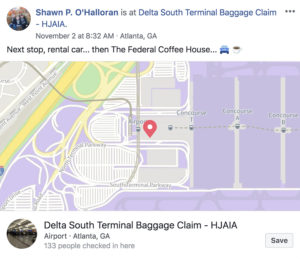 This raised a few eyebrows, to be sure.  "Is Shawn really coming to Axacon???"  "Does he think he'll be let in?"  "Is it possible to fake a status update like that on Facebook?"  (Yes.)
The best comment, though, came from Alec's girlfriend CRYSSTAL HUBBARD…
Shawn has said on Facebook that he's got two mortgages.  So he says to his wife, "Honey, I'm gonna spend a thousand dollars of our money on plane fare, car rental,  and hotel rooms stalking another man for three days while you stay home and take care of our three kids…alone.  Okay?"  Yeah, uh-huh.  Right.
Shawn's hoax was confirmed a couple of hours later when he posted the following update, allegedly from the Federal Coffee House, which Crysstal is a part-owner of…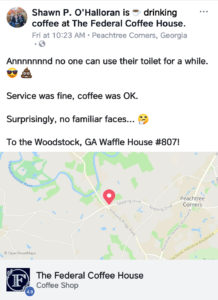 Such class!  Shawn is a special kind of special.
Crysstal called up Sophia, who was working the counter, texted her a photo of Shawn, and asked if he'd just been in the shop.  Nope.  So at this point, it was just a fun waiting game for us to see how far Shawn would take this little ruse.
Apparently, he took it all the way to Woodstock, GA—about an hour's drive away (at that time of the day)…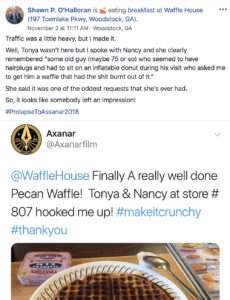 Notice from the time stamp that Shawn made the hour-long trip (with some heavy traffic, no less) AND managed to have a full conversation with Tonya in less than 48 minutes.  Must have done a slingshot around the sun on the way.
These periodic travel updates would have been amusing if they weren't so filled with venom and vitriol against Alec and Axanar (which Shawn is now calling "Assanar"—any wonder why he wasn't invited to join in the fun?).
The next "stop" for Shawn was a nearby Wendy's which Alec had apparently complained about on Yelp.  Obviously, yet another chance to bash Alec—and why not get in a dig about the Axanar patches while you're at it, Shawn…?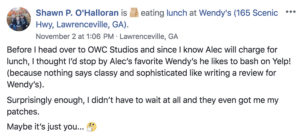 Of course, Shawn couldn't keep this deception going and actually claim to have shown up at OWC Studios for the set tour, right?  After all, there would be countless photos and videos proving he wasn't there.  So Shawn later posted that he had not been able to find OWC Studios, and threw in a couple of conspiracy theories because the detractors love meat that is red and juicy (even if it's rotten)…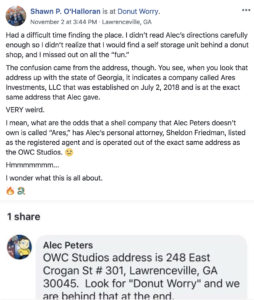 After reading that, the words "Yeah, Shawn, whatever…" go through one's mind along with the sudden realization that "Shawn" rhymes with "yawn."  But moving on…
Later, "back at the hotel" where Axacon and SphinxCon were being held, Shawn posted this photo of the bar area (proving he was there?)…
As you can see from the comments, the detractor peanut gallery was buying the story hook, line, and sinker.  Those of us born with more than half a brain, however, might have noticed that Shawn wasn't taking any selfies.  It's not like he doesn't know how…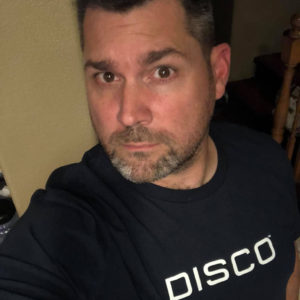 Or maybe he could have just asked CARLOS PEDRAZA to take a photo of him.  After all, Carlos was there at the hotel (yeah, folks, he ended up coming and not wasting his plane ticket after all).  Carlos hung around the whole weekend, and was even invited by Alec to attend the final Axacon panel.  Want proof?  Unlike Shawn, I got a photo of me with Carlos…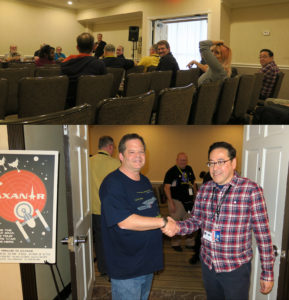 While I don't know for certain, I suspect Shawn got his photos of the hotel from Carlos.  But if Shawn had actually been there, I'm pretty sure he and Carlos would have gotten together.  It wasn't that big of an hotel, after all, they both have cell phones and are Facebook friends, and poor Carlos was eating dinner all alone on Saturday night in the hotel restaurant.  Were Shawn there, I'm sure that Carlos would have welcomed the company of a fellow Axamonitor Facebook admin.  As it was, we almost invited Carlos to come to the Axanar dinner with the group on Saturday night, but with the bad blood between Carlos and author DAVID GERROLD (I am really not sure what that's all about), Alec felt it better to not create an awkward situation for the guests.  So Carlos missed this…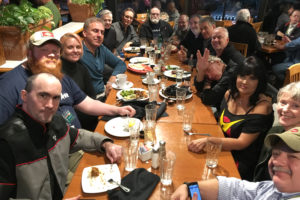 …and probably would have been quite happy to share a meal with Shawn (if Shawn had actually been there).
I even chatted with Carlos about Shawn's elaborate hoax later on Saturday night at the bar.  (Yes, Carlos and I can talk civilly with each other.  He's actually quite charming and very intelligent.  It's his magical poison keyboard that I've got a problem with.)
Anyway, I said to Carlos, "What's the deal with Shawn and this whole fake trip to Atlanta?"  Carlos didn't try to convince me that, no, Shawn was actually here.  He's too smart to think I'm that dumb.  (And anyway, Carlos knew that, had he tried to convince me this wasn't a hoax, I'd have called him on it and suggested that Shawn join us all at the bar—STEVEN JEPSON and LEE QUESSENBERRY were with me during the chat.  Heck, we'd even buy Shawn a drink!)  So yeah, best not to try to hide the obvious.
Instead, Carlos answered that Shawn is just trying to bait Alec, and Alec should simply ignore him…and so should I.  It's not worth the effort to give Shawn the satisfaction of confronting him.
"But really, dude," I said, "this is just begging for a blog!  I mean, 'Prominent detractor lies about coming to Axacon!' is such an obvious headline.  Why give me an easy lay-up like this?"  Carlos didn't have an answer.
Shawn even posted this ridiculous comment after I (and dozens of others) had published photos of the USS Ares bridge set…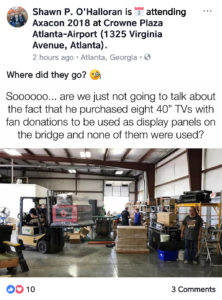 Why would Shawn say that none of the 40″ TV monitors were used when hundreds of photos like this one existed…?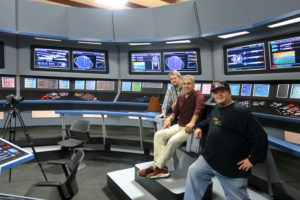 The answer can be found on that Axamonitor Facebook link I included at the beginning of this blog.  Look at those photos in the posted comment.  The camera wasn't able to grab the monitor displays from the angles and distance it was shooting from, and so they appeared black.  Obviously, other photos uploaded later by others (like me) didn't have that problem.
"So, Carlos, why let a post like that stay up unchallenged when it's obviously been proven to be false?" I asked him, referring to Shawn's claim about the monitors not being used.  "It's just making you all look bad."
"It's not making me look bad." Carlos replied.  "I didn't write it."
I sat with that answer for quite a while.  Do the actions of one detractor reflect badly on all detractors?  It's an interesting question to ponder.  After all, Carlos is correct that he didn't actually write the comment.  But he didn't correct it either.  I'm constantly correcting people!  Yeah, it's usually the detractors, but just last week, I corrected a person who posted a comment suggesting that James Cawley built his upstate New York TOS sets with fan donations.  That's not true.
I just hate disinformation and deception.  I hate it from detractors, and I hate it from any Trek fan.  I hate it from Republicans and I hate it from Democrats.  If the truth isn't strong enough to prove your point and you must obfuscate and deceive in order to "win" your argument, maybe—just maybe—you might not be right in the first place?  Hmmm…
Which brings us back to Shawn and his comment.  Not one detractor challenged him publicly on the claim that the 40″ TVs weren't being used.  And it's not like Shawn is just some low-level detractor foot soldier.  He's one of three admins of the Axamonitor Facebook group…a group born from a blog of the same name written and maintained by Carlos himself, who is also the main admin of the group.  So maybe Shawn's comment and elaborate hoax doesn't make ALL detractors look bad, but it certainly reflects badly on Carlos, don't you think?
I suspect Carlos realized this, as a few hours after our conversation at the bar, Shawn posted this little "retraction" (which, as you can see, was more of a detraction)…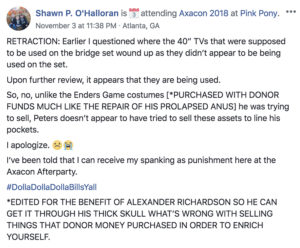 Of course, at no point did Shawn ever admit that he wasn't in Atlanta this past weekend, that it was all a hoax, and apologize for trying to deceive everyone.  Nor is he likely to.  I'm sure he'll shake his fist and swear up and down that, yes, he did go to Atlanta and that the person at the counter at the Federal Coffee House lied about not seeing him there….and that the traffic wasn't that bad and he made really good time on the way to that waffle restaurant…and that he and Carlos were both just so busy that they never got together for dinner…and on and on.
Either that, or he'll say, "Of course I didn't go to Atlanta, Slow Lane!  Why would I pay money to watch a group of nerdy losers spending 3 days congratulating each other for throwing away their money on an incompetent asshole who [insert endless stream of accusations here]?  No one really believed I ever went to Atlanta!  It was obviously a joke, and yet you wasted a whole blog obsessing over it!"
Yeah, sure it was always a joke, Shawn.  Sure, it was…
Either way, Shawn loses this round big time—not just because he tried to fool everyone (or prank everyone, depending on which excuse he goes with) but because he felt he needed to do this whole Kabuki dance in the first place.  It means he's losing.  He's got a weak hand, and he's running out of chips.
Axanar is rising…like a phoenix from the ashes.  And the more we go high, the lower the detractors seem to be sinking, and the more of them are just giving up or leaving the group in disgust.
Everything that Alec and his team accomplish proves the detractors to be more and more wrong.  The bridge set they promised would never be completed is pretty much done (and now they're changing the argument to "well, it took too long!").  The actors whom they said would never work with Alec Peters again are back, signed, and ready to film in the next few months.  The director they said Alec would never find after ROB BURNETT left is ready and eager to start shooting.   The donors and supporters whom the detractors promised would desert the sinking ship are still here and starting to feel that familiar electricity and excitement all over again.  Already, after just three days, my first Axacon blog (with photos of the bridge set) has already been viewed nearly 4,000 times!  And almost all of the two dozen comments are positive (except a couple from detractors, of course).
The Axanar mini-convention they swore would never happen just wrapped up and was a huge success.  I'll be posting some blog coverage of the event over the next few days, and you'll all see what a great time it was. Sure, only a few dozen people were there, but it was all filmed for those Axanar supporters who couldn't make it.  So eventually, the "attendance" at Axacon will swell into the thousands as folks watch those videos and experience the fun for themselves.
It's said, "When they go low, we go high."  Well, Axanar went really high this past weekend, and Shawn O'Halloran went really low.  They haven't got much else left beyond their tired old accusations (Shawn yawn), insults, conspiracy theories, and predictions of failure that are falling one after the other like dominoes.
In the end, Shawn's and the detractors' comments are best summed up by William Shakespeare:
…it is a tale.  Told by an idiot, full of sound and fury.  Signifying nothing.
#AxanarRising