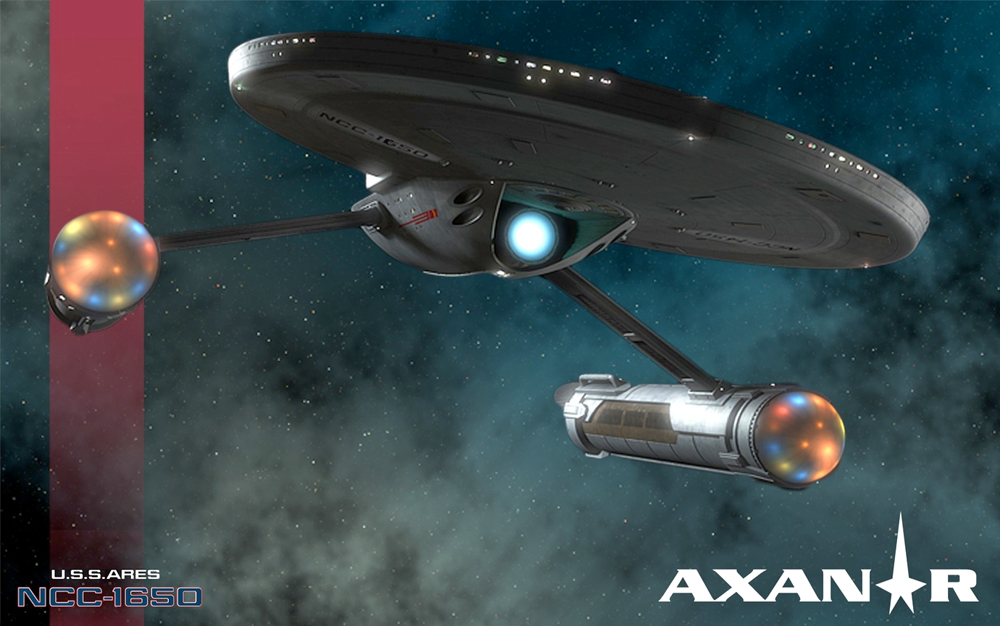 I want you to imagine having a stalker…the kind of stalker who watches your every move in an effort to ruin your life…who goes through your personal and business records looking for ways to hurt you and your closest friends both professionally and personally. Like Arnold Schwarzenegger's Terminator, this stalker will not stop. Day after day, month after month, year after year…he just keeps coming.
This stalker is also a moron, but I'll get to that in a moment.
Last week, I reported on a possible hacking attempt into ALEC PETERS' YouTube account and suggested that the prime suspect(s) was/were one or more of the AXANAR detractors who are laser-focused on sabotaging Alec and the Axanar fan project.
Man, did the detractors jump down my throat on that one…
"You have no proof!"
"Where's your smoking gun, Slow Lane?"
"You owe us an apology!" (Wait, after you guys have called me every name in the book for nearly three years, I owe you an apology???)
Anyway, this time I not only have a smoking gun, I've got the full confession, courtesy of Alec's stalker extraordinaire, SHAWN P. O'HALLORAN (the aforementioned moron…and I'm not using "moron" in a pejorative name-calling way; as you'll discover shortly, he is truly lacking in intelligence in his chosen profession).
Okay, obviously we need a little background information first…
Back in September, Alec Peters was served with a lawsuit (yep, another one), this time from HeroProp, LLP and a woman named Tiana Armstrong. There's no need to analyze the lawsuit in depth this time because this one is pretty simple.
Alec was involved in a business deal with Tiana whereby he offered to put her into contact with the owner of the model of the USS Enterprise-E from Star Trek: First Contact. Tiana had a buyer interested in purchasing the item. If Alec could help broker the deal, she would give him 1/3 of the profit.
Alec felt he had held up his end of the bargain but was never paid. Tiana felt that he'd failed to deliver, and she had to use other means to contact the owner and convince him to sell. Alec's lawyer issued a demand letter, which is a necessary pre-cursor before suing for unpaid fees (something Alec intended to do).
Before Alec could file a lawsuit, however, Tiana and her company, HeroProp, LLP, sued Alec first. For money? No. He didn't owe them anything. But they did want the judge to make what is known as a declaratory ruling. In short, Tiana wanted the judge to agree that Alec dropped the ball and wasn't owed anything…and to state that as an official legal ruling. If that happened, Alec wouldn't be able to successfully sue Tiana for his portion of the profit.
Alec has since filed a counter-claim, and the matter is working its way through the courts in Nevada, currently in the discovery phase.
Do you know who else lives in Nevada? Yep, the stalker-moron, Shawn.
Now, most of us—and indeed, even most of the Axanar detractors—would probably just stay out of any legal matter involving Alec Peters. We might watch from the sidelines, that's fine. But why would we ever insert ourselves into someone else's lawsuit…especially in an attempt to sabotage one of the parties? I mean, isn't that crossing a huge red line? Isn't that going beyond obsession into social dysfunction?
As I said, most of us.
Apparently, Shawn used to be a paralegal. And since Shawn's the name, and stalking is the game, Shawn naturally pulled from Georgia public records any and all information he could on Alec, his businesses, and the purchase of his house in Lawrenceville, GA.
Huh?
Yep, this is some serious stalkin' here, folks! Shawn did a deep dive to discover that Alec had transferred ownership of his new home from himself to one of his companies. This isn't unusual. Many people of means do the same thing for tax reasons (having an LLC own the property allows its value to depreciate over time and lessens the taxes paid when selling for a profit years later). In fact, Alec did it years earlier when he transferred ownership of his previous house in southern California to one of his companies.
For Shawn, however, he smelled blood in the water and a chance to do some serious legal mischief. On January 8, 2019, Shawn posted this to the Axamonitor Facebook group…
As you may recall, during my virtual tour of Axacon, I mentioned that the address given for OWC Studios (now Ares Studios) was coincidentally the same address given for Ares Investments, LLC, a company that coincidentally has Sheldon Friedman (Alec Peters' longtime Atlanta area attorney) as the registered agent, because, duh... it's one of Alec's MANY shell companies.

As you may have guessed, there was a reason I brought it up.
Since, it's all a matter of public record, now, I'll explain.
In late October, I was doing some deep research on the fee-based Georgia Superior Courts website and I inadvertently came across, not one, but TWO records of sale for Alec's new house in Lawrenceville.

Crazy as it sounds, Alec sold his house about two weeks after he was served with the lawsuit by Hero Prop/Tiana Armstrong to Ares Investments, LLC for the whopping price of...

<<<<drumroll>>>>

$0

That's right, $0.

Folks, selling/transferring your assets under these circumstances is illegal when you are being sued.

It's called fraudulent conveyance/transfer.

It's not a criminal matter but it is prohibited by statute in every state.

Since Peters was sued in Nevada District Court, I've provided the relevant statute accordingly.
Shawn then quoted the statue, which you're welcome to read here, before finishing up with…
Of course, this information was forwarded to the interested parties/attorneys at the time it was discovered and despite how Alec and Precious Lane will try to spin it, it is most definitely illegal.

This is the ethical Alec Peters at work.

I wonder what other assets were sold to Ares Investments, LLC for $0. 🤔

Below are the documents from the GASC (with the address redacted by me because I don't dox people) and you can confirm who the "new owner" is with the Gwinnett County Assessor's Office website.

Oh, and BTW, Alec, since I know you're reading this, research is just one of the many skills that even a FORMER paralegal (you know, that profession that you belittled the other day) excels at. Who knows what else I'll find... or have found already.
Okay, first things first. Let me explain why Shawn is a moron. After all, this sounds really smart, right? Well, not if you're a former paralegal, went to law school, are married to a lawyer, or have half a brain.
While the statute says that you can't transfer or hide assets if you're being sued for MONEY, Alec is NOT being sued for money. So, Mr. FORMER Paralegal, the statute doesn't apply. Alec is being sued for declaratory relief. The worst that happens is the judge hands him a piece of paper saying, "Sorry, you can't sue this woman." Also, the fact that Alec did the same transfer of ownership with his previous home (NOT while being sued) suggests that there is no nefarious attempt to hide assets going on.
So yeah, unquestionably a moron…at least in a legal sense.
---
But let's pause for just a moment and reflect upon what Shawn did.
There is so much hatred and malevolence for Alec Peters, that Shawn was willing to pay money to research and rummage through both Alec's business and personal records, fishing for some kind of dirt. Again, imagine if you had a stalker doing that to your finances? Scary right? Wouldn't you be pissed? I'd be furious!
But Shawn didn't stop there. He took what he found and directly contacted the party suing Alec. I mean, seriously…has it come to this for the Axanar detractors? Are they this desperate for a "win"? And ask yourself: at this point, what could possibly be next???
And lest you think it's just one rotten apple, just read down the 100-plus comments and replies under Shawn's post. Dozens of other detractors are actually cheering Shawn on! They are arrogantly gleeful and sadistic at the thought of bringing hurt and ruin to one guy over…what?…a Star Trek fan film!!!
Oh, sure, the detractors will post that it wasn't just a fan film and start listing the standard litany of accusations and complaints about everything from sushi to tires to ruining fan films forever.
But I've said it before, and I'll say it again: isn't it time for Captain Ahab to just let the whale go?
---
I'm sure some of my readers will ask why I'm wasting time on the detractors yet again? Honestly, folks, I wish I didn't have to keep doing this. Obviously, Shawn likes the attention, and I seriously considered not writing this blog for that very reason. Why give him the satisfaction?
But the fact is, I'm not really writing this blog for the detractors or to change their minds. This blog (and others like it) serves two purposes:

1) It cements for the Axanar faithful the reasons WHY we are faithful and stand behind Alec. Axanar supporters are truly GOOD people. Detractors are not. You can see it in toxic behavior like this.
2) These blogs also speak to those "on the fence." People hear ridiculously negative things (mainly from the detractors) about Alec and Axanar…and sometimes they even believe it. But a blog like this shines a light on those who speak the words of venom and vitriol. Shawn and others illustrate to the fence-sitters just how low and unworthy of trust most of the detractors are. None seems willing to take a stand against the stalking and sabotage, harassment and abuse. Instead, they pat themselves on the back for it.
These despicable actions by Shawn and others cross so far over the lines of decency and acceptability that they make the choice to support Alec Peters essentially into a no-brainer. All I need to do is just let people know.
And so I blog.