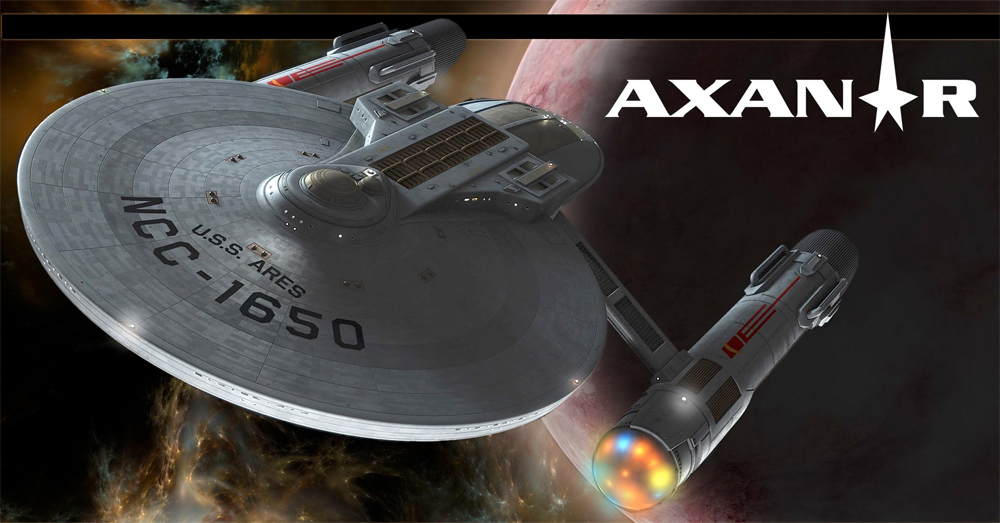 Yesterday, I called SHAWN P. O'HALLORAN a moron and a stalker. Shawn didn't like that at all. In fact, he got so upset that he wrote an 800-plus word Facebook response, culminating in the following hysterical rant…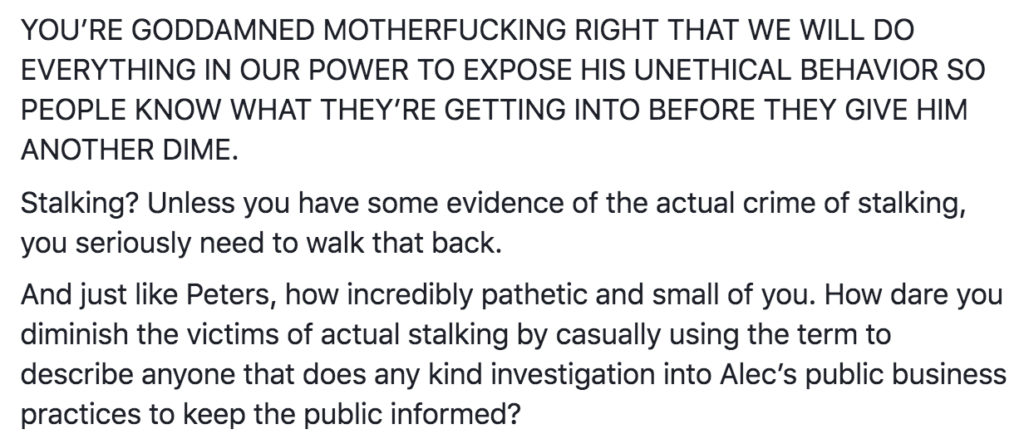 Please excuse the vulgarity. I felt it necessary to show how off-the-handle Shawn had flown.
Unfortunately, the saddest part is that Shawn has COMPLETELY missed the point of yesterday's blog. Whether he wants to face the truth or not, Shawn P. O'Halloran IS a stalker—at least according to this definition on Wikipedia:
Stalking is unwanted or repeated surveillance by an individual or group towards another person. Stalking behaviors are interrelated to harassment and intimidation and may include following the victim in person or monitoring them.
That's almost word-for-word what they (the detractors operating individually and as a group) do to ALEC PETERS. Looking though his records (public or not), analyzing his business dealings, even following him around at conventions and live-streaming him and his girlfriend…that is MONITORING. Heck, the Facebook group is even named for the blog site: AaxMONITOR!
In Shawn's case, the obsession with Alec has become socially demented and dysfunctional. I mean, Shawn spent his own money to research Alec Peters' business records and even whether or not Alec owns his own house!
What normal person does that?
It's not like Shawn is a journalist working on an article (Carlos Pedraza claims that alleged distinction). Shawn doesn't work for law enforcement or the plaintiff's law firm. He's not a private investigator. He's just some obsessively weird nobody from Las Vegas who can't stop writing about, ridiculing, and prying into the professional and private life of some guy in Georgia. In other words: a stalker. (Victims of stalking don't necessarily have to be famous or beautiful or even women.)
Of course, Shawn says his primary goal is to "keep the public informed" before they give Alec any more money. But that's essentially bull poop. Shawn's true purpose is intimidation and harassment, as shown here in Shawn's original post announcing his "deep research" into Alec…

Sounds so ominous, right? Almost like a threat. And Shawn thinks he's not a stalker. You wanna tell him or should I? Oh, wait…I am telling him.
If Shawn's true intent were simply to "inform the public," then he would have informed the public. Instead he contacted the people who are suing Alec Peters in an attempt to sabotage Alec in a lawsuit against him. "Informing the public" my ass!
The rest of the detractors, of course, lined up to defend Shawn like—do I dare say it?—sycophants…attacking Slow Lane (or apparently now I've graduated to "Precious" Lane…lucky me!) in every way they could and trying to somehow justify Shawn's stalking.
They also tried to deflect the narrative by focusing on something that was not me calling Shawn a stalker but calling him a moron. (Heavens forbid the bullied insult the bully, right? The nerve!)
They focused on me leaving out that Alec was being sued not just for declaratory relief but also for $15,000…as if somehow me getting that wrong and using it to call Shawn a moron erased or negated his behavior as a stalker.
As it happened, I had been given a copy of the original lawsuit filed against Alec Peters back on September 27, 2018, which I kept in my records. At the time I was first given it (confidentially), the plaintiffs had not yet re-filed a second complaint on October 9, adding in a claim for $15,000 for defamation. I was unaware of the second filing. So yes, I do apologize for publishing the incorrect information yesterday about the lawsuit.
But I am standing firm on the moron part. That's an opinion on which I have 100% certainty because Shawn still doesn't understand how the law works—despite being a "former paralegal."
To wit…
During the flood of comments to yesterday's blog post came this one from one of my readers, SCOTT HEDRICK, regarding Alec's transfer of property:
Illegal? Not only is it not illegal, it's highly common. It's not even illegal when being sued for money, since the transaction can be reversed. Indeed, that's why a lis pendens is filed before suing for money, because it puts buyers on notice that the property is subject to a lawsuit.
One of my jobs involves preparing legal documents, and the number of customers who see something like that and think they have a smoking gun and then argue with me is legion. They really want X, and don't want to hear that they have not in fact found the magic word that will make the court bow before them and give them what they want.
Alec himself later pointed out to me the following…
Remember, in order for Shawn's fantasy scenario to come to pass, I would have to lose my ENTIRE case of multiple counts of fraud and tortious interference with a contract (I am suing her for $400,000). She would have to win a dubious defamation claim over a Facebook post that was only up for 2 hours. She would then need to prove that, in those 2 hours, she suffered $15,000 worth of damages. Good luck with that. It ain't happening.
Also, I am not subject to Nevada law. Plus, only in the event that, even if everything went her way and she was awarded $15,000 in damages, AND I did not pay the $15,000, would the question of intent to defraud even be relevant. It's not relevant DURING the lawsuit. Only if I lose and do not pay.
So yes, Shawn is still a moron.
---
Of course, of the two labels, "moron" is mostly meaningless. That's just something you're born with and can't really change. But "stalking" is something that you actually DO. Stalking is a choice, and it's a choice Shawn has made for himself.
I mean, why is the transfer of ownership of Alec's house any of our business—Shawn's, mine, yours? This has nothing to do with Axanar, folks. Why do we need to know why Alec transferred ownership of his house…both in 2018 and previously in 2013? (By the way, I misreported which house that first transfer was. Alec's LLC took ownership of his Florida house back in 2013, not the one in Valencia, CA…which he rented.)
Anyway, when I asked Alec why he did the transfer for his two houses, he replied: "Why do you need to publish my personal business on your blog?" And he's right. So instead, I looked up why others might do it. Some people do it to depreciate the value over time for tax purposes. Others want to avoid probate.
But again, I have to ask: why does it matter???
The answer is: it DOESN'T matter—not to us folks who would simply like to spend our time supporting and enjoying Star Trek fan films…including Axanar.
It really only matters if one is a stalker—engaging in repeated surveillance in order to harass and intimidate. And in my opinion, this whole nonsense really just needs to STOP. It actually needed to stop two years ago! The fact that Shawn "Captain Ahab" O'Halloran is still acting like the Energizer Bunny in regards to all things Alec and Axanar is far more damning to him and his fellow detractors than anything they have or could ever say about Alec. At least Alec isn't a stalker.
I laughed when Shawn posted a selfie of himself with Star Trek's ALEX KURTZMAN along with the caption "And, no… he has no idea who the fuck Alec Peters is or what Axanar is." I imagined the short conversation that took place between them…
SHAWN O'HALLORAN – I need to ask: have you ever heard or Alec Peters and Axanar?
ALEX KURTZMAN – No, I haven't. Should I have?

SHAWN – Absolutely not! And don't worry, Mr. Kurtzman I've devoted my life to making sure you will NEVER hear of them! I spend countless hours on it…almost every day! I'm on the job keeping Alec Peters from ever being a name that you hear. And I'll never stop fighting to make sure you never find out who he is!
ALEX – Um, well, that's…er, that's….uh, great, I guess. Sounds like, er, an important job?
SHAWN – Oh, it is!
ALEX – Then, um, thanks for the hard work…?
But seriously. Imagine what would happen if Alec started to behave like Shawn. Imagine the detractors' reaction if Alec looked into the personal and business transactions of Shawn—or Carlos Pedraza—and then used that information to help someone suing them or to simply ruin their reputations in public. Imagine if Alec dedicated his life to stalking Shawn and Carlos the way they stalk him…day after day, month after month, year after year. Heck, imagine if Aled even did it once! We'd never hear the end of it from Detractorville (and well we shouldn't because it's just plain wrong)!
But here we are, with the detractors trying to justify their sociopathic behavior because the victim is Alec Peters and they are on some righteous quest to "protect" the public from supporting him.
But it's not a righteous quest, my friends. It never was. It's stalking, harassment, and intimidation—plain and simple—and it's just as wrong today as it was yesterday…and as it will be tomorrow.
(Speaking of tomorrow, come back then to discover the final fate of the TOS sets formerly known as STARBASE STUDIOS.)