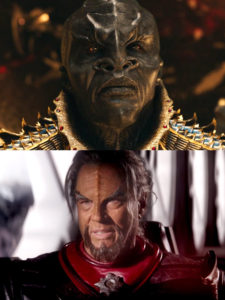 WARNING – SPOILERS!!!  Lots and lots and lots of SPOILERS!!!
---
I really WANTED to like Star Trek: Discovery.  And to be honest, some things I actually DID like.  Sonequa Martin-Green put in a great performance playing the character of Commander Michael Burnham, and I loved the dynamic of seeing two women interacting as captain and first officer of a starship…and neither was caucasian!  (If only both characters could have continued beyond two episodes, but alas, we'll soon be back to a captain who's a white male.  Oh well, at least we've still got a black female lead.)
I even really liked some of the scenes…like when Burnham talks the ship's computer into letting her out of the brig before power goes out.  But in the end, I just really didn't enjoy the show overall—at least the first two episodes.  It was so dark (visually and emotionally), and I just couldn't grab onto that uplifting feeling I used to get when watching Star Trek.  This new show felt so weighed down to me that even when things were moving quickly, they still seemed somehow slow and heavy.  A couple of times during those Klingon scenes with the never-ending subtitles, I nearly dozed off!
And it wasn't even the Klingon actors' fault they were so boring.  The decision to completely redesign the look of the Klingons not only alienated many long-time Trek fans, but it made it virtually impossible for those actors to deliver decent performances.
Imagine if you were asked to give a compelling performance while wearing a medieval suit of knight's armor with the face-plate covering every part of your face except your mouth. You can barely move your head except a little side to side—very little!—and your arms won't go any higher than your chest. You can't even bend your elbows!  And then, before you go in front of the camera, you realize that all of your lines are in Polish…and your don't speak Polish!  Sounds like an actor's worst nightmare, right?  Well, that was pretty much the assignment these unfortunate Klingons were given.
And as I was considering this, I began to imagine what Discovery would have been like had they NOT redesigned the Klingons…or the Starfleet uniforms…or made the starships into barely-recognizable whatever-they-were…or had a dark bridge covered with lens flares.  What would Discovery have looked like then?
And then I realized: it would have looked a lot like Axanar…
Continue reading "DISCOVERY vs. AXANAR – choose "your" KLINGON WAR! (editorial / review)"