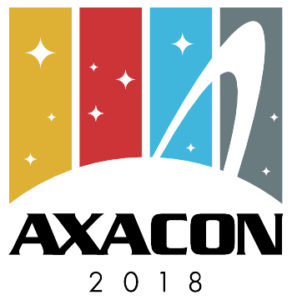 After a lull in AXANAR news out of Georgia for several months, it seems that there's suddenly a LOT to talk about!  This past week, in addition to the announcement of a director for the two Axanar fan films, PAUL JENKINS, as well as editor MARK EDWARD LEWIS and DIT/colorist BING BAILEY, ALEC PETERS just announced the long-awaited AxaCon has finally been scheduled.  Here's the official announcement…
The Manticore Company, LTD (TMCL) and Axanar Productions are pleased to announce that TMCL's newest convention, SphinxCon will include Axanar Productions' AxaCon as a unique"convention-in-a-convention" on November 2–4, 2018 at the Crowne Plaza Atlanta-Airport.
SphinxCon is the newest intimate Literary Military Science Fiction and Fantasy Convention in Atlanta. It is the Annual Convention of The Royal Manticoran Navy: The Official Honor Harrington Fan Association. AxaCon is the official convention of Axanar, the Star Trek fan film dubbed "The Ultimate Fan Film" by Newsweek magazine.
SphinxCon will provide AxaCon with a dedicated space for their panels and events. In return, AxaCon will bring in additional guests as well as a display of various television and movie props from Axanar Productions' CEO Alec Peters' personal collection. Peters is known throughout the sci-fi world as a collector of screen-used props from a variety of science fiction franchises, most notably Star Trek.
"When Alec made the proposal for us to host AxaCon, it made perfect sense," according to David Weiner, Convention Chairman for SphinxCon. "We had already come to an agreement with Alec to offer a private tour of the Axanar sets at OWC Studios to our Manticore Premier members and Convention guests, so when he proposed adding AxaCon as a 'convention-in-a-convention,' everyone thought it would be a win-win."
Alec Peters was equally enthusiastic. "I read the first three Honor Harrington books when doing research for Axanar and love the universe. The chance to host AxaCon with SphinxCon is really fantastic for fans. I think there will be a lot of crossover as fans of one franchise discover the other."
Indeed!  Already, Alec is lining up guests to appear, including co-writer/director (and Marvel Comics writer) Paul Jenkins, Steven "Admiral Slater" Jepson, Stalled Trek fan filmmaker Mark Largent…and a certain blogger of your acquaintance.  Yep, Alec activated a seldom-used reserve activation clause and drafted me.
So it was only fair that Alec give me yet another interview to discuss this event…
Continue reading "AXACON to be held the weekend of NOV 2-4 in Atlanta as part of SPHINXCON!"