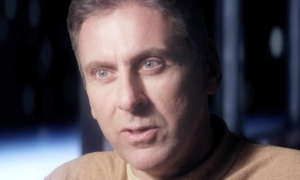 ALEC PETERS, the executive producer of AXANAR PRODUCTIONS) has arguably become one of the most controversial and polarizing figures in the world of fan films.  Having worked on the fan series Star Trek: New Voyages/Phase II, Alec ultimately set his sights on producing a Star Trek fan film of his own: Axanar.  Using the relatively new crowd-funding tools of Kickstarter and Indiegogo, Alec was able to go where no Star Trek fan filmmaker had gone before: past the $1 million mark in fan donations to build a studio and produce his dream project.
He also became the first-ever Star Trek fan filmmaker to get his ass sued simultaneously by two major Hollywood studios.
Rather than turning into a mass of quivering jelly and accepting a potentially multi-million dollar judgment against him, Alec was able to find a top intellectual property law firm to represent him pro bono (for free), and "David" took on "Goliath" in a case that I've analyzed extensively here on Fan Film Factor.  It was ugly, surprising, frustrating, amusing at times, full of twists and turns, and even covered by the mainstream media.  The case carried the potential of settling huge precedents in copyright law that could affect all fan films…for good or ill.  And thousands of fans and donors watched eagerly to see what would happen next.
But fandom was not united in their opinion of this case nor their feelings about Alec Peters.  Some fans (like myself) were huge supporters and proudly proclaimed, "I Stand With AXANAR!"  Others felt just as strongly that an arrogant and overconfident Icarus had flown far too close to the sun and deserved to plummet to a painful, smashing oblivion far below.
Continue reading "ALEC PETERS discusses the AXANAR LAWSUIT and SETTLEMENT (Interview – Part 1)"