There's SPOILERS off the starboard bow…
starboard bow…starboard bow!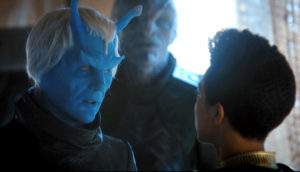 After publishing my previous editorial review of the 10th episode of STAR TREK: DISCOVERY, a post from someone named Boris commented: "I wouldn't be surprised if Capt Georgiou made a reappearance – maybe even as an Empress…"
I responded, "Man, if they make Georgiou the Emperor/Empress…that's gonna be one angry blog!!! Enough with the doppelgängers!!!!" 🙂
Even as I wrote that response, I knew it was gonna happen.  It had to.  The "faceless" emperor?  C'mon!  In a Mirror Universe filled with probably hundreds of billions of sentient beings, we just happen to run into the dozen or so that are all main characters listed in the opening credits of the show: Captain "Killy" Tilly, the slave Saru, bearded Sarek, Voq leads the resistance, Burnham is captain of the USS Shenzhou, even Mirror-Stamets pops in.  Honestly, I was surprised we didn't see Mirror Landry (the first Discovery security chief) as the Shenzhou's head chef or something!
So really, of course Philippa Georgiou was going to be the Empress.  Boris nailed it.  And that really pissed me off, right?
Surprisingly…no, it didn't.
Neither was I angry about the Mirror-Tellarites mysteriously growing tusks like wild boar…or the Andorian whose voice reverberated for some strange reason.  Nothing seemed sloppily written or beyond believable.  There was even some banter!
Honestly, guys, I really liked this episode.  Let's take a look at why…
Continue reading "Why the 11th episode of STAR TREK: DISCOVERY did NOT piss me off! (editorial review)"