Hey, everybody, look what I made!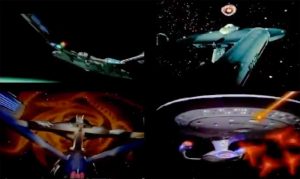 Back in 2002, I edited together my own Star Trek music video montage, a "love letter" to all the wonderful starships called Enterprise.
The video was inspired by a similarly-themed montage that I saw at a convention in Cleveland, OH back in 1988.  That video also used The Little River Band's "Lady" as a musical score…and I do love that song!  But back then, there were only the TOS and TAS episodes, four movies, and one season of TNG.
By 2002, I now had nine feature films, seven seasons of TNG (plus DS9 and Voyager), and the first two seasons of Enterprise.  I didn't have any DVD collections yet, so I worked off the VHS tapes I'd recorded from TV broadcasts of episodes (and that's why you can see the UPN logo on all the NX-01 shots!).
I added a lot of little touches–the cuts track to the beats of the music and, in many cases, the images match to the words of the song.  It was a labor of lover that took me a few months to complete (and it eventually won a fan music video contest at a Los Angeles Creation convention).
I invite you all to enjoy my little effort below…