Spoilers GALORE!!!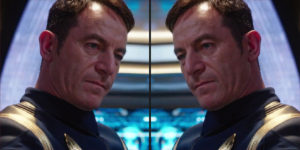 What do STAR TREK: DISCOVERY and GAME OF THRONES have in common?
Answer: they each have only six episodes left to complete their story lines.
Oh, I know that Discovery has been renewed for a second season.  But up until that recent announcement, and all during the writing and filming of the 15 episodes of the first season, the production team didn't know if they'd get a second season or, even if they did, if the setting and time era of the show would shift (as original show-runner Bryan Fuller has initially envisioned).
So the idea was always to wrap up the Klingon war story in a single 15-episode (originally 13-episode) season.  If the series got renewed, great.  They'd do a new story arc during season two.
The problem, of course, is time.  While Game of Thrones has had SEVEN seasons and 67 episodes (so far) to slowly develop their many intricate plots and sub-plots and mysteries, move their characters into unexpected situations, and quite often surprise the viewer, Discovery has actually had to "rush" things.
Places where this lack of time has been particularly noticeable include:
Continue reading "If you STILL don't believe that LORCA is from the MIRROR UNIVERSE…read this blog! (editorial)"