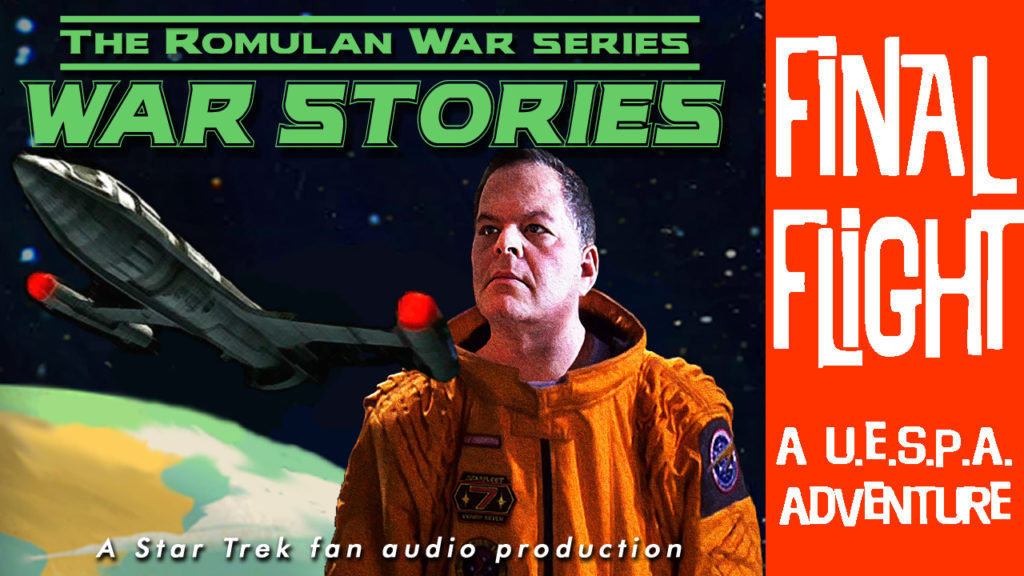 Hey, guess who developed the Warp Seven engine? Me, that's who!
Well, that's not entirely true. I had help (will have help?) from my NX-Zeta project team, and from MARK NACARRATO, the show-runner of the upcoming fan production THE ROMULAN WAR. Oh, and it wasn't really me; it was Lieutenant Geoffrey Christopher of the United Earth Space Probe Agency. But he looks and sounds a lot like me.
I suppose I should back up a few steps and explain what the heck I'm talking about…
For those of you unfamiliar with The Romulan War, it's going to be an amazing Trek fan film picking up where Star Trek: Enterprise left off…at the beginning of the war between the Coalition of Planets and the Romulan Empire. Filming on the production is all but completed, and now the finishing touches of post production—editing, VFX, sound, music, etc.—are being applied. Release is planned for 2019.
Of course, with the limitations of the fan film guidelines, it would be nearly impossible to recount the entire war…despite using a "mock" documentary style similar to Prelude to Axanar. So Mark came up with an interesting idea to push the envelope a bit—WAR STORIES. These are short vignettes that are essentially audio dramas…just with a little something "extra" added: images with simple animations. These "enhanced" audio dramas are presented as the logs of various Starfleet officers who served during the war, and the logs are accompanied by computer readouts and archival photos with some short video clips. Less than a full fan film but more than a simple audio drama.
Last August, Mark released the first War Stories, the two-part "Sleep Is Hard to Find." If you go to that blog page, you'll see that yours truly provided some of the Photoshop work to get the actors' faces onto NX-era uniforms. A month later, Mark released the second War Stories, "They Want Us Dead." That one didn't require my Photoshop services, but the third release, "Final Flight," did.
It also required my face…
Continue reading

"THE ROMULAN WAR: WAR STORIES – new release "FINAL FLIGHT" starring…me!"