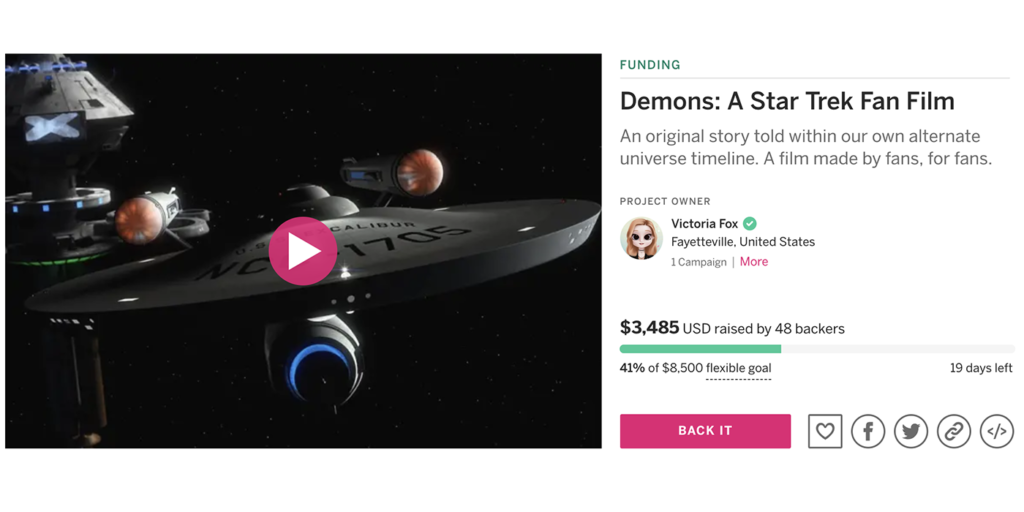 Right now, I'm actively watching four different Trek-related crowd-funding campaigns. I have tabs open for each one, and I check them every day or so to see how they're doing:
There's also a few other crowd-funders that I check in on from time to time. You can find them all listed here on Fan Film Factor under the CROWDFUNDING NOW tab at the top.
Usually, there isn't much movement on a daily basis for these campaigns…just little increases here and there. For the Avalon Universe Indiegogo, the donation total had been hovering in the low $2K range for the last few days…not unusual for a crowd-funding campaign to slow a bit in its second or third week.
And so I literally did a double-take when I checked the Avalon campaign late yesterday to discover their total at $3.4K (bringing them to over 40% of the way to their $8,500 goal). Huh? I'd checked it earlier in theday, and it was still in the low twos. What the heck happened???
I scrolled down through the perks. One of the perks is a $1,000 "Executive Producer Package" where the donor gets their name listed in both the opening and closing credits as—you guessed it!—Executive Producer. Two of these perks were initially available, and one had just been snatched up!
I checked with Avalon showrunners JOSHUA IRWIN and VICTORIA FOX, and they confirmed this is a legitimate donor and someone who has supported fan films in the past (although we won't find out who until the fan film is released and we check the credits).
I don't usually report on single donations to crowd-funders, and $1K donations certainly aren't unheard of. But they are indeed rare…and almost non-existent for "smaller" campaigns with goals under $10K. So for me, this is news worth sharing—and a good reminder for folks to consider donating, if they haven't already (even if it's just $10 and not $1,000).
I also allows me to address a recent semi-controversy that has cropped up involving me supporting this and other crowd-funding campaigns…
Continue reading

"AVALON UNIVERSE Indiegogo gets a $1,000 DONATION from a SINGLE donor!"