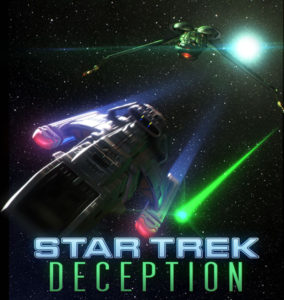 Back in 2013, LEO TIERNEY of the United Kingdom set out to make a Next Generation-era Star Trek fan film called STAR TREK: DECEPTION.  Most live action fan films set in that time frame either record away teams in outdoor locations or else use green screen composited actors in front of virtual backgrounds…since creating practical sets in the 24th century style is incredibly challenging.
Leo, however, was up to the challenge of building a TNG-era set!  He decided to design and construct an actual Starfleet runabout cockpit set in which to film his actors.  He just needed a little bit of money to do it.  How little?  Well, considering what even the cheapest fan films cost, £500 (about $635 back then) was an amazingly small amount for what Leo was planning.  Ultimately, after a month, his January 2013 Kickstarter took in a little over twice that amount: £1,174 (about $1,500).
Then it was time to get to work…and so he did!  But Leo didn't simply build his sets.  He also produced a series of behind-the-scenes videos for his donors, showing his progress.  These brief production updates began on the day the Kickstarter ended, and Leo continued to release them like clockwork for the next three months leading to the May 17, 2013 release of his completed eight-minute fan film.
I'd like you to experience that feeling of growing excitement that the donors felt those many years ago.  So I'm going to do something a little different for this blog and share those five behind-the-scenes videos with you, followed by Star Trek: Deception itself.  Then I'll include a few other special video features that Leo released after Deception was completed.  It's gonna be a fun blog!
Ready?
Continue reading "The making of STAR TREK: DECEPTION! (feature)"