Remember this scene?
I was having a discussion a couple of days ago with one of the many Trekkers who is furious about these new Star Trek fan film guidelines from CBS.  "It's obvious that they just wanted to destroy all fan films forever!" he said with anger and disgust.
"I'm not sure that's true," I responded.  "I think they sincerely wanted to help fan films by making these guidelines."
He was shocked…especially since I've gone so far as to set up the SMALL ACCESS protest.  He couldn't believe I was being serious!  But I was.
My wife is an attorney, and I used to work closely for many years with the Star Trek licensing department (back when they were still Viacom Consumer Products).  Granted, I wasn't in the conference room at CBS when these guidelines were written up, but I still think I know what happened and why it happened…and it was all because the wrong people were in the room.
Let me 'splain…
I know from seeing my spouse in action that the first duty of an attorney is to protect their client at all costs.  And a lawyer doesn't simply guard against the obvious; he or she must think of every little possible thing that can go wrong.  Many years ago, I had to sign a contract to work on a project for Disney–that document was as thick as a Dostoevsky novel!  Lawyers do their job when they're thorough.
I know from working with the licensing folks that their first duty is to protect their licensees, who are essentially clients of CBS paying for the right to make a licensed Star Trek product.
Now, think back to that scorpion story.  In order for the scorpion (CBS and Paramount) and the fox (the fan filmmakers) to both make it across the river, the scorpion has to fight its nature and NOT sting the fox.
The wrong people were in the room.
I imagine that the lawyers and the licensing people had a large whiteboard and they put up everything they could think of that needed protecting about Star Trek intellectual property.  Their goal for the meeting(s) was straightforward: find a way for fan films to be made in a small way that would keep them from being perceived as any kind of "real" (studio-produced) Star Trek–hence, the 15-minute rule–and also to protect the licensees–hence making fan films use store-bought uniforms and props.  Almost every guideline was, I believe, a sincere attempt to find a way to make fan films acceptable to allow to exist while still performing the lawyers' and licensers' first duty: protection.
They were just doing their jobs.  It's their "nature."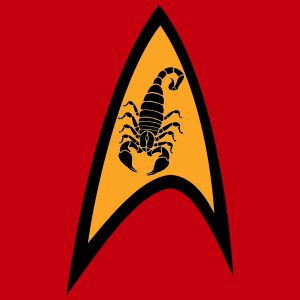 Now, perhaps I shouldn't have said "the wrong people were in the room" as much as "the right people didn't show up" (maybe they were busy; maybe they weren't invited).  And who are these "right people"?
The marketing the public relations department!
From that first letter-writing campaign back in 1968, Star Trek fans have been the poster child of an ultra-loyal, nearly-obsessed, activist base of support for a media franchise.  Other Hollywood studios would kill to have fans as loyal and involved as Trekkies and Trekkers!  We've endured, grown, strengthened, and supported this one franchise for fifty years!
In that time, other sci-fi series have built their own followings–Battlestar Galactica, Babylon 5, Stargate, Farscape, Firefly, etc.–but none except Star Wars has even come close to the size and unstoppable enthusiasm of Trek fans.
Trekkers have kept this franchise alive through multiple cancellations and have helped it thrive into a multi-billion dollar franchise.  And how did we do that?  We published fanzines.  We designed new  starships.  We created artwork.  We started fan clubs.  We wrote fan fiction.  We went to conventions.  We sewed our own costumes and put on our own pointed ears and bumpy foreheads and blue antennae.
And most recently, we made fan films.
Those fan films weren't always blockbuster quality.  In fact, most were the fan equivalent of high school musicals where the kid singing "Sit Down, You're Rocking the Boat" has his voice crack during the finale of the song (yeah, that was me).  But they had heart!  You could tell that these were labors of love.  And the best thing about them was that they were getting better and better and better.
Were these improving fan films ever going to be a threat to the studios producing the "real" Star Trek?  Of course not!  As good as the sets look for Star Trek Continues or New Voyages, no fan is going to watch an episode and then NOT go and see Star Trek Beyond or NOT tune into the new series.
Just the opposite, in fact!
Fan films build excitement and enthusiasm for the media property…especially during those down times when the studios aren't spending millions marketing the next movie or the 50th anniversary or the new TV series.
It's been three years since the last media blitz for Star Trek from the studios for Into Darkness.  And it was four years before that since the previous blitz.  And what kept Trekkers excited during those lean years when the marketing dollars weren't being spent?  That's right: fan films (among other things).
And the bigger and better that Star Trek fan films got, the more coverage they gained in the press.  There was a great article in the New York Times that came out shortly after the release of Star Trek: Of Gods and Men.  And once Prelude to Axanar was released, media coverage exploded (long before the lawsuit).
All that press coverage was FREE ADVERTISING for Star Trek…especially during the multi-year "hibernation" period between film releases.
And that's why I say the right people weren't in the room.  While the legal and licensing scorpions were doing their jobs trying to make sure fan films stayed as small as possible–no fund raising above $50,000, no use of anyone who ever worked on any Star Trek series or movie, no ongoing series–there was likely (I don't know for certain) no one in the room saying, "Hey, wait a second, guys!"
There was no one saying how important it is in today's world of a million online distractions a minute to have something that gets the attention of your fan base.  And moreover, something that does that and doesn't cost your studio a penny.
With Star Trek fan films watered down to 15-minute, inexpensive, non-continuing vignettes, "bigger and better" is now completely off the table.  Sure, some fans will still make videos, and some will still watch them.  But the days of a million YouTube views in a week for Star Trek: Horizon and the days of coverage in Newsweek and The Wall Street Journal…those days are now gone.  The fox has been stung by the scorpion, and now they both lose.
And the sad thing is, it didn't have to be this way!  A collective cheer and sigh of relief went up throughout Star Trek fandom after J.J. Abrams' May 20th announcement that the lawsuit was "going away" and that "…the fans will be able to [continue] their productions."  It'd been months (pre-lawsuit) since I'd seen fandom so…well…happy.
And now I can't remember a time when I've seen Star Trek fandom so miserable…not even when Enterprise was canceled just as it was getting good!  Whether fans are blasting the new guidelines or blaming Alec Peters and Axanar or simply trying to tiptoe carefully through what is now a legal minefield so they can still try to find a quiet and humble way to continue making their once-proud fan series…the mood of fandom is undeniably sour and morose and defeated.
Happy 50th anniversary, Star Trek.
The timing couldn't have been worse.  But the scorpions were true to their nature, and the fox has been poisoned so close to the opposite shore of the river.
Will Star Trek die because of this?  Will there be a mass "Trexit"?  It's hard to say.  Maybe it'll all blow over.  But Star Trek fandom will never be the same as it was going into December of 2015, when fans were all excited and looking forward to the amazing golden anniversary of Star Trek: the new movie, the new TV series, and yes, the new fan films, too.
And the saddest part is, I don't think the scorpion even realizes what it just did.  And that's the reason I'm trying to tell them…through Project: SMALL ACCESS. If you agree, please help spread the word.