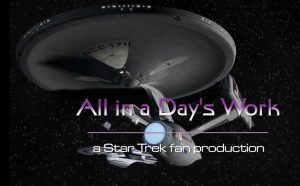 The fan series Project: Potemkin was nearly finished with its four-season run.  Thirty episodes had already been produced and released, and only three more remained.  Show-runner RANDY LANDERS (read his interview with Fan Film Factor here) had announced that the series would wrap up after the end of season four, although four other series–Starship Tristan, Starship Deimos, Battlecruiser Kupok, and Starship Endeavour–would continue with new episodes.
The remaining three episodes of Project: Potemkin had already been filmed over a year ago and were simply awaiting post-production editing, sound, VFX, and musical scoring.  Then the fan film guidelines were released by CBS and Paramount.
Fortunately for Landers, the vast majority of Potemkin's already-released episodes already complied with most of the guidelines: less than 15 minutes in length, minimal crowd-funding, no professional actors (well, do acting teachers count?), no unlicensed props and rank insignia used, no DVDs or Blu-rays distributed, etc.  The only guideline being violated was the "…no additional seasons, episodes, parts, sequels or remakes."
The very existence of the four seasons and thirty episodes of Project: Potemkin pretty clearly violated this guideline…or at least it would on a go-forward basis with the release of the final three episodes.  Likewise, Potemkin Picture's other spin-off series would suffer from the same problem!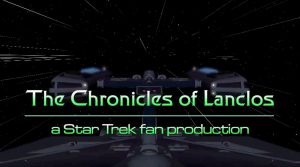 But Randy Landers seems to have found a possible workaround solution.  Last month, when Starship Tristan released its third episode, the name of the series was suddenly gone…replaced by the title of the episode: "The Chronicles of Lanclos."  And of course, in "plain text" under the title: "a Star Trek fan production" (following Guideline #2).  Going forward, all episodes of Starship Tristan (and, one would assume, the other Potemkin Pictures productions) will keep a consistent opening credit sequence and music (gotta have some brand identity, right?) but with a different title each time.  In this way, Randy hopes to side-step the "no series" guideline.  Of course, the characters and starship settings will still be the same, so will this be enough?  I suppose we'll find out!
In the meantime, Potemkin Pictures has revamped their website's listing of their series and episodes to completely remove seasons and series titles.  Each "production crew" (which are based in the states of Alabama and Georgia) now has its own listing of fan film offerings (don't call them episodes!)…including the venerable Potemkin Production Crew.  Potemkin's latest offering, titled "All in a Day's Work" is available with links toward the bottom of the page, or you can click here to watch it on YouTube. It's a fun little 8-minute story focusing on the ship's first officer being left in charge for a few days…and all the things that go wrong while the captain is away.  There are a few creative and funny gags, some decent acting (hey, it's a fan film…not "Game of Thrones"!), an original music track, a troubling mind-meld initiated without permission that kinda bothered me, and as usual, a whole lot of heart and love of Star Trek.
On their home page, Potemkin Pictures now has the following message:
The official Potemkin Pictures response to the new Star Trek fan productions guidelines:
We are all deeply aware that CBS and Paramount have been put in an untenable position in order to protect their intellectual property. The guidelines are what they are. Fortunately, almost all of our productions to date fall in line with almost all the restrictions placed upon fan films.
Potemkin Pictures and its productions will continue to work within the new guidelines as we understand them to the best of our ability. We love Star Trek, and we continue to look forward to sharing our adventures with our fellow fans.