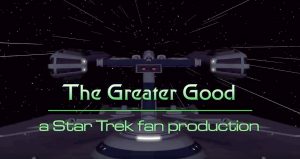 Continuing a new tradition of renaming their fan series with each fresh episode release, the fan series formerly known as STARSHIP TRISTAN has posted their latest episode, "The Greater Good."
The renaming of the series is meant to keep their production in compliance with the CBS/Paramount fan production guidelines, which specify no ongoing series.  Technically, all the stories for Starship Tristan take place on the same Starfleet vessel, but so far, the characters have changed with each new episode released since the guidelines were published.
We'll have to see what happens if/when the "series-that-isn't-a-series" features its first recurrence of a character or characters.  But for now, the production continues to follow all the guidelines in terms of length (shorter than 15 minutes), budget (pretty much nothing), no professionals, no unlicensed prop or costume knock-offs, etc.  This latest episode is just a quiet conversation between two people, one of whom is from a canonical race of Trek pacifists, and he's just had to kill someone in order to protect his people.  What kind of fallout follows such an act?
The fan series is from the folks at Potemkin Pictures, and they currently produce multiple series.  You can find all of their releases on their website.