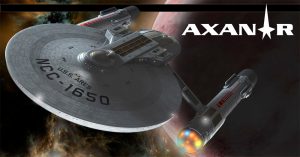 Last time, we took a deep dive into the fascinating world of the Plaintiffs' Reply to the Defense Opposition to the Plaintiffs' Motion for Partial Summary Judgment in the AXANAR lawsuit. (Say THAT three times fast!)
This time, we look at the equally fascinating Defendants' reply to the Plaintiffs Opposition to the Defendant's Motion for Summary Judgment. This is the way the law works, folks, with each side being given a fair chance to rebut the other side's arguments and then to reply to those rebuttals. It is important to know copyright law even when dealing with owned property. If you are interested in finding out more about copyright law, you might want to check out somewhere like Bonamark to learn more.
As I mentioned last time, the plaintiffs' latest filing comes in like a wrecking ball, angry and indignant and looking for strong emotion to carry the day. They want justice…and they don't get particularly specific in describing what aspects of their intellectual property was copied and how. They give some general descriptions, like Klingons being "…a fictional, war-like species, speaking Klingonese, hailing from the planet Qo'noS and are known for engaging in battles with the Federation." But they don't go much further.
As you'll see in a few moments, the Axanar defense team utilizes a very different approach. Less emotional and more (dare I say it?) logical, they go much deeper into the precise elements of copyright law and legal precedent. (As such, yeah, this is gonna be another long blog, folks…sorry.)
It's the hammer versus the scalpel, and it's time to see how an intellectual property "surgeon" operates…
Right out of the starting gate, the defense filing separates itself stylistically and thematically from the plaintiffs' brief. Whereas the plaintiffs begin with a hypothetical independent Star Trek film produced by a competing Hollywood studio that doesn't use Kirk and Spock (and how that can't possibly be considered acceptable), the defense begins by establishing certain facts about their creative works (Prelude and Axanar) and the law's take on it (and to save space, I'm leaving out the case citations when I quote):
Plaintiffs have placed just two of Defendants' works at issue: "Prelude to Axanar" and "[t]he Axanar Motion Picture." Because the undisputed facts show that the "Axanar Motion Picture" does not yet exist, Plaintiffs cannot "demonstrate that the works are substantially similar in both ideas and expression." It is simply not possible to determine from a superseded draft script, which has already been substantially altered, whether a future, potential film will ultimately be found to infringe.
They add this important footnote, as well:
Plaintiffs' claim that the Axanar script is "locked" is belied by the undisputed evidence.
I should mention that the point the defense is making here is that any claims against the full Axanar movie should be thrown out because it doesn't exist yet. And you can't sue someone for something they haven't actually done. Obviously, Alec Peters is planning to change the script so he doesn't get sued again. So if he wins on fair use because (among other reasons) Prelude to Axanar is a mockumentary, then that'll be the style of the sequel, as well. So really, the script in evidence is far from final.
And by this point, you might have noticed that it feels like the defense is writing a legal textbook…full of words that'll make you break out the ol' dictionary:
Defendants' fair use defense militates strongly against consideration of Plaintiffs' premature claim, for any infringement analysis that fails to consider fair use runs a grave risk of impinging upon the First Amendment.
"Militate" means "To have force or influence; bring about an effect or a change." (Just thought you'd like to know.) And about that First Amendment comment, I've been researching this a bit, and it turns out that there's an interesting push-pull debate about freedom of speech versus copyright law, as one kinda cancels out the other, of you think about it. And thus we have the concept of "fair use," which keeps copyright protections from completely obliterating free speech.
So the defense reminds the judge of something VERY important:

"[fair use] exceptions…are at the heart of fair use's protection of the First Amendment, as they allow later authors to use a previous author's copyright to introduce new ideas or concepts to the public"). Among other things, "[f]air use requires a fact-intensive and context-specific evaluation" of the "purpose and character of the use… [in the] new work."
In case you missed it, let me pull out the most important snippet from that last mini-lecture and bold it for you:
fact-intensive and context-specific evaluation
Remember that defendants are arguing first for the judge to completely drop the full Axanar feature from the complaint…limiting the trial solely to Prelude. (That'll make things easier for the defense.) Well, if the judge is supposed to first do a "fact-intensive evaluation" of the full Axanar movie, well, that's gonna be tough if it doesn't actually exist yet (beyond a script that is not even close to finalized anymore).
---
Okay, next we dive into much more fun stuff! We leave the First Amendment in favor or looking at whether or not Axanar is "substantially similar" to Star Trek. Many of you might say, "Jeez, of course it is, Lane! They were even gonna call it Star Trek: Axanar until they decided not to! It's got Garth, Soval, Klingons, Vulcans, the USS Enterprise, uniforms, planets, dilithium, transporters! How could Axanar possibly NOT be Star Trek, you idiot???"
So if that's the mind-set you're starting from, you're in fine company. The studios and their attorneys can't imagine Axanar being transformative either. They're convinced Axanar is Star Trek. But is it really? Let's find out. (I told you this was gonna be fun…)
The defense cites a Ninth Circuit copyright case from 2002 for the following important legal guideline:
Only if works are substantially similar when "taken as a whole" can there be infringement.
We need to spend a moment on this point, as it seems to be something that many–including the plaintiffs and their attorneys!–aren't understanding. To quite literally illustrate what is being talked about, let's take a look at this image I got from the University of Pennsylvania Law School website: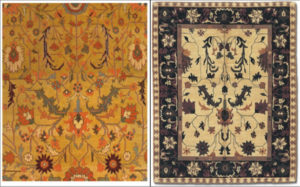 These are two rugs that, at first glance and, as a whole, look almost completely different from each other. If I said the one on the left was "substantially similar" to the one on the right (or directly copied from it), you'd probably scratch your head in confusion.
But look a little more closely. Do you see that "scarab" looking thingy just below the center on both rugs? It's orange and yellow on the left rug and brown and gray on the right. And it's flipped upside down, but it is the same design element in both rugs. This is also true of the gray things above the "scarab" that look like lizards crawling away diagonally up towards the left and right. And there are even more "copied" elements if you look long and closely enough.
So is one of these rugs guilty of infringement on the other? Well, if you look at the individual, fragmented elements, then yes. But the law realizes that if you get too picky with the details, you start to squelch creativity. The two rugs, as a whole, are very, very different. And that's why the defense reminds the judge of the following:
Fragmented similarity is insufficient if it does not rise to the level of substantial similarity of the works taken as a whole: "[i]f no reasonable jury could find substantial similarity out of… fragmented similarity, summary judgment [for defendant] is proper."
This is where the plaintiffs go one way (they claim the two rugs are substantially similar because the fragmented design elements are the same), and the defense goes the other way (the rugs, taken as a whole, are each original creative expressions…even though they feature similar and, at times, identical elements). Whom does the law say is right? Well, the defense brief states the following:
Plaintiffs fail to provide sufficient evidence to show that the works at issue "taken as a whole" are substantially similar. Instead, Plaintiffs argue that Defendants copied disparate "elements" of their alleged works. Not only is this insufficient as a matter of law to show infringement, but because the "elements" Plaintiffs point to are largely or entirely unprotectable, the Court must "filter out and disregard" them.
Oh, look, there's actually yet another thing to consider. It's not just about the "taken as a whole" concept, there's also a question of whether or not the fragmented elements are even protectable by copyright in the first place!
Going back to that rug, just because the rug on the left is registered as a copyright, does that mean that the "scarab" thingy is also registered? Or does that design need to be registered separately? And even if it is registered separately, is that "scarab" distinctive enough to deserve copyright protection? Or–and this is super-important!–would granting a registration on that "scarab" risk preventing other artists from making scarab designs of their own because they would risk being too similar to something that should really be considered more generic?
It seems I'm writing a mash-up seminar on law and rug-design!!!
But hopefully, you get where I'm going with this because it's really dead center of what this entire case is about and how it could affect nearly all fan films (and not just Star Trek!). So remember that you saw the rugs here first!
Back to the defense…and they have yet another important legal point to make from a Ninth Circuit case from 2003:
"[only] characters that are 'especially distinctive' or the 'story being told' receive protection apart from the copyrighted work."
In my opinion, this eliminates Soval immediately. If you read Part 1, you saw my Soval/Sarek joint description. So Soval is almost immediately not especially distinctive (sorry, Gary Graham!). And despite appearing in eleven episodes of Enterprise, Soval was never the main character or main story in any of the episodes he appeared in.
Garth, on the other hand, was certainly the "story being told" in the episode "Whom Gods Destroy." However, the question then becomes, if the defendants did copy Garth, how much did they actually copy? Certainly not the whole murdering psychotic lunatic with shape-shifting powers part. So what is left? According to the defense:
Moreover, even if there were anything distinctive about this minor character, Plaintiffs have not provided facts to show that Defendants copied anything more "distinctive" about him than his name, home solar system, and captain's rank, none of which is protectable by copyright. (Garth is a common Welsh name; Izar is the name of a star in the constellation Boötes, the herdsman.)
So what about using Klingons and Vulcans? Glad you asked, because the defense has quite a bit to say on that:
It is simple common sense that no general group (such as "Vulcans," "Federation officers," or "Klingons") can possibly be a "character" in any meaningful sense of the word—or have the sort of 'especially distinctive' qualities required to be a protectable character under copyright law. (Plaintiffs themselves argue that one of Defendants' original characters is not original, but "simply a Klingon.") Plaintiffs' attempt to define the Vulcan "species" as a "character" is telling: "Vulcans are serious and contemplative and Vulcan men are usually depicted with pointy ears, upswept eyebrows, and straight, dark (or gray) hair cut in a 'bowl style.'" None of these characteristics, either alone or in combination, is sufficiently particular to define a distinctive character.
Quick tangent, folks. Back in September, I wrote a blog editorial discussing what might possibly go wrong for the studios if they took this case further. This is one example of what I was talking about. Imagine if Judge Klausner issues a summary judgement agreeing that Klingons and Vulcans are not protectable under copyright law. What would that mean for fan films? For Trek licensing? For the career of the lawyer at CBS and/or Paramount who first thought it would be a good idea to sue a small group of Trekkies?
Okay, back to the brief…
Still less persuasive is Plaintiffs' argument that Defendants infringe the Vulcan "species" merely because the same actor who appeared in a handful of Plaintiffs' works also appears in Defendants' works. Of course, Plaintiffs have no rights to actor Gary Graham's identity or features. Once that patently unprotectable element is filtered out, all Plaintiffs are left with is an (unprotectable, unoriginal) bowl hairstyle, a pair of (unprotectable, unoriginal) pointed ears, the (ancient Roman) word "Vulcan," and the (Hindi) name "Soval." None of these elements, alone or in combination, make "Vulcans" protectable by copyright law.
And thus has the defense deconstructed Soval into his non-protectable, fragmented component parts (the scarab and lizards on the rug). Assuming the judge agrees, there goes Soval…

---
Next up, we switch gears to the idea of Axanar being transformative. I've tried to discuss this before, but now the Axanar legal team can do it for me:
Plaintiffs' argument that there is "nothing transformative" about Defendants' works because they were "created to function as [] Star Trek work[s]" is simply wrong. From Virgil's Aeneid (based on a minor character from Homer's Iliad) to John Gardner's Grendel (retelling Beowulf from the monster's point of view), and from Campbell v. Acuff-Rose to Suntrust Bank v. Houghton Mifflin Co., there is ample precedent for artistic works that "comment" on other artistic works.
Okay, quick reality check. The first two examples they just listed (Aeneid and Grendel) are derivative works stemming from non-copyrighted (ancient) epic poems. But the latter two examples are relevant. Both cases (feel free to look them up) established that parody qualifies as fair use.
But is Prelude to Axanar a parody? Well, it turns out that there's also another way to qualify for fair use, something known as "comment"…
Plaintiffs' crabbed interpretation of fair use lacks any basis in the Copyright Act or decisional law. Indeed, §107 expressly states that copying for purposes of "comment" may be fair use, without any limitation as to the type of comment or the target of the comment.
So Prelude to Axanar could comment on anything…not just Star Trek? It could comment on my taste in clothing? Apparently so…
"The law imposes no requirement that a work comment on the original or its author in order to be considered transformative, and a secondary work may constitute a fair use even if it serves some purpose other than those… identified in the preamble to the statute." As the Supreme Court has discussed, parody is but one form of fair use "comment or criticism." ("less ostensibly humorous forms of criticism [than parody] can provide social benefit, by shedding light on an earlier work, and, in the process, creating a new one.").
Okay, so Axanar does NOT need to be funny and does NOT need to comment critically on the original work (Star Trek). It seems that the bar has been significantly lowered. I say "seems" because, to be honest, it's beginning to sound like almost anything could be considered fair use. All the infringer has to do is say it's a parody or commentary. And actually, he doesn't even need to do that:
It is irrelevant that Defendants may not have explicitly claimed fair use as "parody" or "satire" before Plaintiffs brought suit. "What is critical [in assessing transformativeness] is how the work in question appears to the reasonable observer, not simply what an artist might say about a particular piece." ("[defendant's] testimony that he '[doesn't] really have a message'" did not preclude a finding of fair use).
Wow…commentary is in the eye of the beholder, huh? My mind is kinda blown…and a little dubious (despite the legal quotes). Fortunately for the defense, Alec Peters did say something about his fan film all along that kinda shows Prelude to be transformative…
And in any event, here Defendants made clear in their promotional materials, crowdfunding campaigns, and through the works themselves, that they were presenting Star Trek in a manner that had never been seen before.
Alec did use to brag about that. But still, the plaintiffs were pretty adamant in their motion that Alec Peters had "faithfully recreated every possible element of the Star Trek universe, down to excruciating details." The defense, however, sees it a totally different way (big surprise, huh?). But it really is as though they are talking about two entirely different fan films! Here's what the defense said about the amount allegedly copied…
For purposes of analyzing transformativeness, the relevant question is simply this: did Defendants take the material allegedly copied—names Plaintiffs borrowed from astronomy (Izar), Roman mythology (Vulcan), and Hindu culture (Soval); the idea of a "contemplative" alien species whose males are "usually" depicted with "pointed ears"; the merest sketch of a "hero" named Garth of Izar—and "transform" it into something that was not inherent in that source material? And does the new work, "at least in part, comment[] on [the prior] work[]?" Here, the answer to both questions is clearly: Yes. Because Plaintiffs provide no evidence to the contrary, the transformativeness of Defendants' fair use should be deemed established.
About that last sentence, the plaintiffs forgot to do something important. The defense has argued in earnest that they transformed the original Star Trek into something new: they created new ships, new characters, expanded significantly on an existing character and thereby turned him into something new, and touched upon a previously-unexplored time period and major battle in Star Trek lore. All of this, according to the defense motion, was transformative.
The plaintiffs responded by saying over and over again that stuff was copied, but they never actually offered proof that things were NOT transformed. For example, the defense says that Kharn is a completely original character. The plaintiffs say that because he's a Klingon, he isn't original. That, as it turns out, might not be enough to prove that Kharn is not original.
---
So what about those alleged market damages from Axanar? Well, once again the defense opens up with full phasers set on "boring legal lecture":
Plaintiffs also ask the Court to hold that, as a matter of law, a transformative, non-commercial fan work that adds richness and depth to Plaintiffs' fictional "universe" will "inevitably" "effect" the market for their alleged works. This is pure speculation. The Ninth Circuit requires far more to show market harm. For example, in Perfect 10, Inc. v. Amazon.com, Inc., the Ninth Circuit disapproved the district court's "reason[ing]" that users who could download images "free of charge…are less likely to pay for a download, and [that] the availability of [such]… images would harm [plaintiff's] market" for licensing. This was insufficient: in the absence of a finding that users had actually downloaded such images for competing uses, "[t]his potential harm to [plaintiff's] market remain[ed] hypothetical." Similarly here, "there is no actual evidence of any [cognizable market] harm," and "[t]hus, on this record…any market harm remains hypothetical." Nor do Plaintiffs provide any evidence that Defendants' non-commercial use "is competing in [an] actual market that Plaintiffs have already exploited."
In other words, if the plaintiffs try to argue that fans donated to Axanar and therefore would NOT continue to financially support or consume actual Star Trek offerings and products from the studios and their licensees…well, the Ninth Circuit has already ruled that as hypothetical and insufficient.
Note that the defense team is meeting many of the plaintiffs' general arguments with legally specific counters. This is why this case is not a slam dunk for the plaintiffs the way many think it will be.
---
For finish up, the defense make one final argument that, while not saving the best for last, is still pretty significant. They address a major claim that the plaintiffs use repeatedly that Alec Peters and his team took great pains to make Axanar as close and accurate to the original Star Trek works as possible. And according to the plaintiffs, that attention to detail should be damning to the defendant when it comes time to prove that he was NOT copying Star Trek when he so obviously was. Is there any way out of this seemingly rock-solid argument? Well, apparently there is:
Plaintiffs attempt to portray Defendants' concern for accuracy—a necessity where one work comments on another—as somehow implying Defendants' culpability and that Defendants' copying is extensive. This cannot be the law: under Plaintiffs' reasoning, only a slipshod work, or one lacking any relationship to the original, could possibly be a fair use—but in such a case, fair use would not even be at issue. Plaintiffs' proposed test would preclude not only fan fiction, but parody and countless other protected forms of comment and criticism that "[further] the goal of copyright, to promote science and the arts."
In other words, of course Alec and his team wanted to make their fan film accurate and true to Star Trek. That was necessary in order to make the commentary effective. If Axanar only bore the merest passing similarity to Star Trek, its impact would have been lessened or even eliminated completely as a commentary on Star Trek itself or else using Star Trek to comment on an aspect of the world in general.
---
Now, will any of this legal mumbo-jumbo actually work? As always, it's hard to say. I'm not predicting a winner one way or the other with these blog analyses. I simply review and summarize the most salient and interesting parts of each filing and provide some commentary along the way of arguments I think might be either strong or flawed.
But I would like to say one important thing before I end this super-long blog. There are relatively few copyright infringement lawsuits that wind up in federal court. And that's why you're seeing the same dozen-or-so cases being referenced over and over again by both sides (because copyright cases are rare)…and each side cherry picks the parts of those rulings that support their arguments and leaves out parts that don't.
But because major copyright infringement lawsuits are so rare, and each is decided on a case-by-case basis, it's hard for an attorney to know precisely how to tackle them. As such, don't just assume that the scalpel strategy is better than the hammer strategy…or vice-versa. Either could be the way to go, and this case is by no means "all-but-won" by either side.
So stay tuned (I say that a LOT!), as the next big event (and it's HUGE) is only eight days away: oral arguments in front of Judge Klausner…a last chance to get him to rule in favor of one side or the other. Will this trial end before it even begins? We'll know pretty darn soon!