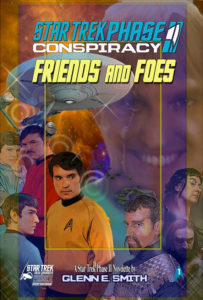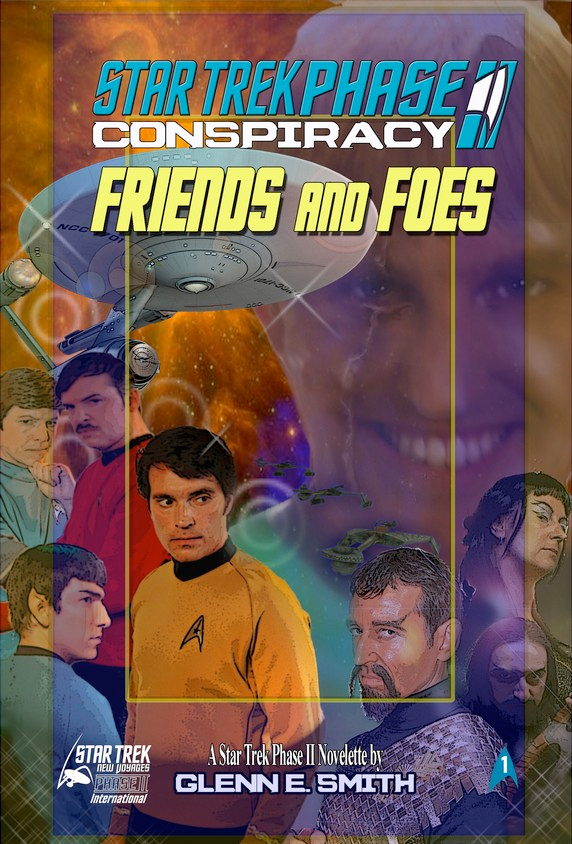 STAR TREK: NEW VOYAGES/PHASE II ceased production on any new episodes this past July and left three filmed episodes in the uncertain limbo of stalled post-production.  Instead, Retro Studios in Ticonderoga, New York got a license from CBS to become an official Star Trek TOS set tour.  And as cool as that sounds, if you're like me, you're really missing Star Trek: New Voyages.  Well, hopefully, this'll lessen the blow just a little.
The New Voyages Fan Club has just released the first in a series of novelizations of new, never-before-filmed episodes of Star Trek: New Voyages (also known as Star Trek: Phase II).  For obvious reasons, these novelizations cannot be sold, which is why they're being released as eBooks directly on the New Voyages Fan Club website in the following formats:
Mobi (Kindle),
ePub (Nook, Kobo, Sony reader and tablets)
PDF (Adobe Portable Document Format)
LRF (Older Sony Readers)
PDP (Older Palm Devices)
The books will not be available on Amazon.com as they require a minimum price of $0.99 for eBooks. The New Voyages Fan Club is therefore providing the eBook in Kindle format on their website with instructions as to how to transfer it to a Kindle device free of charge.)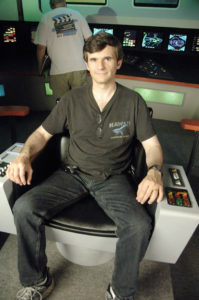 The first book in the series, "Friends and Foes" was written by Glenn E. Smith, a production assistant and assistant director on a number of the Star Trek: Phase II episodes (during the period it had that alternate title).  The eBook takes place after the episode "Blood and Fire" and before "Enemy: Starfleet."  The first part has just been released with twelve chapters covering about 85 pages in standard PDF format.  Part 2 will be released on December 31 (so read quickly!).
Star Trek New Voyages: Phase II, International is a small non-profit team dedicated to preserving the legacy episodes of Star Trek New Voyages/Phase II, and running the fan club.  They started out in 2008 as the NewVoyages download mirror for the U.K. and Germany, providing subtitles for the episodes in English and German.  They expanded their operations to run the website in four languages (English, French, German and Spanish) with a team of translators for subtitles in up to 13 languages!  They also organized the showing of NV/PII episodes at European conventions.
With the shutdown of New Voyages in the USA, the German group took on the full responsibility for maintaining the existing episodes while the production team turned the studio into an official set tour.  They are now in the process of continuing to release more New Voyages episodes as free eBooks.  Five are already completed with immediate plans to release one per month.
To all budding Star Trek authors, they are now inviting fans to submit their own stories in eBook form that fit into the New Voyages universe.  (Please note that any story chosen for publication may be rewritten by their team as needed, much like submitted TV scripts are rewritten by a show's writing staff all the time.  The original writer would, of course, be credited.)  They will publish the best stories as free eBooks. You can e-mail your story ideas to Peter Walker <[email protected]>.  Although he lives in Cologne, Germany, Peter is British and speaks the Queen's English.
Although Star Trek fan films have occasionally made the jump from video to audio drama (or vice-versa), it is very rare for a fan series to be adapted to novelized format.  In fact, I don't know of any personally (although I certainly could have missed one).  And while Axanar was planning to release a series of tie-in novels, like the feature film itself, those plans are currently on hold.  So it's pretty safe to say that this move by Star Trek New Voyages/Phase II is a pretty big thing in the world of Star Trek fan films!
If you'd like to help yourself, you can download their first ebook in multiple formats directly from the New Voyages Fan Club website.