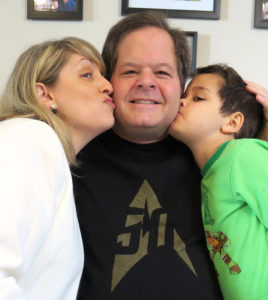 Yeah, totally self-indulgent, but it is my blog and my birthday, so please cut me a little slack.
Earlier this morning, I got one of my first birthday wishes e-mailed from a friend of mine in the U.K.  Apparently, in the European style, today's date would be written as 17/01.  THAT EXPLAINS SO MUCH!!!  (And the embarrassing part: in five decades, I never noticed that before!)
So on my big FIVE-OH birthday (which CBS was nice enough to design a logo for!), I would like to thank my amazing family for putting up with me blogging all the time.  And I want to thank all of you for reading what I write.  Even if you don't agree with me all the time, it's still fun to know that I'm not just shouting out into an empty vacuum.
As I turn 50 (and enter my SIXTH decade…oh, Jeebus!), I realize that I have so many blessings in my life.  I've lived at such an amazing time.  I grew up in a period where there were few enough channels and few enough media distractions that I could become a Trekkie (not a Trekker…I'm too far gone).
I came into awareness of music during some of the greatest years for the development of rock and roll (the 70s and 80s–don't try to convince me there was or will ever be two better decades for music…except maybe the 60s).
And I was there in the mid-1980s as comic books changed forever.  I watched the dawn of mainstream sci-fi and the birth and conclusion of multiple Star Trek television series (with another one on the way!).  As a Trek fan, I've had the opportunity to walk the corridors of Deep Space Nine and the USS Voyager, to work as a professional Star Trek consultant for Paramount for eight years, to write an officially licensed Star Trek reference book, and to help in the creation of the Star Trek: The Experience in Las Vegas.  I even helped direct both Majel Barrett Roddenberry and John de Lancie on actual Star Trek projects.  Heck, I've actually walked around Gene Roddenberry's house twice (before Rod sold it a few years ago).
I got to serve on the Executive Committee of STARFLEET, the Official Star Trek Fan Association, Inc., and of course, to meet an amazing group of Star Trek fan film producers as I write this blog.  I've even co-written and co-produced a Star Trek fan film!
I knew a world both before and after Star Wars, a world where only Han shot Greedo and when the words "No, I am your father!" was truly the biggest mind f*ck I had ever experienced!
I've lived through the weekly unfolding sagas and slowly-revealing mysteries of multi-year sci-fi epics like Babylon 5 and both Battlestars Galactica.  There's no excitement quite like wondering what will happen next on your favorite show!  I've watched the development of the super-hero movie genre from pretty awful to pretty awesome (well, at least for Marvel) and the super-hero TV genre from "good try" to "good heavens, that's fantastic!" (well, at least for DC).
I've been to Antarctica, I've worked for for and as Willy Wonka, I've owned two companies, I've authored a professionally-published book about a real bearded Santa Claus, and I've lived in two of the most exciting cities in the world (New York and Los Angeles).  I've also lived in the middle of nowhere (Ithaca, N.Y.).  I've hiked in Utah, seen a space shuttle landing in person, walked inside of a volcano in Hawaii, and stood under a meteor shower on a perfectly clear night watching 78 shooting stars in just one hour (I counted).
And most of all, I've been blessed with the most amazing wife, the most incredible son, the greatest family (both my and my wife's parents are still married), and a fantastic and supportive group of friends.  I'm still close to two buddies I had back in high school and see one of them weekly for "geek night."
In short, I just feel truly grateful for having lived such a wonderful life thus far.  It's had its ups and downs–what life doesn't?–but it's also had some cherished moments, heartwarming surprises, and a whole lot of love.
I couldn't have asked for a better fifty years.  Here's to the next fifty!