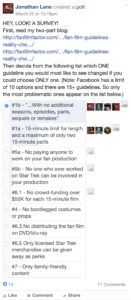 Last week, I invited folks to vote on just one of the fan film guidelines that they thought the SMALL ACCESS group should focus our energies on trying to convince the studios to revise.
Initially, we set out to encourage multiple changes simultaneously from CBS and Paramount and pretty much got nowhere.  And while we still have a veeeerrrrry steep mountain to climb, we might end up with a better chance of success asking for just one change rather than many.
And so we set up a survey over on the Small Access Facebook Group, and so far, we've had just under a hundred votes.  Two-thirds favor a focus on the second half of the first guideline: "…With no additional seasons, episodes, parts, sequels or remakes."  And with about a quarter of the vote, the notorious 15-minute limit is currently in second place.
But there's still time to vote because, to be honest, I haven't had a chance to work on the next entry of my "FAN FILM GUIDELINES: Reality Check" blog series yet.  And since I'm on vacation next week (heading up the California coast with the family and my camera), there might be a solid two weeks left to vote.
Here's the link for the poll if you haven't voted yet or want to encourage others to:
https://www.facebook.com/groups/smallaccess/permalink/465593603781344/
And in the meantime, if you want to help me write the next entry in the blog series, how do YOU think we should proceed from here?  We've got 1,300 in the Small Access group…92 of which are bothering to vote.  We're not exactly a "movement," but we're not entirely invisible either.  A full-on boycott with just 1,300 people is pretty meaningless, though.  And I doubt we're going to convince every fan filmmaker out there to simply ignore the guidelines and risk getting sued.  So what else is there?
I have a few ideas, but I'm curious first to see what other people think.  Feel free to comment on this page or, if you're a member of SMALL ACCESS (and if you aren't–why not???) on that Facebook group page.