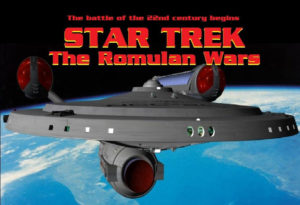 On May 13, 2005, Star Trek: Enterprise aired its series finale, "These Are the Voyages"–completely skipping over a half-decade of the much anticipated Romulan War with Earth and the Coalition of Planets.
Many fans were, quite understandably, disappointed.  In addition to strengthening the alliances that would form the Federation and shaping the very direction of Starfleet technology from pure exploration into vessels that could also fight and defend, the very nature of the Romulan War promised action and drama that the fifth Star Trek television series (sixth if you count the animated series) had not previously been able to develop.
Two and a half years later, on November 23, 2007, Star Trek fans began to fill in that missing half decade with a new fan series: STAR TREK: THE ROMULAN WARS.  Led by show-runner LEE GARTRELL, this Arkansas-based production didn't have the financial resources or the professional polish of a Star Trek: New Voyages or Starship Exeter, but what they did have was passion and commitment.  They sewed their own costumes, built their own simplified sets, green-screen composited in backgrounds behind their actors, and created their own VFX.
It was a labor of love that didn't always have the best lighting or sound quality, but you could still see how much time and effort went into this fan series which was, at the time, the only fan production that attempted to tackle the 22nd century NX-01 era of Star Trek.
Over the course of the next eight years, The Romulan Wars would release nine full-length episodes ranging in length from 22 to 45 minutes (nearly four and a half hours of content!).  Their previous offering, a prequel episode entitled "The Atlas," was released a year before the fan film guidelines were ever announced.  At the time, Lee Gartrell was planning for a full run of 16 episodes to finish up the war.
Unfortunately, Guideline #1 prohibits continuing series.  So The Romulan Wars is wrapping up with their tenth episode, a two-parter entitled "The Tunnel at the End of the Light."  Part 1 has just been released, with Part 2 planned for posting within the next week or so.  Part One runs 23 minutes (longer than the 15 minutes permitted by the guidelines), but the first four minutes doesn't really count.  And if Star Trek Continues can release 45-minute episodes post-guidelines, I doubt 19 minutes for a non-crowd-funded fan film will wake the sleeping giant.