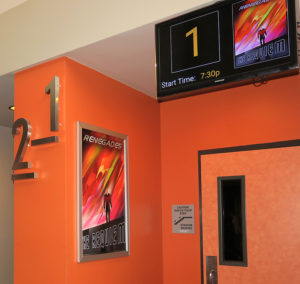 Over a half million dollars.  Multiple crowd-funding campaigns.  Walter Koenig.  Nichelle Nichols.  Tim Russ.  Elaborately constructed sets.  Props.  Art design.  Lighting.  Make-up.  Broken air-conditioning in the studios.  Countless aliens in hot rubber masks.  A year in post-production.  Amazing visual FX.  Incredible music.  And those damn guidelines from CBS and Paramount that forced Star Trek: Renegades to evolve into RENEGADES: THE SERIES.
And then last night, at 7:30 in the Laemlee Theater in North Hollywood, CA, the moment we'd all been waiting for.  "The Requiem" was shown for the first time as a full-hour fan film on the big screen in front of an audience of hundreds of fans, actors, production crew, family, friends, and donors…and at least one blogger who crawled through L.A. rush hour traffic for 75 minutes to get there!
The inside of the theater looked like this…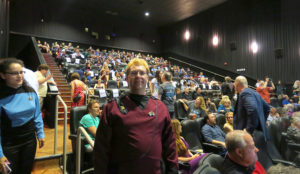 Before the screening, actors posed for photos with fans who'd donated a little extra…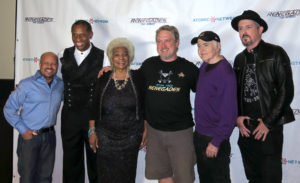 And then it was time to start the film.  Things were running a little late, so producer SKY CONWAY's opening introduction was simply, "Let's start this thing!"
An hour later, we were all clapping and cheering for a fun and exciting movie experience.  I won't spoil it for you.  Just know that I truly enjoyed what I saw.  I'm sure there will be critics out there picking apart this or that, complaining that Uhura mispronounced "Risa" or that the green screen compositing looked fake in places or that Tuvok's (I mean, Kovok's) uniform seemed like he was wearing it backwards.  If you look for the flaws, you'll certainly find them.  I won't stop you.
But I didn't look for the flaws.  Instead, I marveled at how much these dedicated fans (some of them professionals, others simply passionate volunteers…but every one a FAN, so I call it a fan film) worked together and seamlessly to create this hour-long production quite literally from nothing.  They raised their own money from thousands of donors…which isn't easy, let me assure you!  They designed and built most of their sets from scratch.  They created costumes and aliens, designed CGI starships (twice…because of those of those annoying guidelines!), composed their own music, fixed the lighting and coloring, added in their own sound effects, corrected dialogue in ADR.  The actors each gave their best performances.  Despite the script revisions to surgically remove all references to "Star Trek," Walter still provided fans with a superb final send-off to the character of Chekov.
This was a full-scale production, folks…and a true labor of love by all involved.  And for all of that, I give it a rating of MUST SEE.
And remember that the finished product was made for a fraction of one percent of what a Hollywood blockbuster costs…and less than one percent of what it's probably costing for a single episode of Star Trek: Discovery.  So instead of looking at what they didn't do, think about looking at all they DID do…which is a LOT!
I'm not certain when the full film will be released to the public, but it should be fairly soon.  Some of you may already have seen the first part of "The Requiem."  If not, it was finally posted publicly to YouTube a week ago by Atomic Network:
After the screening, there was a short question and answer period with Sky Conway and several of the actors who were in attendance, including (pictured below, left-to-right): TIM "Tuvok" RUSS, WALTER "Chekov" KOENIG, ADRIENNE "Lexxa Singh" WILKINSON, MANU "Icheb" INTIRAYMI, GARY "Ragnar" (new character) GRAHAM, and ARON "Nog" EISENBERG.  (Actually, because of those pesky guidelines, the Trek characters all got new names for "The Requiem.")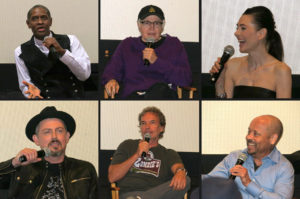 Sky confirmed that, yes, there will be more episodes of Renegades!  Along with co-writer ETHAN CALK, they've written the show "bible," fleshing out the universe and characters.   Sky has been outlining, and he hopes to have the first draft of the new script completed in about two months.  Even though it won't be "Star Trek" as we all know it, it will still have that same Gene Roddenberry feel and inspiration.
And speaking of the Great Bird of the Galaxy, I'd like to share with you all something that Sky Conway said during the Q&A because I think it summarizes why we are all here—whether we're fan film producers or "just" fans (or even fan bloggers!)—this says it all:
---
Come back tomorrow for Part 1 of a multi-week blog presenting the complete and fascinating history of RENEGADES from 2006 to 2017!  Yep, it's been over a decade since this fan series was born.  You're gonna love it!