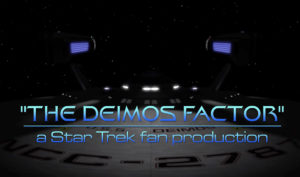 Two weeks after releasing their sixth and seventh episodes just one day apart, the production team for STARSHIP DEIMOS just debuted their eighth episode, "The Deimos Factor."  If it seems like Deimos is pushing its production warp engines to ludicrous speed, it's actually much simpler than that.  All of the fan series from POTEMKIN PICTURES ran into a many-months-long delay last year when show-runner and main editor RANDY LANDERS (who also directed each of the latest releases) had quadruple bypass surgery last August.  He's fine now, by the way.
Randy's ultimate goal is to release one fan film per month under the Potemkin Pictures label, and it looks like he's rapidly getting back on schedule.  With seven different fan "series" in active production, plus the 36 episodes of the completed Project: Potemkin, Randy has released a jaw-dropping 62 separate fan films in 8 years, ranging in length from a couple of minutes to nearly an hour.  That's an amazing accomplishment.
I've heard a small number of fans recently disparaging Randy and his fan films, claiming there is weak writing or minimal character development or just complaining about the low production values.  I say: "Nonsense!!! Malarkey!!!  Horse pooey!!!"  What Potemkin Pictures has done is to assemble separate casts of people over five dozen times, get them to perform and complete enough full scenes to create finished productions, edit those scenes together, add VFX and music, and release those completed episodes on a very consistent schedule fro nearly a decade.  Along the way, they built home-made sets, got inexpensive costumes to look like Starfleet officers and assorted aliens, and even had some make-up.
As for the scripts, while not every one is a cinematic masterpiece, they have all managed to be unique and non-repetitive.  They focus on different characters and different scenarios…just like Star Trek.  There are episodes with lots of cast members and ones with just two or three.  There's first contacts, prime directive dilemmas, space battles, mind control, alien rituals, medical emergencies, diplomatic missions, Starfleet bureaucracy and intrigue, personal crises, spatial anomalies, drama, humor, triumph, and tragedy.  It's never the same thing twice.
You try to do that 62 times and see how diverse your scripts are!
Anyway, you can watch all 62 productions here on the Potemkin Pictures website.  And you can watch their 63rd release, "The Deimos Factor," right here, right now…