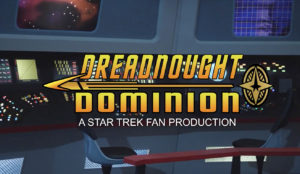 Last week, we took a look at the fan series DREADNOUGHT DOMINION, which debuted in early 2015 and returned in late 2016 and 2017 with two additional episodes that crossed over with STARSHIP VALIANT and Vance Major's MINARD saga. Now Dominion is set for yet another return, and has launched a brand new GoFundMe campaign attempting to raise $1,500 for a full-length (two 15-minute episodes) fan film.
In the first part of my interview with show-runners GARY DAVIS and RANDY WRENN, we discussed the crowd-funder, the guidelines, and the two recent vignettes that were released. But were very outside-of-the box fan films. The first, "Reality Check," debuted last month and features jumps between the Star Trek fan film universe and the "real" world where their production is actually being filmed. You can watch it here…
The second vignette, "Silent Acknowledgement," focused on an intriguing concept: a communications officer who is deaf. Played by Gary's wife TRACEY DAVIS, who is actually deaf and has cochlear implants, Lt. Paula Tomkins' "disability" is no more a hindrance in the 23rd century than Geordi LsForge's blindness was in the 24th century. For hearing impaired watchers of fan films, this is (I believe) the first totally deaf character to be featured in any fan production or series. This will probably be very appreciated by those with hearing issues as the show acknowledges deafness. The vignette is below to watch, however if you struggle to hear it, you could consider using some hearing aids, such as the tv ears costco has. With the help of those hearing devices, hearing impaired people should be able to watch the episode more clearly whilst the show introduces the first deaf character.
One of the most distinctive things about Dreadnought Dominion (in addition to the deaf communications officer and the use of a tri-nacelled Federation-class dreadnought design from the Franz Joseph Starfleet Technical Manual from the 1970s) is where the series has been filmed. The first two episodes and the most recent two vignettes were each filmed on the TOS sets in Kingsland, GA, previously used exclusively for the fan series Starship Farragut and Star Trek Continues. No other fan production was ever allowed to film there. But Dominion filmed there years earlier and was also the first fan production to film on those sets just as the new owner, RAY TESI of STARSHIP REPUBLIC, was opening them up to other fan productions. How did they manage that…?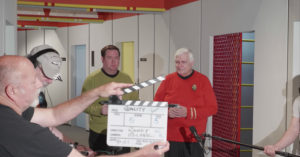 JONATHAN – How was it that you guys became the first fan film to use the former Star Trek Continues sets…even as Ray Tesi was only just announcing that they were open for business?
GARY – Early in 2018 when a secret deal was being made where Ray Tesi was negotiating the purchase of STC's Studio 9, everything was HUSH HUSH and no one was talking. Out of the blue, I got a Facebook message from Royal Weaver, who has worked on Starship Farragut and Star Trek Continues at the studio since the very beginning. He tells me that Ray has purchased the studio, but needs a captain's chair…being the only piece of the studio that the former owner didn't want to part with.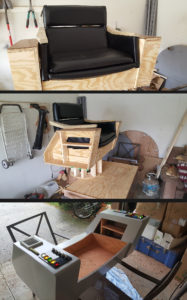 Royal had seen on Facebook that I was building my own chair, and he made the introductions to Ray, who made a phone call to me not long after. I went down to Kingsland shortly thereafter to help the group do some cleanup and meet the folks who would be running the studio and preparing it for future fan films to be produced.
I have been making a few set pieces for the studio, including the commissioning plaques…renaming the "ship' to the USS CONSTITUTION, as well as making a plaque for Ray's production, USS REPUBLIC. At the time I went down there, Ray was ensuring that it was permitted to shoot more fan films on the sets. So I asked to get some studio time when he got the okay. In May of this year, we all went back to Stage 9 Studios, and this time, we proudly put up the USS DOMINION plaque on the bridge and filmed "Reality Check" and "Silent Acknowledgement."
JONATHAN – Now, this actually wasn't your first time shooting on those sets. Back in 2015, Dreadnought Dominion released two fan films that were shot there, as well: "Haunted" and "Anchors Aweigh." In fact, your fan series is the only one that I'm aware of—other than Starship Farragut and Star Trek Continues—to ever be allowed to film on those sets. How did that come about?
GARY – I was approached by Frank Parker, Jr. in 2013, and he had an idea for a fan film that featured the Federation dreadnought class starship from the Franz Joseph Technical Manual. Frank had been involved in the construction of the sets for Farragut Studios and was an extra in the background as a Farragut crewman…as well as a Romulan for one production.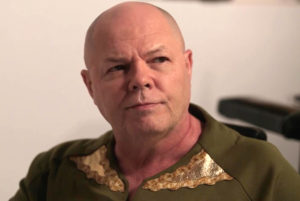 I had watched an episode of Starship Farragut and was HOOKED! WOW, these folks actually MADE Star Trek! Frank asked if I had any stories we could use. I had a story I had written a very long time ago that involved a starship being repaired and "getting back out there." It was called "Who Haunts This Ship?" I gave the story to Frank, who passed it along to David "Randy" Wrenn, who took it and gave it a script treatment. What we ended up with in the end only vaguely resembled the original story, but I was very pleased there were some story elements that made it on screen for the final product!
RANDY – I had been working on a degree in web tech at my local Community College when I met Frank Parker, Jr. He told me about his trips to Kingsland where he had been working on building some amazing sets and asked if I'd like to come along. That's how it started for me.
After a couple of trips to Kingsland, Frank told me that he had been granted permission to shoot his own Star Trek-based series at the studio and asked if I would like to try my hand at adapting Gary Davis' short story into a script, and I jumped on the opportunity.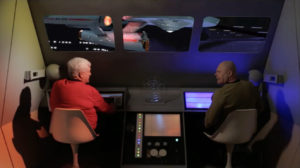 I had barely got started when Frank told me to stop, and we would do a vignette of the story that I had up to that point. I was really disappointed because up to that point, almost nothing had happened yet. The captain and chief engineer had boarded the ship, made their way to the bridge, and…that was about it.
So I came up with the idea of the rest of the story that takes place in our first episode "Haunted." It was a way to give every cast member at least a couple of lines, to tell a story, and not extend the length of the script all that much.
We're still pretty happy with the way that came out.
JONATHAN – So I've always wondered the order that your first two episodes came out. "Haunted" was very strong and showed the commodore coming on board, taking command, wrestling with some inner demons, and taking the Dominion out of spacedock at Jupiter Station. Then came your second episode, which was pretty much a PREQUEL to the first episode. Why was that?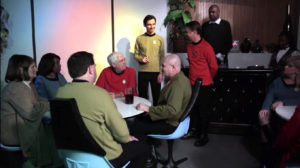 RANDY – We scheduled the "Haunted" shoot for the Martin Luther King Jr. birthday weekend in 2014, but we were all attending the open house at the studios in December 10, 2013. So Frank came up with the idea of doing a one-day shoot while we were there. He told me to write something very short and simple. A one scene film where the cast just kind of gets together and meets each other. That turned out to be our second episode, "Anchors Aweigh."
GARY – After the activities wrapped, we spent a day and LONG into the night filming "Anchors Aweigh." We went back in January 2014, and with a little more confidence in the process, we filmed "Haunted."
RANDY – So after both episodes had been shot, Gary and I went back to our "real" lives while the editors and producers took the episodes into post production. Eventually, Frank, and our other executive producer quit the project, and Gary and I stepped in to see that the two episodes eventually got released. (That is a very, very long story that I could write a book about. I'll spare you.)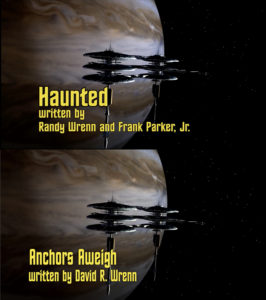 JONATHAN – It's still not clear why you released your second episode first, though…
GARY – We released "Haunted" first since it was completed first and was also the stronger of our two offerings. Then we released "Anchors Aweigh." And then we combined that and "Haunted" into a "Producers Cut" episode.
By then, Frank Parker had bowed out of the partnership we had for making Dreadnought Dominion, and Randy and I formed "Dominion Media"…going on to what we called "Illustrated Audio Productions" such as Star Trek Outlaws, a story with Trek origins but in another part of the universe. Also Excalibur Logs, bringing to life the original story that Haunted was based on.
JONATHAN – So what happened next? You released two episodes within three months of each other and then nothing for another year and a half.
RANDY – We were excited to do a third episode, which was going to be our first episode to take place after the ship had launched and was to be an action-packed adventure. But unfortunately, before we could get around to shooting it, the studios were sold to STC and nobody could play in their sandbox anymore.
BUT we are not bitter! We never were! Everybody has a right to open their sandbox up or close it down, and we totally respect that.
GARY – After Farragut Studios was purchased by Star Trek Continues, renamed Stage 9, and became unavailable to film at, Randy I went exploring other options.
RANDY – There were only two alternatives. We looked into New York [James Cawley's Retro Studios – Jonathan], and had begun talking to some people we knew who had connections there
But then we discovered the sets in Oklahoma City. We went to Oklahoma and toured the sets and met the people, and we loved both!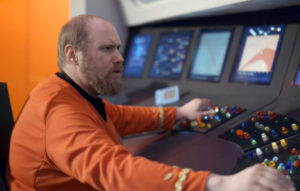 GARY – We both journeyed to OKC for the first Promade-a-Con run by VANCE MAJOR. Vance became our "third" Beatle (if the Beatles only had two original members).
RANDY – It was decided. The third episode of Dreadnought Dominion, "Redemption at Red Medusa," would be shot at Starbase Studios in Oklahoma City.
JONATHAN – I don't recall you guys ever filming in OKC, though. What happened?
RANDY – A lot of things went wrong. They had to move their sets, and they ended up in Arkansas. Okay, we thought; that's even closer. But we would have to wait for them to get the sets repaired and cleaned up after the move. They'd need to get the power on in the studio, and a few other things. But we were fine with waiting.
But then there was all sorts of turmoil at those studios.
JONATHAN – You're telling me! I was caught up in the center of it for a few months late last year. It wasn't pretty.
RANDY – Yeah. But while the drama in Arkansas played out, we began to collaborate with Vance Major, who we had met on out visit to Oklahoma.
GARY – I describe Vance as my "Force of Nature," since he has ideas that hit you like a hurricane, his energy is like a tornado, and his enthusiasm is like the noonday sun! He just makes you want to DO things. He pitched us the idea for the Dominion/Valiant crossover, "Chain of Command," in 2016.
RANDY – We loved the idea, and we all wanted to do it. So we wrote a little short based on Gary's character, Jason Brousseau, stepping in as the new captain of our ship. He had been the XO in our first two episodes. So with Frank Parker (who played Commodore Grissom) stepping aside, it just seemed natural for Gary to step up as captain. The result was "Chain of Command," released on November 3, 2016.
JONATHAN – But you said you couldn't film at Starbase Studios in OKC.
RANDY – We couldn't, but Vance could. He filmed the Starship Valiant scenes before the sets were moved to Arkansas.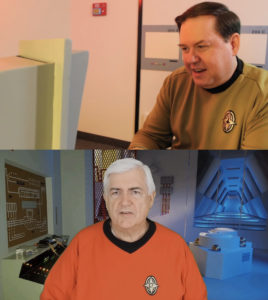 GARY – I shot my scenes in my office, making it look like a lounge on a starbase awaiting pickup by the Valiant, getting a ride to Dominion. My character had taken over command of Dominion, and I was choosing my new XO.
Randy filmed against a green screen with Engineering behind him, and Vance filmed all the Valiant scenes at Starbase Studios in OKC. The result was GREAT fun and gave Randy and me another production to cut our teeth on.
JONATHAN – "Chain of Command" was followed ten months later by "Command and Conquer," which told almost the exact same story but set in the Mirror Universe. It was very well done! So whose idea was it to do that?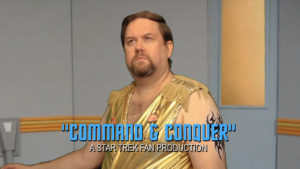 GARY – Vance approached us again and asked how we felt about REDOING "Chain of Command," flipping the script, and remaking it as a segue into his "Dark Glimmer" story. All three of us brainstormed on taking the original story and re-imagining it as "Command and Conquer"…where the story was in the Mirror Universe and literally "mirrored" the original, dipping into Mirror Minard's storyline at the end. It was GREAT fun!
RANDY – Just for fun, watch "Chain of Command" and "Command and Conquer" back-to-back and note the similarities.
JONATHAN – Yeah, it's yet another very unique fan film in what is rapidly becoming a string of unique fan films (including the two recent vignettes). So if I asked you to compare Dreadnought Dominion as it is now to to the way it was back in 2013-2014 when you did your first episodes with Frank Parker, Jr. as Commodore Grissom, what's changed and what has stayed the same? Who's still around and who isn't…and who is brand new?
GARY – We had a GREAT original group for our 2013-2014 outings. We lost our series creator to other interests, and with time and distance, new jobs, and other projects, we lost just about everyone else.
RANDY – From the beginning there has always been Gary and me. We're to Dreadnought Dominion as Donald Fagan and Walter Becker were to Steely Dan. There's always us. But there are a few that have been ready to come back and do more episodes from the very beginning. There's Dan Scanlan, (His character is dead.. .but this IS science Fiction, so anything can happen), John lackey, Tracey Davis, Terry Self, and my Daughter Jessica Richter, who does voice over for us. And of the crew, we have Sam Rooks, and Royal Weaver. And Kenneth Thomson Jr. has expressed an interest in returning as out CGI effects wizard.
GARY – Ryan Rosal, who was an extra on two productions, is a Jacksonville, FL native transplanted to Ohio for work. Kingsland, GA is in his backyard, and he'll make the journey next year, if possible.
RANDY – Everyone else is new. Some, like John Sims and Larry Fleming, are old friends but new to being a part of our production.
GARY – We've picked up just as many new friends and contributors along the way. Foremost is Vance Major…and more recently Michael Klug, who joins us with his production company KP Films. He was an excellent production partner for this shoot, and we look forward to his vision and expertise for our future productions. Who we are most excited for our our team are Ray Tesi, Royal Weaver, and Sam Rooks, the owner of Stage 9 Studios and his two right hand guys who know the sets and how to light them to make it looks MARVELOUS!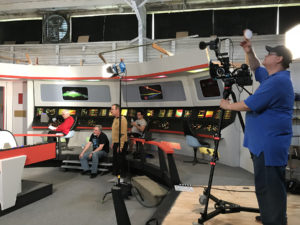 JONATHAN – So what can fans expect from Dreadnought Dominion going forward?
GARY – We LOVE doing something new. Something different. But having said all that, we are very much looking forward to shooting "Redemption" next year. Enough of being in dry dock and in space stations! We're ready to get way out there and have a proper adventure! Who's with us!!? (Sorry, got carried away there.)
We also have a third crossover with Vance Major in both post and pre-production: "Time's Echo." But instead of Starship Valiant, we are crossing over with his new endeavor, The Constar Chronicles.
JONATHAN – Will funding that be part of the GoFundMe campaign?
GARY – No. This falls under Vance's "No Budget Productions," so no funds required for that endeavor. Vance has already filmed his on-location segments in the wild near his home. Randy and I still need to film the Dreadnought Dominion stuff against a green screen "on location" in our homes.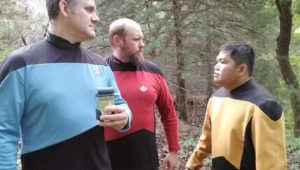 Working on Vance's projects are GREAT FUN! They require a bit of thought and using video "misdirection" when making everyday venues look like something out of Star Trek using video trickery, green screens, and adding props. I am feverishly working on my full scale captain's chair so I can actually be sitting in the chair for the best prop yet for a Vance project.
So our fans can look forward to some fun space adventure with some original twists and always a little glint of mischief in our eyes, as well as some off-the-wall, unexpected in-between films.
JONATHAN – I can't wait! Thanks for a great interview, guys.