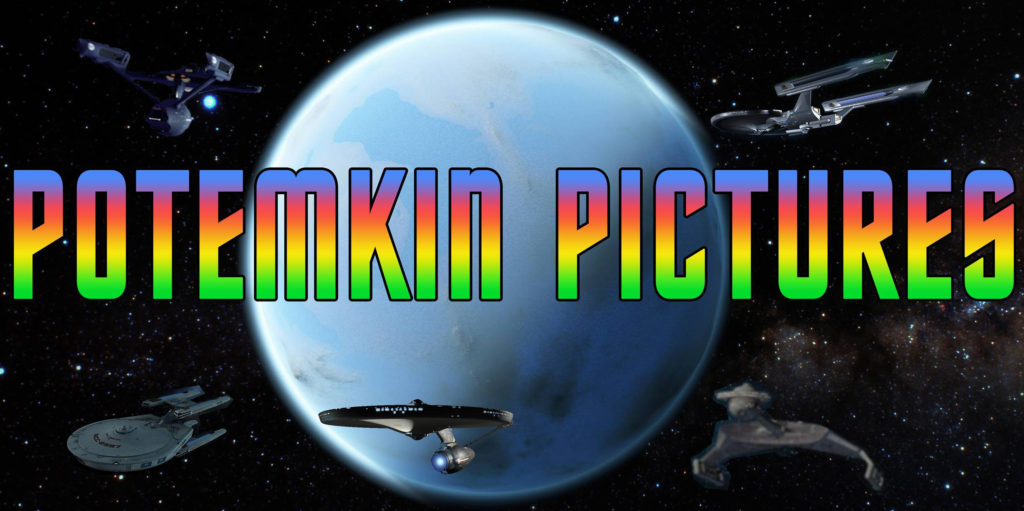 The eagle has landed…or more precisely, the LANDERS have landed. I refer, of course, to RANDY LANDERS, the show-runner of POTEMKIN PICTURES, and his wife. Mrs. R. recently got a new job in a new state, and so the two of them have just moved from Pelham, Alabama, about six hours away to Lexington, Kentucky. And they took a half-dozen starships with them!
Those starships are, of course, the many elaborate sets used to film a plethora of fan series including Starship Tristan, Starship Deimos, Starship Endeavour, Hospital Ship Marie Curie, Starship Triton, and Battlecruiser Kupok…plus a half-completed full-size "shuttlecoupe." You can view all of the several dozen fan films released during the past almost-decade by Potemkin Pictures here on their website.
Over the years, there's been a lot of Star Trek fan film-making in the southeastern U.S.—including in Georgia (Star Trek Continues), Alabama (Potemkin), North Carolina (Dreadnought Dominion), Tennessee (The Romulan War(s)), and Arkansas (Federation Files and Avalon). But to my knowledge, Kentucky has never before been the home to a significant Trek fan film production…which is surprising because Kentucky (and specifically the Lexington area) is Shatner horse country!
But that's about to change in a big way, as not only is Randy Landers bringing his sets with him with plans to continue his existing fan projects, but he also intends to launch a NEW fan series featuring local area residents as actors and production crew!
So if you or someone you know live(s) in or around Lexington, Kentucky and want(s) to be part of an established fan filmmaking, er, enterprise (Enterprise, Potemkin, Lexington…this blog is becoming a fleet!) and get in on the ground floor of a new fan series, check out the following announcement and invitation from Randy Landers to attend a Pre-Production Meeting on Saturday, October 26th from 10:00AM until 11:30AM at the Tates Creek branch of the Lexington Public Library in Lexington, KY…
To: Potemkin Pictures Cast and Crew;
Family, Fans and Friends;
and Fellow Actors and Star Trek fans
I'm delighted to announce that we will be having a Pre-Production Meeting on Saturday, October 26th from 10:00AM until 11:30AM at the Tates Creek branch of the Lexington Public Library in Lexington, KY. We would like to meet with the local Star Trek fans, actors and crew who are interested and available in becoming a part of Potemkin Pictures, and a new production as well. We hope to sit down and introduce ourselves to one another, and see how things will progress with our productions here in Lexington.
Agenda/Things to Be Discussed:
1) Finishing the Construction of the Shuttlecraft Prop
Interior
i) carpeting
ii) lighting
iii) controls

Exterior
i) filling & sanding
ii) painting
iii) engines
iv) decaling
2) Design and Construction of the New Studio Sets
Full Sets
i) Starfleet Bridge
ii) others needed?

Partial Sets
i) Klingon Bridge
ii) Briefing Room
iii) Transporter Room

Wall Sets
i) Sickbay
ii) Officer's Quarters
iii) Green Screen
3) New Production ("Series") Development
Function/Purpose of a New Ship and New Crew

Selecting the Design from Established Choices Available

4) Casting and Character Development
Captain
Executive Officer ?
Tactical Officer
Science Officer
Engineering Officer
Communications Officer
Helm
Navigation
Chief Medical Officer
5) Behind the Scenes
Music
Visual Effects
Directing
Editing
Craftsmen
You can check out our Star Trek fan films at: https://www.youtube.com/user/Potemkin1711/videos
You can check out our Facebook page at: https://www.facebook.com/PotemkinPictures/
And you can check out our website at:
http://www.potemkinpictures.com/
If you are interested in being a part of something special, please send your name, phone and interests to: [email protected]
Thanks a lot, and I hope to see you on October 26th!
Randall Landers
POTEMKIN PICTURES
[email protected]