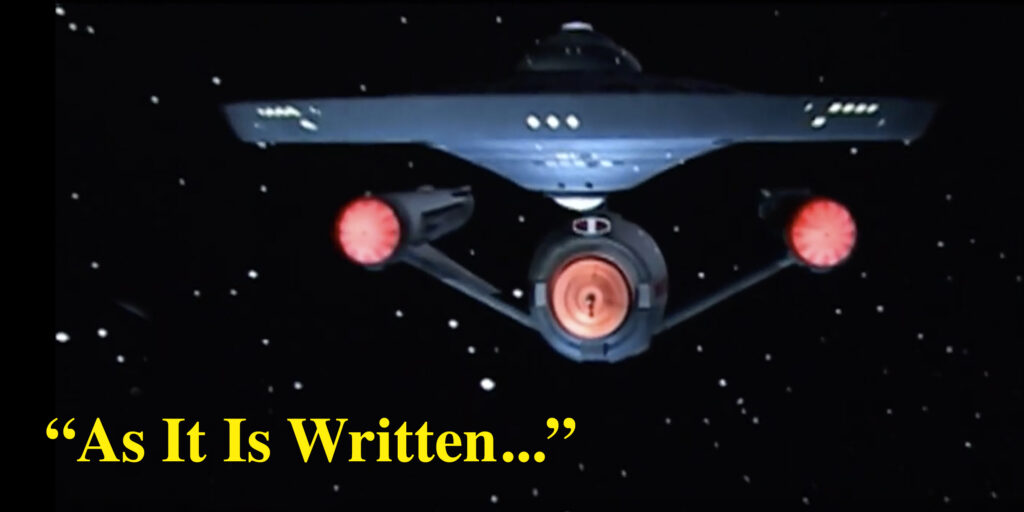 Star Trek has never shied away from discussing God and faith and the nature of the universe. Captain Kirk once asked, "What does God need with a starship?" Gene Roddenberry himself often postulated the question "What if God were just a child?" (with characters like Charlie Evans, Trelane, Gary Mitchell, and the irascible Q). TNG had episodes like "Who Watches the Watchers?" Even the animated Star Trek episode "Jihad" took on the subject of religious extremism and holy war.
Star Trek fan films haven't avoided the subject either. Earlier this year, the TNG-era THE HOLY CORE explored questions of fractured belief and strife. Prior to that, STAR TREK CONTINUES featured the return of the god Apollo in its premiere episode "Pilgrim of Eternity." And POTEMKIN PICTURES has released a whole bunch of fan films that have touched on spirituality and religion, including an early episode of PROJECT: POTEMKIN titled "Archway" where the crew encounters an actual portal to hell.
The said, the topic of God and religion is still somewhat of a rarity in most Trek fan films. So when a fan filmmaker takes the subject on so directly, it's worth a closer look. And thus, after watching the 13th episode of STARSHIP ANTYLLUS—"As It Is Written…"—I decided to ask writer/director/lead actor GEORGE KAYAIAN about his decision to tackle such a delicate and often controversial subject.
Let's take a look at the full episode first. It has a very exciting and dramatic final act…
And now, here's George's take on the episode's theme…
---
I wanted to feature a story that was timely and covered an area that has interested people for a long time now. I wanted to tackle the nature of faith and religion and what it means to those who follow and practice it in their lives. It was important to see all the points of view, and play out how it affects what you do in your life because of it.
The aliens in the episode are divided because some believe and some don't. This has led to conflict, and when the Federation is called in, they have to somehow help and yet remain neutral to a degree. There is a mysterious, sacred plant that is at the heart of the matter—does it represent God, or is it just an excuse to practice religion? The trick for me was to show both sides. It isn't about good or bad guys. Both feel they are doing right for their species.
For Captain Allen, he must help while putting his personal feelings aside. I tried to feature him as the one caught in the middle—trying to keep the peace and respect the beliefs of the conflicted aliens at the same time.
Religion is a difficult topic to write about because, no matter your opinion, someone will be offended. But here is where Star Trek shines—the human condition can be examined as a metaphor, and the minefield of the subject navigated, because using aliens provides a buffer that the audience can safely react to. I believe enough in the intelligence of my audience that they will see the story and get the point, without feeling judged because it's framed in a science fiction setting.
So far, I've been very happy with the response to the episode! A lot of hard work went into it, and it's nice when it's appreciated.
I also asked George about how many more Antyllus episodes are left, as he's previously mentioned that he does have a series finale planned…
As far as how many Antyllus episodes are left—that is hard to say. Lately, new ideas have been popping into my head, so it's just a guess how many more there are. The overall story is written and mostly filmed, but if I stopped now, they'll be twenty episodes in total. That still may be the case.
For me, it's all about what I want to say with these characters. If there are points to be made, then it's now or never, as they say. I don't want to let anybody down—or end it too quickly. I love my fans, and I love doing this. Let's put it this way: you'll be the first to know when I male up my mind, Jonathan!
Thanks so much, my friend, for keeping my series alive to so many! You rock!
You rock, too, George. Keep up the FANtastic work!