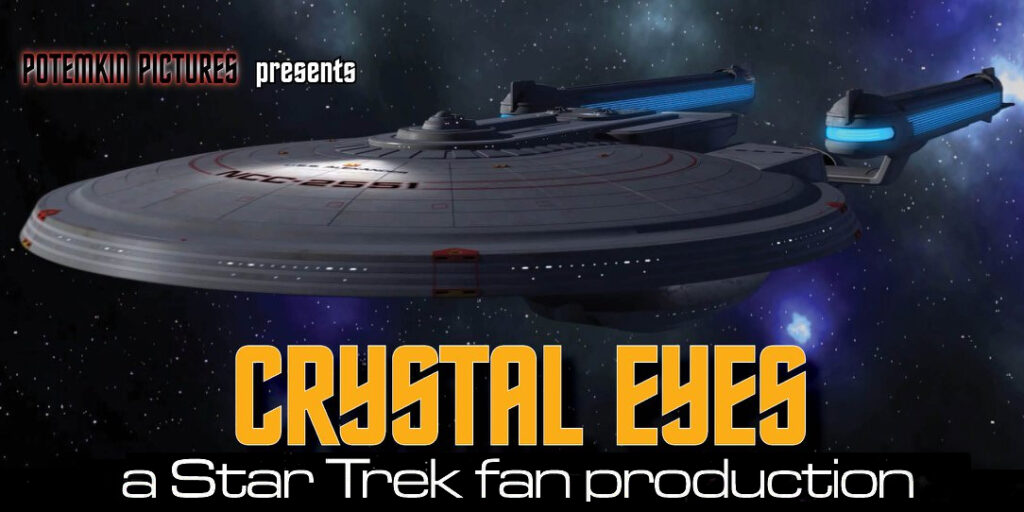 POTEMKIN PICTURES started up a decade ago with PROJECT: POTEMKIN…which ran for 36 episodes. Since then, another 45(!!!) additional fan films have been released from six different creative teams: BATTLECRUISER KUPOK, STARSHIP DEIMOS, STARSHIP TRITON, HOSPITAL SHIP MARIE CURIE, STARSHIP TRISTAN, and STARSHIP ENDEAVOUR.
Well, there's a new kid, er, creative team on the block now: STARSHIP ALEXANDER. And Potemkin Pictures has just kicked off their eighth fan "series" (although please do NOT call them fan series…as the films are all independent productions, each with its own unique story and title) with the brand new fan film "CRYSTAL EYES." The USS Alexander is an Excelsior-class variant with the "water wings" of the Enterprise-B (and later, the USS Lakota). And I must say that the CGI visual effects from ROSS TROWBRIDGE using an Excelsior model from DAVID METLESITS all look exquisite.
The 16-minute fan film was shot on the same bridge set as the majority of other Potemkin projects and also at the Moss Rock Preserve in Hoover, Alabama. It is a joint production between Potemkin Pictures in association with Black Ops Productions, featuring an entirely new crew of actors…and a couple of familiar aliens. See for yourself…
Naturally, I had some questions about this newest Potemkin creative group. So I once again went to the man at the top, RANDY LANDERS, for answers…
---
JONATHAN – So, Randy, tell us all a little about the people behind this newest Alexander series.
RANDY – The Starship Alexander creative group (not series) is under the auspices of Black Ops Productions and RICHARD LANGSMITH. They approached us about doing a film with their cast and crew, and we provided them a script (written by CHARLES KELSO, our story editor), costumes, and of course, our studios. We also recommended Moss Rock Preserve (Potemkin Pictures' own version of Vasquez Rocks) for the location.
RENDA CARR, LEE & ANN DREW, and myself provided support, but in no way were we involved with the actual production. Several months ago, we were presented with a rough cut of "Crystal Eyes," but their production had slowed a bit (in part due to producer/director/actor Richard Langsmith having broken his back!), so when I saw that construction on our new studio here in Lexington, Kentucky was well underway, I took a week and worked on tweaking the rough cut, soliciting the Alexander theme music from one of our regular composers, the highly talented TONY LUNN, and getting VFX artist Ross Trowbridge to do the opening credits and some VFX for the film.
The result is what you see. It is almost entirely Black Ops' production work. Potemkin Pictures was just along for the very enjoyable ride.
JONATHAN – One of the things I found somewhat unique about "Crystal Eyes" was that almost none of the characters from the USS Alexander is ever addressed by name…only by rank. Was there a reason for this decision? Will the characters be getting names in upcoming episodes…assuming there are any?
RANDY – So that was a creative decision on Richard's part. As he explained it, Alexander is more of a battleship, a military enforcer and defender of the Federation. As a result, its crew are more focused on what they do instead of who they are. So ranks and titles are the only thing we hear in Alexander, and I presume that would be true of any additional films.
The script itself only has character functions and ranks. Most of our scripts are written that way, and the cast change them to reflect their characters, including dialogue. Heck sometimes they even switch dialogue if they agree that their characters would say this instead of someone else's character. All of them have the freedom to modify their lines as long as they don't change the meaning/intent of those lines. "Crystal Eyes" was one such script. It could've been done with the Tristan or Deimos or even the Endeavour creative groups.
JONATHAN – If these folks are all in Alabama, and you've just moved the sets to Lexington, Kentucky, will they be continuing to produce new Alexander fan films now that you're 6 hours away?
RANDY – Whether or not Black Ops Productions makes a 4.5 hour trip (they're closer than Birmingham…in Huntsville, Alabama) is entirely up to them. I would love to have them back once we get things up and running here. We've already had quite a bit of interest of folks using our sets, and we're open to the idea. TOM HAGALE has guest starred in few Potemkin Pictures productions since this one, including a really good one coming soon from the Starship Deimos creative group. We'd love to have him and the rest of his cast members join us here for more productions.
We are always looking for more folks who want to make fan films that we can facilitate. We have GREG OGLES working on a two-part Tristan production ("Reclamation" part one is already out, and part two is coming soon) that he wrote, filmed, edited and produced on his own that features some of the cast of STAR TREK: NATURES HUNGER out of Atlanta.