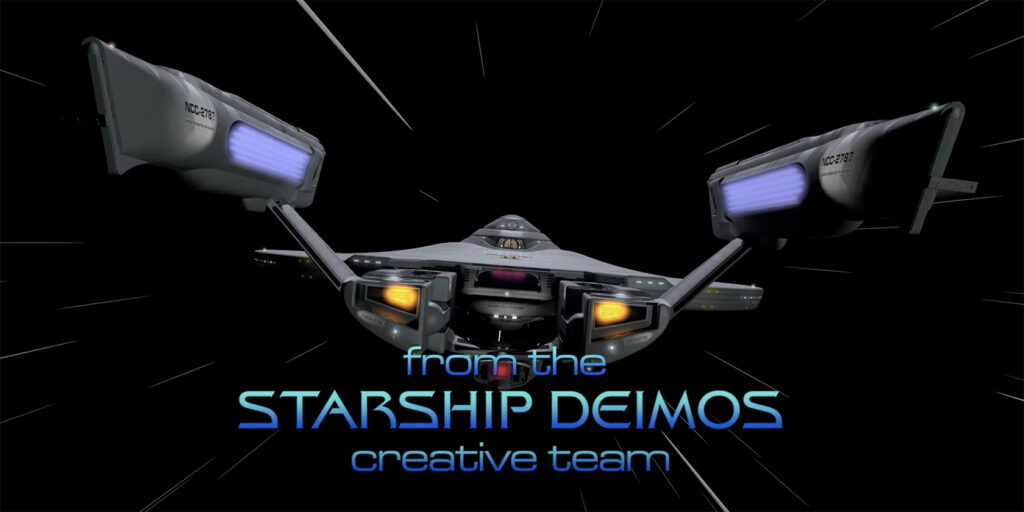 I try to cover each new fan film from POTEMKIN PICTURES soon after it's released. But with seven different creative groups all working simultaneously, occasionally I'll miss one or two.
I had this somewhat embarrassing realization a couple of weeks ago when I went to watch the latest offering from the STARSHIP DEIMOS creative team, "Butterfly Effect." It was quite good (as are nearly all of the releases from the Deimos team). And I noticed that this particular episode was written by VICTORIA AVALON, who plays Captain Gabriel of the USS Deimos. Victoria had written all but two of the first eight episodes of Deimos, but I hadn't seen her name as writer for a while (I checked, and it'd been about two years). Victoria—who also helped write the STARSHIP FARRAGUT episode "Conspiracy of Innocence" back in 2014—writes some very strong scripts, and "Butterfly Effect" was no exception.
But when the episode ended, YouTube (as it usually does) automatically loaded up another video, and it was another episode of Starship Deimos: "Blood Crystals." I let it play, and remembered that I'd started watching it back in February, but I'd never finished it…and I totally forgot to blog about it! Oy vey. It was also a very good episode.
Then YouTube loaded another Deimos episode for me, "The Solomon Gamble" from last October. I'd never watched that one at all! Then I went to check my blogs and discovered, much to my horror, that my last Deimos blog was last June(!!!) about their episode "Children of Eberus." I'd missed covering THREE new episode releases. Oh, the shame!
So here they all are, in the order they were released over the past seven months…
I noted that, in the past seven months, while Deimos had just released their THIRD completed fan film, the other Potemkin creative teams were trailing:
MARIE CURIE – 2 episodes (November and March)
TRISTAN – 2 episodes (December and April)
BATTLECRUISER KUPOK – 1 episode (November)
ALEXANDER – 1 episode (February, but that was the series premiere)
TRITON – 0 episodes (most recent was May 2019)
ENDEAVOUR – 0 episodes (most recent was December 2018)
I remembered asking Potemkin show-runner RANDY LANDERS at one point about this inconsistency, but many of my current readers might not have read his original answer. So I decided to ask Randy again, this time wondering if his and his wife's recent move from Alabama to Kentucky might have affected the schedule and perhaps have spelled the end for one or more of the above-listed fan teams (and remember, we DON'T call them fan series!).
Here was Randy's response…
RANDY – It's just a matter of what our schedule is. We have on the schedule four Tristans and four Deimos per year. One Endeavour. One Marie Curie. One Battlecruiser Kupok. One Triton. We filmed through June of 2019, and shot, like, six productions during that time. (We've released five this year, and still have one in post…in fact, a Tristan.) But the cast of Marie Curie couldn't come up with a date in July for all of them to make it, so we postponed that shoot. Pity, it was a good script.
My wife Linda left her job in March. And in August, she accepted a job here in Kentucky and moved here, leaving me to disassemble the studio and pack everything up for the move. I moved here in September, and we bought a house here a few weeks after I arrived. (It was, in fact, one picked out by my daughter and daughter-in-law on Zillow that they thought would be perfect for us, and it was!) We had a lot of work done on the house, and then moved our stuff (including the disassembled studio) into the basement in October.
I started recruiting local fans and actors for the cast and development of a new creative group in November. And in December, we started construction. So basically, there was no opportunity to shoot a Triton script in 2019. We were working on a crossover project with the Triton, Deimos, Tristan and Marie Curie casts, but frankly, assembling them all was a nightmare. LEE DREW and TUCK STEVENS, who were producing the venture, were unable to corral the cast enough to shoot before the C-19 outbreak, and the script (which everyone loved) remains unshot. Whether or not it will ever be shot is unknown.
As of today, I have six items remaining on the list to do for the completion of Studio 4, six works in progress, and I restarted driving for Uber and Lyft on Monday, June 1st.
The new Lexington, KY group selected the name Delia Webster, a local historical figure, for the name of the ship, and the STARSHIP WEBSTER has been cast. We will begin meeting in June in accordance with our governor's safety guidelines.
We have two Deimos scripts ready to shoot here in Lexington, and Victoria Avalon, Tuck Stevens and ICHABOD TEMPERANCE have agreed to make the trip (Victoria from Tampa, Tuck and Ichy from Birmingham). We expect to use the shuttlecraft for both of those productions, since we brought it from Birmingham (you should've seen the folks staring at the trailer on the way here—and more so when I brought it from storage to the house—the neighbors actually were excited to see it!).
We're hoping that some of the others will be able to make the trek from Birmingham to continue with their group efforts—with obviously a reduction in their output. CHRISTIN WOODS will be returning as T'Noshi, but I'm not sure if the rest of the Tristan cast will be available. We're hoping.
LARRY FLEMING from Kupok is also interested in continuing, but that may be for a new group here in Lexington rather than a continuation of Kupok.
---
UPDATE: The following came in from Randy after initial publication of this blog:
As an update, the Starship Webster group met here this past weekend, in makeup, and donned costumes. We shot some test video, took some publicity photos, and had two read-throughs of the first script which will be shot June 27th here at the new studio.
The only three things remaining on the to-do list are restructuring the turbolift, finishing the full-size shuttlecoupe, and getting the electrician out again to add some outlets and a few switches.
I expect to shoot two Deimos and one Webster productions in July.
We're looking for one additional VFX person to help out, and one musician for scoring. If anyone is interested, please contact me directly. Thanks!
---
And that, my friends, is all the Potemkin news that's fit to print. Look for other releases from Randy's old and new teams in the near future and beyond.