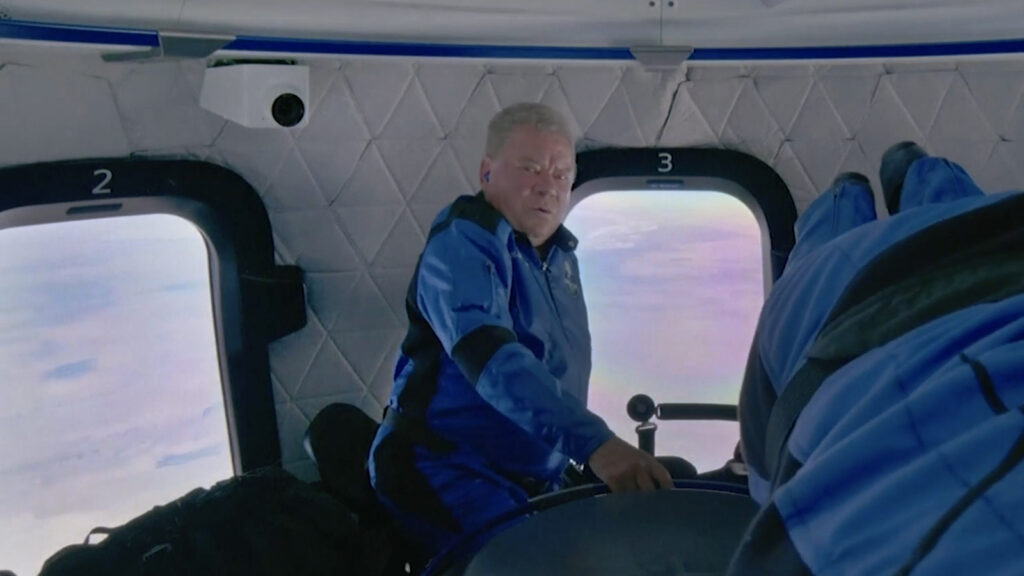 It all started in the summer of 1983 with the flight of the first female astronaut, SALLY RIDE, orbiting the earth on board the space shuttle Challenger. And it ended on January 26, 1986 with the death of civilian teacher CHRISTA McAULIFFE and six other crew members on board that same spacecraft as it exploded and broke apart just 73 seconds after liftoff from Cape Canaveral, Florida.
What ended? The hope of sending a poet into space.
"We need people other than MIT physicists to tell us what it's like up there," said novelist JAMES MICHENER in the early 1980s. A space enthusiast, Michener served at the time as a member of a special NASA task force. In 1983, after Sally Ride had reinvigorated Americans' enthusiasm for the multi-billion dollar-a-year NASA space program, the task force issued a report that called for sending professional communicators, such as writers and educators, on future space missions. "It is desirable for NASA," the report explained, "to fly observers on the shuttle for the purpose of adding to the public's understanding of space flight."
And so began the search for the perfect candidate out of literally millions of Americans. A NASA spokesman said they were looking for "…someone who can make an eloquent contribution to the literature…a broadcast journalist, a newspaper reporter, an artist, a song writer, or even a poet."
I remember at the time (I was just starting college) learning that singer/songwriter JOHN DENVER was lobbying hard to be considered for this program. I imagined the man who wrote one of my all-time favorite songs, Looking for Space, actually traveling TO space and coming back to share that experience with the world through music and lyric. It could have been glorious because most people (nearly all) who were alive in the 1980s would have no chance to ever go into space.
And as lovely as the words of NEIL ARMSTRONG ("One small step for (a) man, one giant leap for mankind…") and BUZZ ALDRIN ("Magnificent desolation…") were when they stepped onto the moon's surface in 1969, they really weren't trained to be communicators. They were military men, pilots, engineers, and scientists of a sort. Their training and skillsets never included inspiring others with words and evoking visceral feelings and emotions. Writers and artists know how to do that, but they weren't the ones leaving the planet.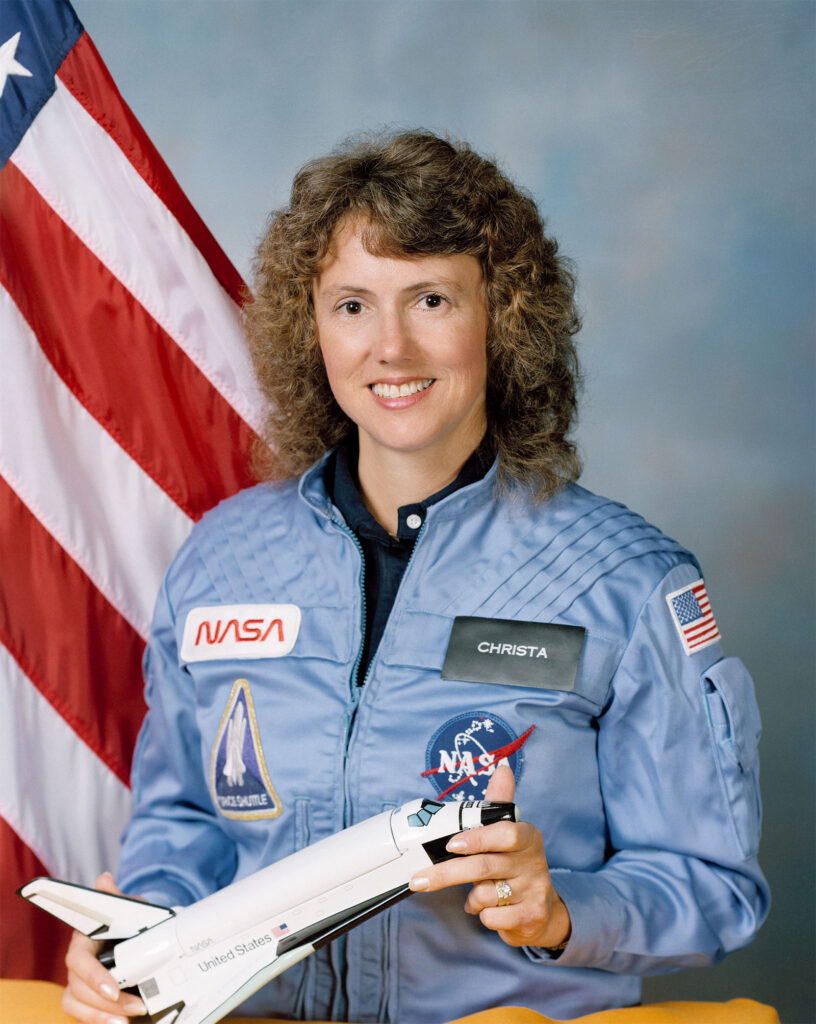 In 1984, the decision was made to send a teacher into space to kick off the program. Thousands of applicants were whittled down to 114 semifinalists from all fifty states, and then to 10 finalists—six women and four men—with Christa McAuliffe of Concord, New Hampshire being the final selection.
Phase two of this civilian-in-space program would have sent a journalist into orbit the year following the teacher. More than 1,700 candidates were under consideration, including former CBS anchor WALTER CRRONKITE (who was 69-years-old at the time), WILLIAM F. BUCKLEY, JR., GERALDO RIVERA, TOM WOLFE (author of the widely-acclaimed book The Right Stuff) and NORMAN MAILER. Phase three would launch some kind of artist.
And then the Challenger disaster happened.
Although the civilian astronaut task force continued meeting until late spring of 1986, the writing was on the wall. Going into space was too dangerous for the general public. Even the aforementioned Tom Wolfe, who was under consideration for phase two, now questioned (shortly after the tragedy) whether spaceflight should "…be put back in the hands of those whose profession consists of hanging their hides, quite willingly, out over the yawning red maw?"
Others weren't quite as willing to accept defeat. After receiving his rejection letter from NASA, William F. Buckley wrote them back: "Maybe I'll figure out a way to get there first via the private sector…in which case I'll wave."
Rather prophetic.
Granted, it would take another three and a half decades for Buckley's words to finally give him the last laugh (although he passed away in 2008), but in 2021, there have already been SIX space missions flown by private sector enterprises, including JEFF BEZOS' Blue Origins flights, ELON MUSK's SpaceX Dragon orbits (the highest manned mission since STS-125 Atlantis serviced the Hubble telescope in May 2009), and of course, RICHARD BRANSON's recent Virgin Galactic sub-orbital flight (which I'm still counting as "going to space"…if just barely).
Some might joke about these billionaires having a mid-life crisis space race to see who has the biggest, er, ego. You can make the obvious observation that the Blue Origin launch vehicle looks pretty much like a giant phallus. And you can wonder if these billionaires' dollars might be better spent feeding the poor and starving all over the world. And while Elon Musk has been criticized for not being more philanthropic, Jeff Bezos is on of the top of the list of 50 largest charitable donors on the planet, spending $10 billion to launch the Bezos Earth Fund to fight climate change as well as contributing $100 million to Feeding America, an organization that supplies more than 200 food banks.
And that brings us to WILLIAM SHATNER…
Say what you will about Shatner's ego, his overacting, and his infamous interpretations of Rocket Man, Lucy in the Sky with Diamonds, and whatever the heck this was. And yeah, maybe he isn't the Nobel laureate in poetry that was imagined back in the 1980s…or the Pulitzer journalist or gifted songwriter who could stir our very souls through their eloquence and erudition. But don't underestimate William Shatner's significance.
Sure, you can think of him as just an actor who played a leading role on a sci-fi show in the 1960s, essentially just doing a job for a paycheck, and simply got lucky starring in what eventually became a legendary blockbuster franchise. But to do that minimizes the many true achievements of this man both within the world of Star Trek and beyond..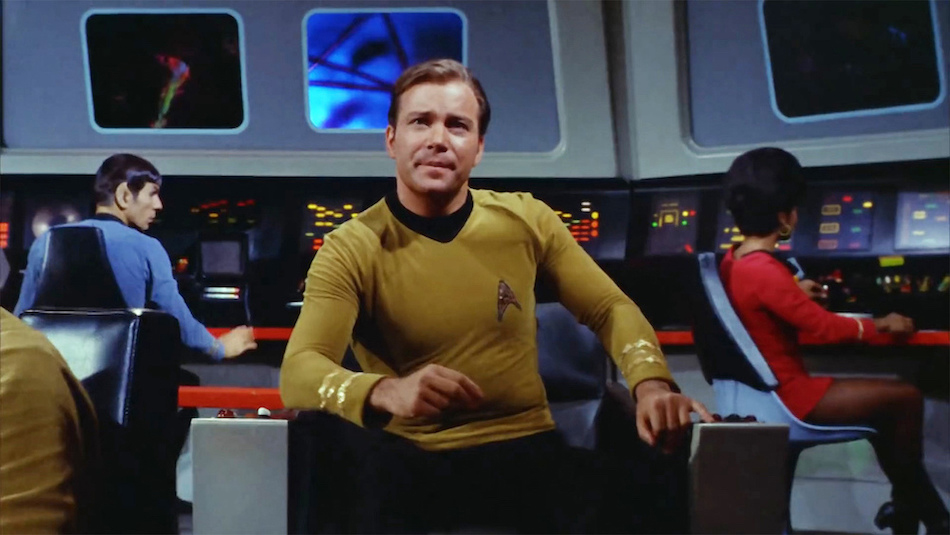 On the original series, William Shatner inspired millions as Captain James T. Kirk, a 60s-era "real American hero" commanding a global (and interplanetary) crew on a mission of exploration and discovery. While Spock inspired young viewers to become scientists, McCoy inspired many to become doctors, Scotty inspired future engineers, and Uhura and Sulu inspired countless women and ethnic minorities in this country and around the world to respect themselves and their abilities, Kirk inspired goodness and bravery in us all.
Kirk had a moral compass. Even if that meant bending or breaking a rule or three, he always did so for the right reasons: for fairness, for freedom and justice, for the good of the many…and sometimes for the good of the one. He was a confident commander and a loyal friend. Captain Kirk knew right from wrong, sometimes even when others didn't. And when he was wrong, he learned from those mistakes and wasn't afraid to admit and own them.
Captain Kirk inspired me to continually strive to be a good and decent person and do the right thing.
But Shatner was inspirational for other reasons. He never gave up and never surrendered. (No wait, that might have been TIM ALLEN in Galaxy Quest.) Actually, what I mean by that is that William Shatner never accepted type-casting and obscurity. After a lackluster career in the 1970s following the cancellation of Star Trek, Shatner relaunched his star power in the 1980s leading the cast of T. J. Hooker and following it up with Rescue 911. He would star in seven Star Trek feature films—writing and directing the fifth movie (ahem!)—have a recurring role on the hit sitcom Third Rock from the Sun, and launch and star in his own television series TekWar, based on a collection of novels he himself wrote (along with uncredited science fiction author RON GOULART). All the while, Shatner was still acting, writing books (yeah, I know some people believe he had other ghost writers), appearing in plays, speaking at countless conventions, hosting Saturday Night Live, and of course, parlaying his spokesman position for Priceline.com commercials into a fortune of high-flying Internet stock options!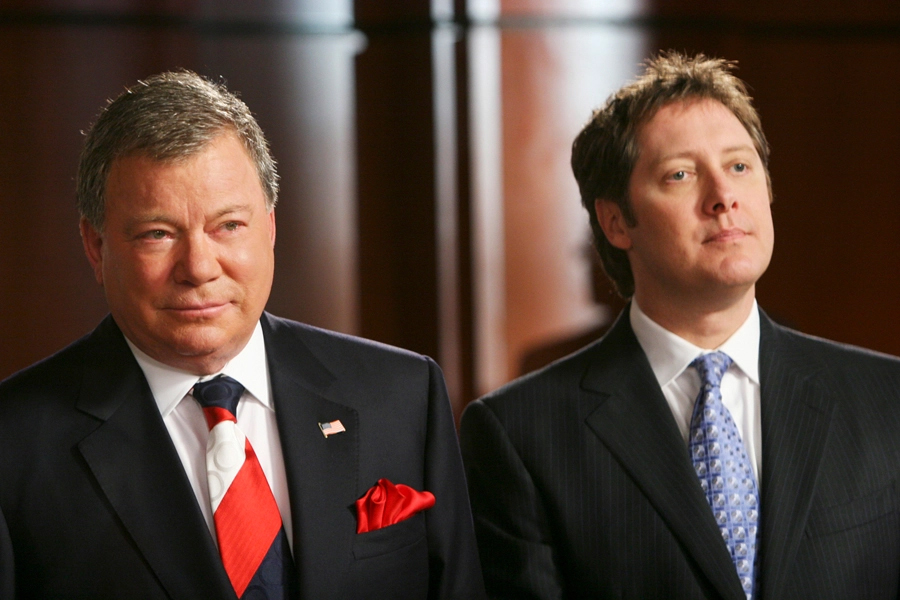 Shatner was constantly reinventing himself throughout the 80s and 90s, and by the 2000s, he was now in his 70s, an age when many actors (and people in general) think about retirement. Not Shatner, though! Offered the role of Denny Crane on the final season of The Practice in 2004, Shatner won his first-ever Emmy Award at the age of 73. He won his second Emmy (and a Golden Globe) the following year playing the same character on the brand new sequel TV series Boston Legal, which he starred in for five seasons totaling 101 episodes (receiving another four Emmy nominations). During this time, he also appeared in several movies including Miss Congeniality (1 and 2), Dodgeball, and Over the Hedge. Over the hill? Hardly! He was barely 80-years-old!!!
Shatner landed a starring role on the TV sitcom $#*! My Dad Says for one season in 2010-2011. He also was the host of the interview show Shatner's Raw Nerve on The Biography Channel and Weird or What? the Discovery Channel. Later in 2011, Shatner wrote, directed, and starred in The Captains, where he interviewed all of the other actors to play the leading role in the various Star Trek series. He'd later do the same for another Star Trek documentary about the creation of ST:TNG called Chaos on the Bridge.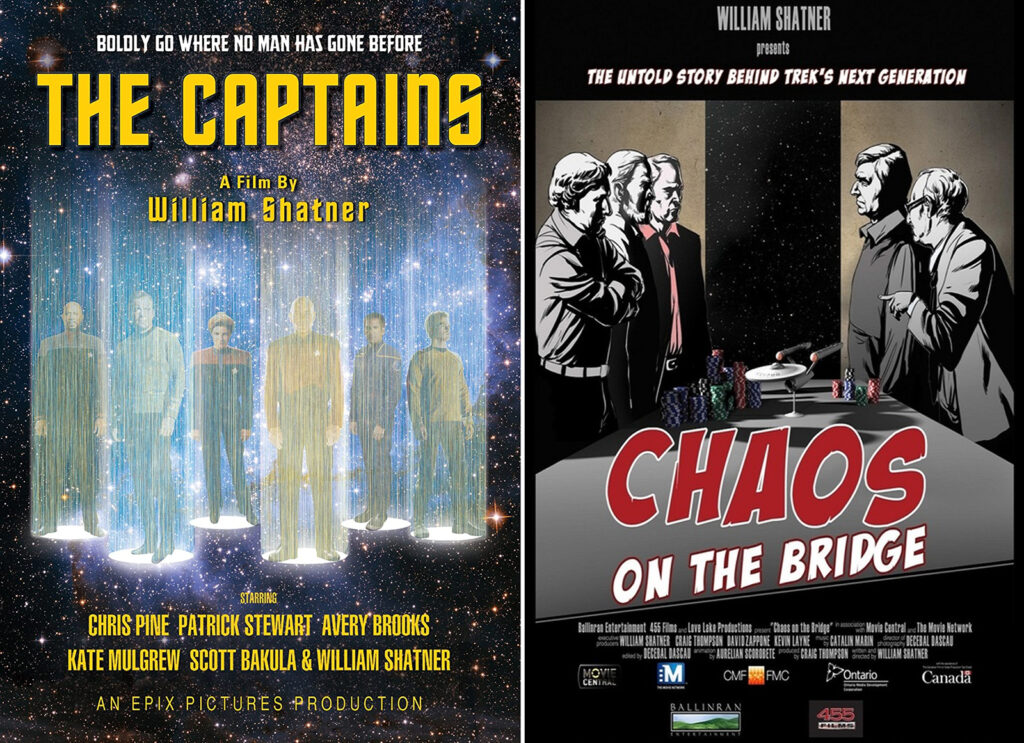 In 2012, at the age of 81, Shatner wrote and starred in a one-man autobiographical show titled Shatner's World: We Just Live in It (which I saw during its 3-week run at L.A.'s Music Box Theater, and it was excellent). The performance toured throughout the United States, including a run on Broadway. (A friend of mine did a one-woman show several years ago, and she said it required an intense amount of work, introspection, and confidence to pull off, and it was exhausting. She was only in her 40s at the time…and she didn't even tour!)
The 2010s brought more roles on TV and in movies, along with a Reality TV show Better Late Than Never, which documented the adventures of Shatner and three other aging celebrities (HENRY WINKLER, TERRY BRADSHAW, and GEROGE FOREMAN) as they traveled to Japan, South Korea, and Southeast Asia. By this point, Shatner was 85. And as if he wasn't keeping busy enough, he also cofounded the comic-book company Shatner Singularity, which released the award-winning graphic novel Stan Lee's 'God Woke' by STAN LEE and FABIAN NICIEZA.
In 2019, Shatner appeared live at the famous Grand Ole Opry in Nashville, TN with Jeff Cook, performing the title track to Why Not Me, his FIFTH studio album. And a NEW musical album, Bill, just came out. Did I mention he's now 90???
Oh, and all the while, Shatner has been breeding, riding, and showing American Saddlebreds and Quarter Horses, raised and stabled at his 360-acre farm near Versailles, Kentucky. The horse that Captain Kirk rode in Star Trek Generations was actually one of Shatner's own mares!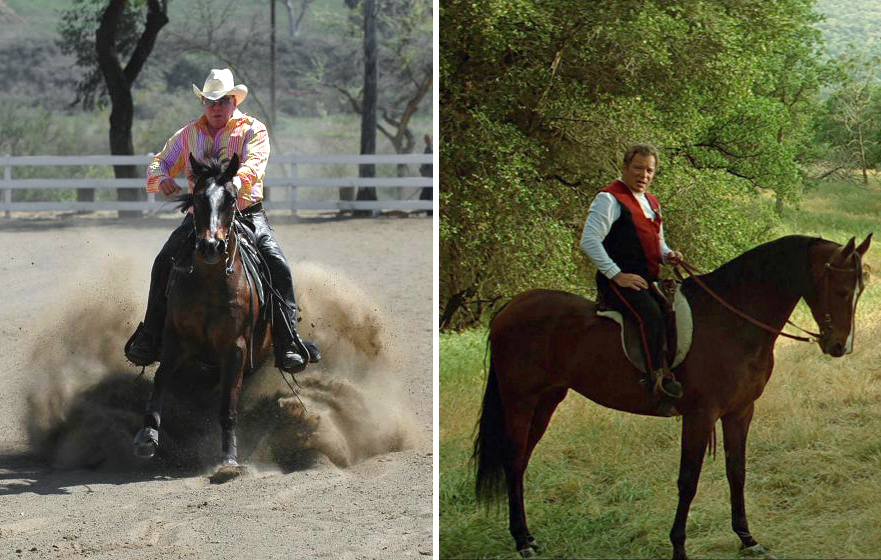 So yes, some people may think of William Shatner as full of himself, over-the-top, larger-than-life, or even a self-parody at times. And they might wonder if he was really the best choice to take up to space (for free, as Shatner's ride was comped) just so Jeff Bezos could brag to Elon Musk and Richard Branson that he (Bezos) was the one who took Captain Kirk into space.
I say they couldn't be more wrong!
Sure, I'm a Trekkie who idolized Captain Kirk growing up, and I'm certainly not blind to the fact that William Shatner has flaws (and don't we all?). But he is also oe of the closest things this world has to a Renaissance man: acting, writing, directing, producing, (kinda) singing, putting himself out there six-ways to Sunday, and entertaining and inspiring the world for well over half a century…and still going strong!
So yes, folks, I say that this is exactly the man we want traveling up into space and then coming back to tell us all about it. And Shatner didn't disappoint. Not to diminish the personalities and insights of the seven other Blue Origin crew members who ventured into space this past month, but Shatner had a presence—a quiet majesty even—and yet at the same time a very sincere humility. Listen to his words when he landed at the end of this video…
Yes, Shatner was still trying to process this soul-changing moment that less than 600 people in the history of mankind have ever experienced. But rather than shy away from discussing this whirlpool of feelings, Shatner (who has never had a problem with public speaking!), gathered himself to try to put his many kaleidoscopic thoughts into words for others to take in with him. He hugged Jeff Bezos, teared up at one point, and even contemplated death. In many ways, his overwhelmed reaction felt more real than all of those other astronauts I've watched interviewed after their missions…excited but still cool and collected. Shatner was the "everyman" up there, reacting probably as you or I would.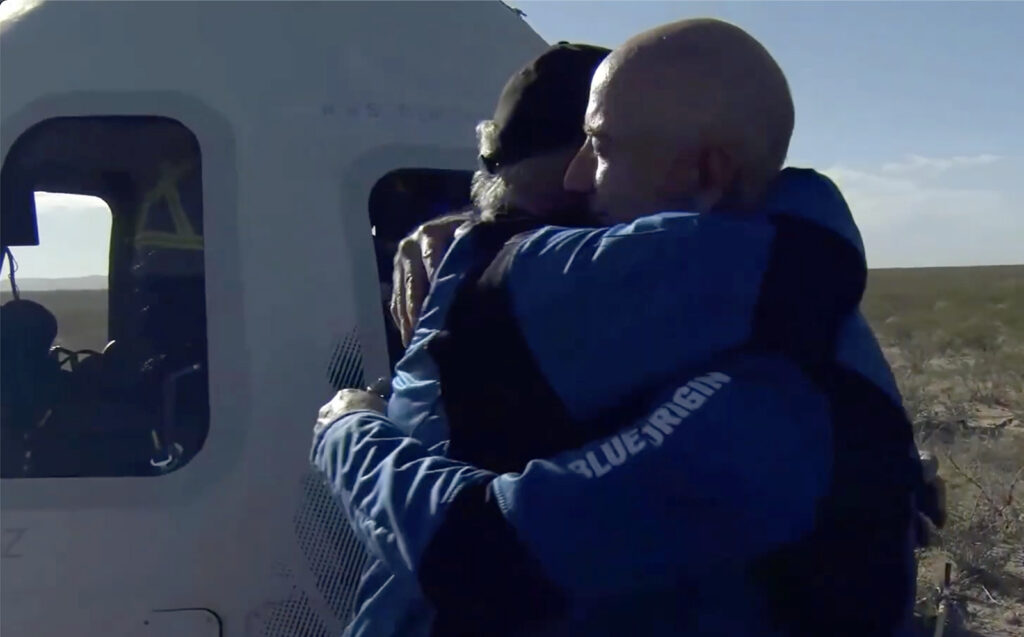 And that is why it is so important, so momentous at this point in human history, that space will be opened up not only to billionaires and lottery winners but to a whole swath of people who will, hopefully, include those who can communicate the depth and intensity of their own insights to the rest of humanity.
Poets, writers, artists, and musicians will follow William Shatner into space now that manned (and womanned) spaceflight is becoming democratized. But yesterday, Shatner became one of the first artists to make the journey, and to come back and share what were truly profound, introspective, and inspiring words. Sure, others might be able to describe the experience in more elaborate and perhaps even more effective and affecting ways, but William Shatner was a fine trailblazer and early ambassador to space…just as he has always been.
This morning, having better composed his thoughts, Shatner spoke again on The TODAY Show and was even called a poet by one of the hosts…
Godspeed, William Shatner. You deserved this honor.