There are certain people in fan films that almost no one complains about. These are nice people with good hearts, dedicated fans always happy to go that extra mile—sometimes even hundreds or thousands of miles!—to help other people out.
JOSHUA IRWIN is one of these people.
He is a consummate professional, skilled at his craft of filmmaking, and never too proud to lend a hand to others. He never, ever criticizes another fan film publicly. Like me, Josh believes in encouraging others, just as he himself was encouraged when he started out. Look though Facebook and try to find an example of Josh saying anything negative about another Star Trek fan film. If you can find me something, I will personally send you $5 on Paypal. Seriously. Go look.
In addition to making his many, many AVALON fan films (he's released FIVE this year alone!), Josh helps out on other fan productions, as well. Josh has already lent his talents to VANCE MAJOR for CONSTAR (both past and upcoming) and also to GLEN WOLFE and DAN REYNOLDS for THE FEDERATION FILES. Last month, Josh drove 11 hours each way to supervise behind-the-scenes interviews, videos, and photos for the one-day green screen shoot for the upcoming AXANAR sequels. And already scheduled for next year, Josh will be assisting SAM COCKINGS with shooting footage for one of his many TREK SHORTS fan films and helping JIM VON DOLTEREN write a script for an upcoming Star Trek fan film. And all of this while working crazy hours in the professional filmmaking industry in northwest Arkansas AND raising three great kids in partnership with his wonderful wife!
Oh, let's not forget that Josh was my director of photography and film editor for INTERLUDE and recently spent an additional four months making tweaks for the successful launch of a new release (version 3.0) that has been met with solid praise and accolades. Let's also not forget that Josh drove 11 hours from Arkansas to Georgia and back over the course of two days to reshoot portions of Interlude so that we could quickly replace the footage of PAUL JENKINS that he demanded be removed from the film.
In short, there's a lot of fan film folks who love and appreciate Josh and all he does for our community. And that's why so many of us were shocked and disgusted at what was posted this past Thursday…
And this, my friends, is how hurtful, malicious rumors are created out of thin air.
For the record, MATTHEW MILLER has never worked with Josh Irwin on any project. So it's not entirely clear when he says, "I can't share what I know…" exactly what it is he allegedly "knows."
However, there are many, many people in the fan film community who DO know. And on a suggestion from one of them, the aforementioned Vance Major, I reached out to those folks who have worked and/or interacted directly with Josh Irwin to share their thoughts. SPOILER ALERT: not one of them said that Josh was "not a very nice person when you get working with him." Just the opposite, in fact! They couldn't write me fast enough to confirm that Matthew Miller doesn't have a clue what Josh is like.
I myself worked directly with Josh for more than two years…and we still work together. Sure, we butted heads more than once during production and post-production on Interlude. I sometimes butted heads with my director, VICTORIA FOX, as well. Victoria also butted heads with Josh on occasion. Why? Because we were all passionate, dedicated creatives who wanted Interlude to be the best fan film possible, and when passionate people don't agree, they occasionally butt heads. Then they cool off, come back together, work through their challenges, and move forward. And that's what we did time and time again. Josh put more time than anyone else on my team into making Interlude incredible. I would LOVE to work with Josh again…and that's NOT something I'd say if he was "not a very nice person."
---
I'll tell you all honestly, I was on the fence about whether to create this blog at all. Week after week, month after month, (year after year?), people tell me to just ignore the trolls. "All they want is attention, and you'll just be giving it to them," they say. Of course, completely ignoring them doesn't stop them either, but it takes a LOT less time and energy!
So why put in the effort to collect all of these quotes and write this blog? BECAUSE WE IN THE STAR TREK FAN FILM COMMUNITY STAND UP FOR OUR OWN! In fact, these are the very words that Vance wrote to me that made up my mind:
They want to bash Alec. Fine. They've been doing that for years. Hasn't gotten them anywhere. But this is Josh. This is a friend. This isn't a guy who is loud and confrontational. This is someone who, if they were doing this to you, would say something. He has for me. I know you might catch some flack for publishing this blog, but it's the right thing to do.
The right thing to do? Abso-frickin'-lutely!
The remainder of this blog is filled with heartfelt comments from people who (unlike Matt Miller and Justin Burton) know Josh well, have worked with him, talked to him, and enjoy a true personal connection with him . So I invite you all to read what the following people have to say and decide for yourself if you believe them or if you believe the guy who snickers from behind his keyboard and says, "Trust me…" followed by "I can't share what I know…"
Merry Christmas, Josh, this is what people REALLY think of you…
---
PIXI NEREID, actor/producer (AVALON UNIVERSE)
Working with Joshua Michael Irwin has been nothing but amazing. He's kind and considerate of everyone on cast and crew alike (most of us both!) and has given us all the ability to add our many varied and wonderful gifts. Our talents shine because of his direction and creative vision. Josh cares so much. He works tirelessly to edit, negotiate, and produce great works! Just this year, he and Aaron have started an amazing production company that will be bringing many firsts to Arkansas and the world! Stay tuned because it only gets better.
If you don't know Josh or feel the need to baselessly attack this amazing human being — don't!
---
TYLER DUNIVAN, actor (AVALON UNIVERSE, INTERLUDE)
I have worked on several films with Josh Irwin over the past 10 years. Josh is a true professional, a talented filmmaker who treats every member of his cast and crew with courtesy and respect. Josh always gives me, as an actor, a generous amount of creative control of my characters.
Josh is also one of my best friends in the world and has been there to support me through some very difficult times in my life. I'm fortunate to call him friend.
---
VANCE MAJOR, showrunner/actor/writer/producer (CONSTAR)
Josh makes films that create friendships. He is honest and hardworking. He's trustworthy. Most importantly, his work speaks for itself. He gives a million second chances, which is a shame because he gets blindsided sometimes. Yet, still, he continues to give to the fan film community. He's part of the "fleet" in our made-up Starfleet. As corny as that sounds, it's true.
He's one of the good guys. And he's experienced in this field. Anyone would count themselves lucky to work with him. Luckier to call him a friend.
---
SAMUEL COCKINGS, VFX artist/writer/actor/director/ showrunner (TEMPORAL ANOMALY, TREK SHORTS)
I've worked with Joshua since he came onto the fan film scene. I was probably the last person he brought onto GHOST SHIP just a week or two after he went public, and I helped him get it over the finish line. After that roller-coaster of a quick turnaround, I very quickly learned that it was a ton of fun working with Joshua. His love for Trek and filmmaking (two things I also adore) had us instantly click, and I've never hesitated about jumping onto another Avalon project.
He works just as hard as all of us that are the sort of fan filmmakers who wear most of the hats. He has the great ideas and puts the time and effort in to execute them. We are all really lucky to have Joshua in the fan film community, not just for Avalon but for all the good vibes he gives off to other projects. I hope he continues for years to come!
---
WARREN HAWK, actor (INTERLUDE, AVALON UNIVERSE)
Josh's style is no pressure…just hard work, confidence, and honest support. As an actor, you can get in your own head sometimes. But Josh does an excellent job at supporting individuals on set while staying on task.
---
AARON McNEAL, executive producer (AVALON UNIVERSE)
Josh is a director with energy and vision. I began working with him because his enthusiasm and work ethic in making Star Trek films showed me his dedication towards cinema was a core value to him. His level-headedness has been welcome in a business that can become chalked with high emotions quite quickly.
---
DAVID AGRISONIS, actor (AVALON, STARSHIP FARRAGUT, PACIFIC 201, INTERLUDE)
I have nothing but positive things to say about Josh. Josh the man accepted me as a friend…yeah, I am BLACK. But he sees me as his brother from another mother. He produces commercial quality films, I am glad to be in the Avalon Universe.
---
JASON R. SPRIGGS, actor (AVALON UNIVERSE and others)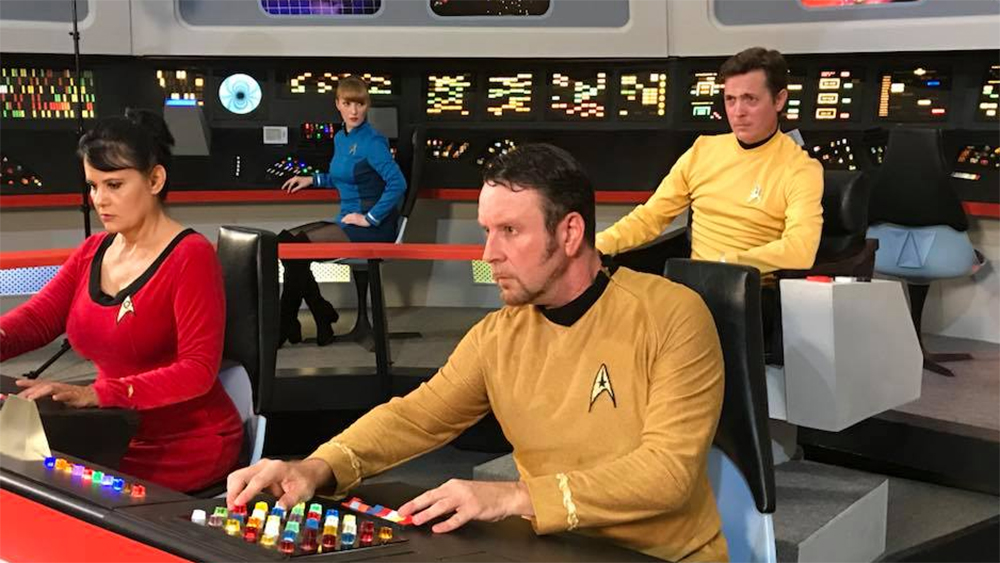 Having worked with Josh on both GHOST SHIP and DEMONS, in my estimation, he's a fun general to have at the front! Steadfast in the vision, he's still open to creative suggestion and, whether it be well practiced or an inherent calm to his persona, he motivates trust and camaraderie to those of us in front of or behind the camera. He guides our steps, making even the most treacherous filmic minefield a fun place to be at that moment – as we all get to play Star Trek.
---
GARY DAVIS, actor/co-showrunner (DREADNOUGHT DOMINION)
I've met Josh in person at a fan filmmaker panel and participated with him in online panels as well. We have also chatted in real life and online. He's come across as a very personable and pleasant guy. He's also an AMAZING filmmaker. If folks don't like Josh because he works with someone who other fans don't like, then where does the line get drawn? Do we have to check in with with these people when we want to bring in somebody to make or participate in a fan film? Josh is just someone who wants to make fan films…simple as that…and GOOD ONES, TOO!
---
FRANK PARKER, JR., actor/showrunner (DREADNOUGHT DOMINION, CROSSROADS: THE GENESIS PROJECT)
I haven't worked on set with Josh, however, I have had many encounters with him both in Facebook chat and interacting with him on No Budget Productions – FilkFerret Productions. I can assure you, I have had nothing but positive things to say about Josh. He's always been upfront and honest, and I get along with him well. He gives small channels like ours the time of day, and he never has to. That's the type of guy he is.
---
ALEC PETERS, actor/showrunner (AXANAR)
The great thing about Josh Irwin is that he is a true Star Trek fan filmmaker. It's his passion for Star Trek that drives him. He just wants to do great work and have fun doing it. He's dedicated and dependable. I've been lucky to work with him and to have him be a part of Axanar.
---
MARY JANE BLYSTONE, actor (CONSTAR)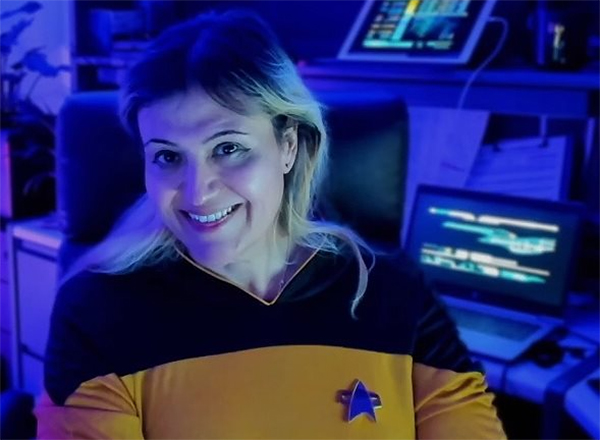 I had the pleasure of working with Josh during the CONSTAR series. This was the first time I met him, and all I can say is that it was a great pleasure to work with him. Well, it was a pleasure to work with everyone! Everyone conducted themselves with integrity, honor, professionalism, and most of all, with respect. As we continued filming, we all grew to be just like a family. I am proud to be called Josh's friend and to stand by his side.
---
MARTIN BENNETT, actor (CONSTAR)
As a fan film actor, I've only had the chance to work with Josh over the course of one weekend. But in that weekend, I learned a lot about him. I got to see firsthand just how strong his work ethic is, how he can take constructive criticism along with direction while still professionally offering his opinion, and his utmost respect for cast, crew, and anyone else he works with on a shoot. I have complete respect for Josh and his integrity, and I look forward to hopefully joining him on set and working with him again one day.
---
NICK COOK, actor/writer/director/showrunner (INTREPID)
I don't pretend to know Josh well, but we've had some nice exchanges chatting about each other's work, and I've found him thoughtful and generous in those chats. I've enjoyed his work and have appreciated the energy and enthusiasm he's brought to the fan film community these last few years, and I look forward to whatever he produces next.
---
I would like to thank everyone who took the time to send me their thoughts and feelings about Josh. Some wrote me back almost immediately. Some asked for a little more time or else lived on other continents and sent me something the following day after they woke up. And a few folks haven't responded to me yet.
If you're part of the last group or if you have something positive that you'd like to say about Joshua Irwin and I failed to reach out to you, please feel free to send me a paragraph or two and I can add it to this blog over the next day or two: