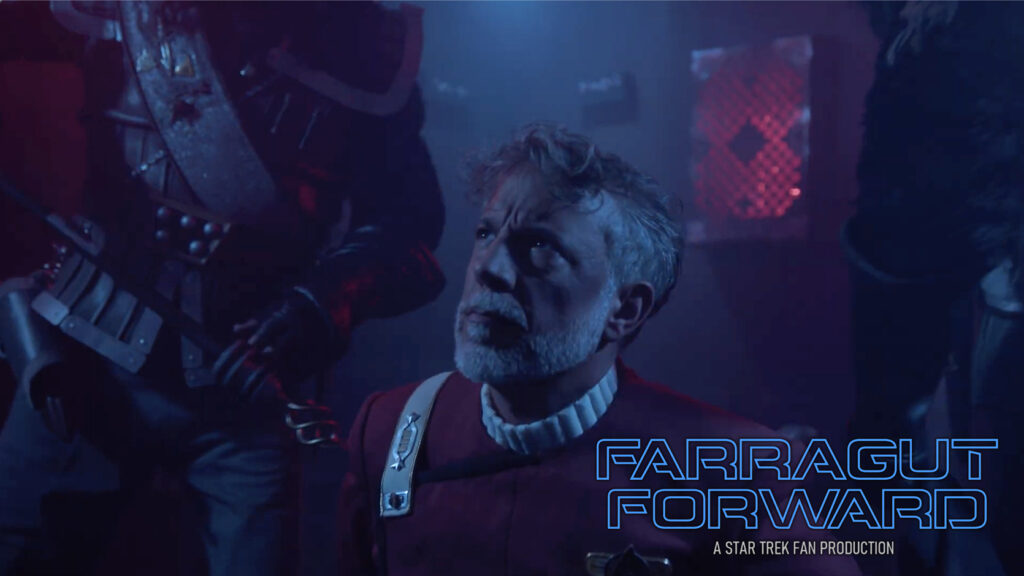 Since the announcement of the guidelines back in 2016, few Star Trek fan films have managed to crowd-fund into the five-figures. Of those, only INTERLUDE, THE ROMULAN WAR (Part 1 and Part 2 combined), and the still-not-completed TEARS OF J'KAH have managed to exceed $25K. Interlude just barely made it, although the last couple of thousand were a late add-on to replace PAUL JENKINS' damaged green screen. The Romulan War probably shouldn't count because it was actually TWO fan films, although they combined to reach just under $30K. And finally, Tears of J'Kah was funded to $49K, but that was from only 13 backers, most of them wealthy Hollywood connections that showrunner BENNY HALL asked for donations from.
And then there's FARRAGUT FORWARD.
Last month when they launched their Indiegogo campaign, showrunners JOHN BROUGHTON and JOHNNY K. explained in a video interview why their goal was set at $30K. They're planning on building screen-accurate Star Trek movie-era sets, based on those that became the U.S.S. Reliant in Star Trek II: The Wrath of Khan. Considering that Farragut Films had built most of the meticulously-crafted TOS sets that were used for STARSHIP FARRAGUT, STAR TREK CONTINUES, and now are NEUTRAL ZONE STUDIOS in Kingsland, GA, one expects the Farragut Forward sets to also look amazing.
And speaking of looking amazing, their "monster maroon" uniforms are studio quality (maybe even better!), as are their Klingon uniforms, and can cost up to one thousand dollars apiece…and the Farragut folks are planning to make about two dozen of them! And that's how you get to $30K (not to mention make-up, props, food…and other production expenses).
Even so, $30K is a LOT of money to generate in a post-guidelines world with global inflation and rising fuel prices also becoming an issue of late. And of course, back in 2015, there was no new Star Trek on television, so fan films were all we had. Nowadays, fan films are "competing" with five different weekly TV series from CBS/Paramount. And even before the guidelines, Starship Farragut's last campaign back in late 2015 reached its goal $15K but didn't get much further ($15,787). Can they really DOUBLE that in today's crowd-funding environment?
To be certain, they started off frustratingly slowly, languishing in the low four-figure range for the first four weeks. But that all changed this past weekend. John B. and Johnny K. had a table at the long-running FARPOINT convention in Hunt Valley, MD along with a presentation of their "PROLOGUE" vignette, which is a must-see…
The above video along with the promised return of Farragut got folks at the con VERY excited, and thousands of dollars in on-site donations came in by Sunday evening. And then on Wednesday, they received their first donation at the $5K level. Other smaller donations have followed, and they are over $12K…which is 40% of the way to their goal!
John Broughton remains extremely optimistic. In a Facebook post earlier today, he said the following…
Where you usually start high in the first 24 hours, then have a lull and then end with a boom — we started slow, picked up momentum and optimistic that our ending will have a big boom, exceeding our $ goal. Right now, we are 38% funded and have 31 days left to our campaign. I've been assured by some top tier donors that they're planning to contribute soon and our $30K goal is an obtainable goal.
Can they do it? We'll know in the next month (or sooner) as the campaign is halfway done with 31 days left. But large backers can certainly have a huge impact on the grand total if/when you can convince them to donate.
Of course, smaller donations can also make a big difference as long as you can generate enough of them. And that, my friends, is why I post these updates/reminders during the big (and sometimes the not-so-big) campaigns—because YOU are the ones that fan films like Farragut Forward possible.
And with that, I present this link to their Indiegogo campaign…
https://www.indiegogo.com/projects/farragut-forward-a-star-trek-fan-production#
The rest is up to you, my friends.