Here's the funny about our Star Trek fan film community. On the one hand, it's really large and vast. We've got folks producing fan films in America from sea to the shining sea and just about everywhere in between. There are fan filmmakers in Canada, across the Atlantic in Great Britain, throughout Europe from France and Germany to Italy and the Czech Republic and even in Russia (although I've put that blog on hold until the invasion of Ukraine has ended). And of course, the Land Down Under is proudly represented in the Star Trek fan film community, as well.
On the other hand, ours is also a very small and close-knit community. Even scattered across different continents and hemispheres, fan filmmakers often "team-up" and pool resources.
Indeed, this happened recently for the long-running fan series DREADNOUGHT DOMINION. These guys have been producing and releasing Star Trek fan films since waaaaaay back in 2015, utilizing the TOS sets located in Kingsland, GA, currently known as NEUTRAL ZONE STUDIOS. In fact, their latest offering, THE REPLACEMENTS, represents their fifteenth completed fan film!! Add to that a couple of episodes of their spin-off series PROJECT: RUNABOUT plus another new series in production, and this is one busy group of people!
But things don't always run 100% smoothly on a film film (or a professional film, for that matter!), and Dominion recently ran into a major snag. Showrunners GARY DAVIS and RANDY WRENN had scheduled a long weekend (Friday-Sunday) in Georgia to shoot their next two fan films, "MOM" and "The Replacements." Gary drives down from Ohio, Randy from North Carolina, and numerous cast and production crew come from various locations requiring quite a lot of driving. They all clear time in their schedules for days off from work, including traveling back and forth, and make lodging reservations. In other words, these shoots are not the kind of things you can simply postpone at the last minute and reschedule…too many people are affected.
But that's almost what had to happen barely a month before the first shoot when Dominion director of photography LARRY FLEMING informed Gary and Randy that he had to travel and wouldn't be available on either of those two scheduled shooting dates.
Now, if you think that a director of photography is "just" a cameraman, holding an iPhone or even a more professional-style camera and, therefore, easily replaced, think again. For some productions, sure, any ol' fan can point at an actor or a scene and hit "record." But just as you'd rather have an experienced photographer shoot your wedding rather than someone with no specific skills or camera knowledge, so too would you want a person who knows about things like proper lighting, framing, and shot composition to shoot your fan film.
So losing Larry—a person with experience who knows such things—was a pretty big deal…
With only a few weeks to find a replacement, Gary reached out to JOSHUA IRWIN, whose fan series AVALON UNIVERSE shoots both at Neutral Zone Studios as well as on the TOS sets at WARP 66 STUDIOS in northern Arkansas, near where Josh lives. Gary had met Josh in person previously during a Neutral Zone Studios Fan Appreciation Weekend, and the two had talked about collaborating on some kind of fan film project at some point in the future.
But this wasn't anything so vague or undefined. This was a "We need you next month, can you drive 12 hours (each way) for a 3-day weekend shoot?" Gary told me that he totally expected Josh to be too busy to do it. After all, in addition to Avalon Universe, Josh has a job (actually, right now he has multiple jobs, as he's trying to earn some extra money for Avalon) and a family. And there's literally A THOUSAND MILES between Josh's house in Bentonville, AR and Kingsland, GA. Also, as Gary would learn later, Josh would be making that same trip a week later for an Avalon Universe shoot at Neutral Zone. So really, there was every reason for Josh to say no.
"But he IMMEDIATELY jumped on it and said, YES!" recalls Gary. "He had to drive 12 hours each way! I paid his traveling expenses, hotel, and food for the four days he was there. But wow…YES. He woke up at like 3am and GOT ON THE ROAD! We were SO LUCKY to have gotten him!"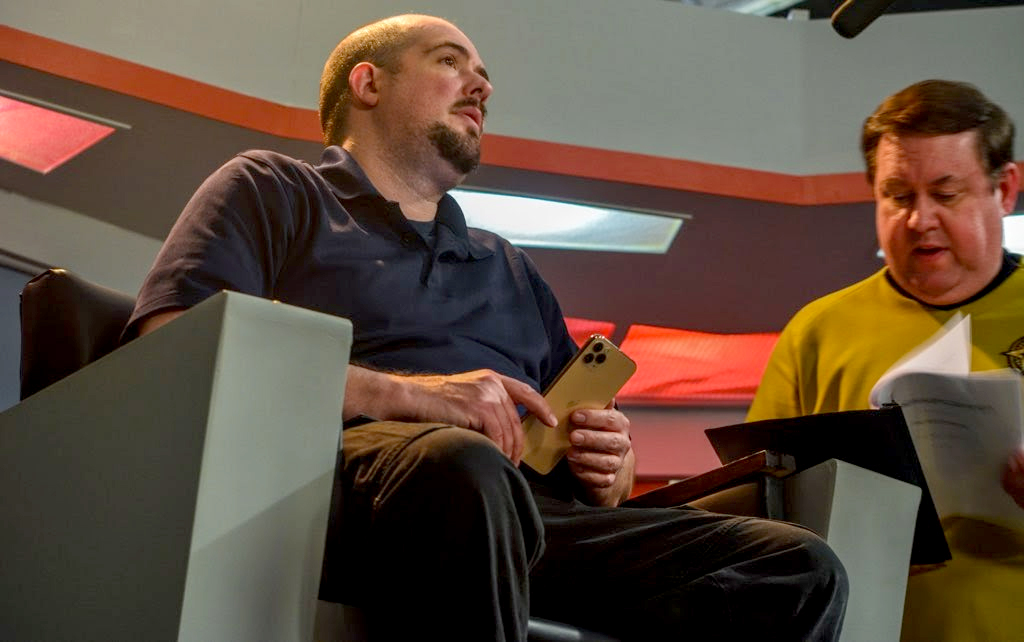 They ended up shooting "Mom" on Friday and then "The Replacements" over Saturday and Sunday. In fact, Josh got to do more than just film scenes inside. There was also one scene outside that involved the bad guys, the Vancians, transported to the surface of a Class-M moon. The brief scene involved one action shot of a Vancian falling plus the first time Dreadnought Dominion had ever used a drone to get a shot. The drone belonged to ALLEN ANDERSON, and Josh is an experienced drone operator for films, so he piloted it, as well as shooting the rest of the outdoor shots.
And speaking of the Vancians…
Another dose of our close-knit community came when it was time to think of a name for these bad guys. Gary was in charge of finding "uniforms" for them to wear, and of course, cost is a big consideration. So when he came across hoodies with color bands across the chest in a store, he bought a bunch to use. Of course, it was still pretty obvious that these were hoodies.
"But then it struck me," said Gary, "who in the Star Trek fan film community wears a HOODIE in his fan films? VANCE MAJOR! So I called Vance and told him about these aliens and asked if I could call them the Vancians. And he LOVED the idea. I liked the nod to Vance and all of the great work he's done. And yeah, he loves him his hoodies!"
One final shout-out before I post the video itself. Gary mentioned to me that actress KELLY HODGES, who plays Robbie, Steve's second in command, was originally a "drop-in." That's a person who just shows up for a shoot, ready to play any character for the fun of it. Kelly showed up for the "Mom" shoot on Friday, "…and we just fell in love with her," recalls Gary. "So we asked her to be in 'Replacements,' as well, and she was AMAZING. She had the part down pat. She amazed us so much, in fact, that we've invited her to become a regular on Dreadnought Dominion. "
And now, ladies and gentlemen and those who don't identify as either or else identify as both (does that cover everyone?), let's all watch a really fun fan film…