SPOILERS AND POLITICS – A WARNING COMBINATION!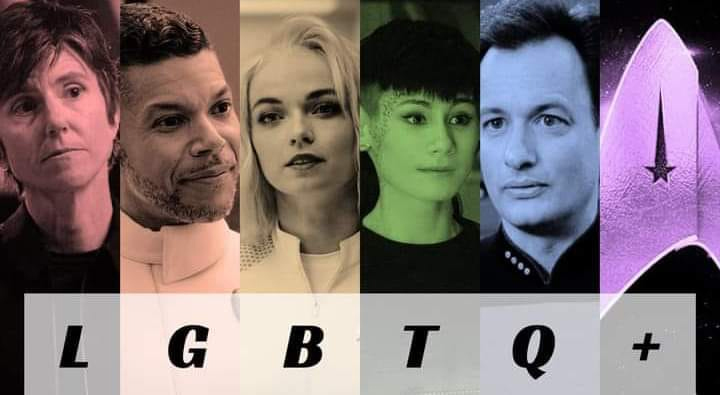 Star Trek has never shied away from holding a mirror up to the more controversial aspects of modern (20th and 21st century) culture through the "safe lens" of viewing a future, or an alien society, with surprisingly similar challenges. In fact, this was one of the main goals that GENE RODDENBERRY had in mind when he was first pitching his "Wagon Train to the Stars" concept to the networks.
Indeed, as most of us know, the original Star Trek series tackled some of the biggest issues of the 1960s: prejudice and discrimination ("Let That Be Your Last Battlefield"), the Vietnam War ("A Private Little War"), overpopulation ("The Mark of Gideon", women's struggles for equality with men ("Turnabout Intruder"), and a growing paranoia that computers could replace people ("The Ultimate Computer")…to name just a few!
In the 1980s and 1990s, Star Trek continued to advance a mostly left-leaning political message with movies and episodes spotlighting homophobia (TNG's "The Outcast"), environmentalism (TNG's "Force of Nature" and of course, Star Trek IV: The Voyage Home), labor rights (Voyager's "Workforce"), government-sponsored torture (TNG's "Chain of Command"), homelessness (DS9's "Past Tense"), white supremacism (Enterprise's "Terra Prime"/"Demons"), and even the prophetic dangers of overreaction to a foreign terrorist attack on our own soil (DS9's "Homefront" and "Paradise Lost," which eerily predicted the September 11 attacks and subsequent curtailment of freedoms half a decade before 2001!). And again, the list could go on and on.
Star Trek has also charted its course by embracing all variety of dramatic presentation: action/adventure, mystery, romance, suspense, comedy, tragedy, etc. And one of those many genres was the legal procedural, usually with the message being delivered most effectively and dramatically within some kind of courtroom. In TOS' "Court Martial," the message was to beware of computers presenting false-but-believable information (a concern rearing its head right now in 2023 rather than 2267!). In TNG's "The Drumhead," a trial quickly turned into a witch hunt, demonstrating how paranoia could quickly spread fear in the name of righteousness. TNG's "The Measure of a Man" and Voyager's "Author, Author" deal with rights being taken away from certain individuals for very arbitrary reasons. Lest you think this applies only to androids and holograms, consider that several states permanently remove the right to vote from any convicted felon, even after they have served their time in prison. And DS9's "Tribunal" showed how the government can turn a trial into political theater in order to advance state propaganda.
And so we finally come to the second episode of STAR TREK: STRANGE NEW WORLDS season 2: "Ad Astra per Aspera" ("To the Stars Through Hardship"), a courtroom drama with a definite message. And it's that message that I plan to discuss in today's blog. So if you have fear and hatred in your heart for transgender people, you probably want to stop reading now—although I really hope you won't…
---
There's no question that this was a stand-out episode in terms of acting, writing, directing, dramatic presentation, editing, music, etc., etc., etc. There's no reason to review it for quality—if you didn't like it or weren't mesmerized by it, we probably weren't watching the same episode with the same mindset. And that's fine. But I'm not gonna waste time analyzing what was probably one of the single strongest Star Trek episodes of any series from the new CBS era.
Instead, I am going to do what episodes like this are intended to do: get people talking. After all, societal changes don't come when everyone just stays quiet and sits on their hands. So I intend to use this episode to discuss a VERY hot-button issue at the moment that was quite obviously the true target of this episode's metaphor. No, it was not prejudice against genetically engineered lifeforms—although as the Dr. Bashir character arc in later DS9 seasons so adequately proved (and also Dal R'El in the just-canceled STAR TREK: PRODIGY), a century passed after this episode without the Federation losing its irrational fear of any genetic modifications to anyone.
No, the issue I will be discussing is the rampant and rapidly-spreading fear and loathing of transgender and similarly gender-fluid individuals in this country. Yes, one could argue that the struggles of the Illyrians represent any number of past persecutions of marginalized minorities: the Jews in Nazi-controlled Europe, Blacks in the Jim Crow South, Native Americans forcibly relocated to reservations and made to assimilate into white culture, Japanese interred during World War II, Muslim travel bans instituted during the previous presidential administration, and even the oppression of Blacks in South Africa under Apartheid.
And sadly, all of those allegories are appropriate, as well. It's very disturbing how often we humans fall into the same familiar patterns of bullying and persecution over and over and over again. But let's face it, despite all of the above examples, the writers were obviously highlighting the spreading waves of transphobia sweeping across America in the last year or two. And even if this wasn't the writers' primary target (it was), I am still going to discuss the issue because it is so important to understand both what is going on and what is really going on.
---
It wasn't too long ago that gays were the boogeymen (and boogeywomen) of conservative politicians aggressively seeking election and reelection in America. Do you remember all those impassioned pleas to save the children…since homosexuals were obviously all pedophiles, as well as being gay? Then there were the terrifying prognostications of societal breakdown that were hysterically shouted at roaring crowds as "red" states rushed to amend their constitutions to define marriage as between one man and one women. Anti-gay legislation always included words like "protection" and defense"(such as the Defense of Marriage Act)—as if homosexuality were some kind of monster to be fought or a powerful enemy threatening a full-scale invasion.
Then, on June 26, 2015 (hey, tomorrow is the 8th anniversary!), the U.S. Supreme Court struck down all state bans on same-sex marriage, legalized it in all fifty states, and required states to honor out-of-state same-sex marriage licenses in the case Obergefell v. Hodges. And suddenly, with gay marriage now legal, society DIDN'T collapse. No one married their dog or goat. And all of those politicians campaigning on "protecting" and "defending" the innocent now needed something (or more accurately, some group) to become the new boogeyman. Gays were now accepted—so who could become the new gays?
It took a few years for conservatives to unveil the threat of "trans" people, but seemingly overnight, they became the preeminent danger to American society—at least (once again) in "red" states. Republican-dominated legislatures and governors in states beset by poverty, failing schools, toxic pollutants running into local water supplies, insufficient access to quality healthcare and other basic services for millions of citizens, and failing electrical grids and crumbling infrastructure…these states moved at warp speed to pass laws protecting bathrooms and making sure a dozen or so trans students in their states couldn't compete in sports. (Your tax dollars hard at work, America! Be proud.)
But it wasn't just the ridiculous bathroom bills that were being passed. Legislatures were going further to ban gender-affirming treatment for transgender youth in their states. Perhaps appropriately, just two days before this latest episode premiered on Paramount+, one of those bans—the preposterously named "Save Adolescents from Experimentation Act" (as if trans teens are some kind of lab rat!) that recently passed in the state of Arkansas (then-governor ASA HUTCHINSON initially vetoed the bill, but the legislature overrode him), was struck down by U.S. District Judge JAY MOODY. In his 80-page order, Moody acknowledged some risks in the treatment, but concluded that the evidence"…showed that the prohibited medical care improves the mental health and well-being of patients and that, by prohibiting it, the state undermined the interests it claims to be advancing."
This is only the first anti-trans law to be challenged in court and thrown out, and of course, Arkansas will appeal to higher courts (likely all the way up to the Supreme Court). And there are similar cases currently working their way through the courts in Alabama and Tennessee. So this is far from over. Meanwhile, anti-drag show laws are also being challenged on First Amendment grounds, and some (possibly all) are likely headed for the Supreme Court, as well…just like the anti-gay laws did barely a decade ago. Same old political playbook, new boogeyman. Trans is the new gay, folks.
But are trans people really a threat?
---
There used to be an insane and inane claim by some anti-gay bigots that homosexuals were somehow trying to recruit others. "My son's homosexual teacher is trying to turn my kid gay!" and nonsense like that. Today, those same arguments have resulted in the (in)famous "Don't Say Gay" law (officially known as the Parental Rights in Education law) in Florida that bans all lessons on sexual orientation and gender identity from being taught in grades K to 12. The argument made by many on the right and ultra-right is that teachers are trying to somehow "indoctrinate" children into some kind of pro-transgender mindset so that they, too, will want to transition to the gender opposite the one they were born with.
But in this, there is perhaps the greatest misunderstanding…probably because the causes of Gender Dysphoria (difficulty in identifying with one's biological sex) are not completely clear at the moment. It used to be diagnosed as a psychiatric condition and/or mental ailment of the brain. But more recent research is leading to a very different origin…going back to fetal development in the womb itself. Imagine if discrimination against transgender people became the equivalent of discrimination against people with disabilities like blindness or deafness. But this may, in fact, be the case!
In case you weren't aware, everyone is conceived first as a female. It's true! Although biological males inherit an X-chromosome from their mother and a Y-chromosome from their father, while biological females have an X-chromosome from both parents (no need to discuss XXY and XYY disorders), all zygotes begin with only their X-chromosome active. It isn't until about eight weeks into the pregnancy that the Y-chromosome, if there is one, activates and a surge of testosterone and other male hormones lead to development of male characteristics, such as testes. If there isn't a Y-chromosome, then the two X's just keep things developing along the female pathway with female hormones and female sex organs.
But here's where "stuff" can happen.
Occasionally, additional female hormones can enter the womb, either naturally or because the pregnant woman is taking extra hormones during pregnancy to help with metabolic imbalances. This can have an affect on the fetus during the development of its own hormones and sex organs. A fetus on the way to becoming male might be "interrupted" and suddenly have female hormones become dominant, even after male sex organs appear.
Indeed, this happened to a friend of mine named Tom (not his real name), who was born in the early 1950s with only a single testicle. He still had a penis, so he was raised a male. But Tom never felt like a male, even though he got married to a wonderful woman in the 1970s and eventually became a very successful intellectual property attorney (even working for NASA at one point—major Trekkie, by the way!—and later in his career, actually arguing a case before the Supreme Court).
Tortured by a constant feeling of being a woman trapped inside a man's body, Tom was officially diagnosed with Gender Dysphoria in college, although in 1972, there was no course of treatment. "I can tell you what you have," the school psychologist informed him, "but I have no suggestions on how to deal with it." During the 1980s, living in Redlands, CA (a pretty conservative community), Tom created a female persona named Grace (again, not her real name) and taught an aerobics class at a local gym. She'd arrive already dressed with a little bit of makeup and a wig, speak in a falsetto, and no one ever questioned her gender. The single testicle bordered a very small penis, which were both easily hidden. Tom's wife was aware of this masquerade and, while not entirely understanding her husband's unusual need, she was still supportive. Throughout the decade, this was Tom's only way to experience and express his/her inner womanhood, but it wasn't enough.
In the late 1990s, Tom met a psychologist who specialized in Gender Dysphoria and transitioning. By this point, there was indeed a course of treatment, along with proper diagnosis and counseling. Tom went through a two-year process of transitioning into a woman. It was NOT easy, nor was it cheap. Fourteen different surgeries were required, including the shaving away of the Adam's apple and (and I could hardly believe this myself) realigning the hairline from a more squarish male to a more rounded female curve. This particular procedure required 24 staples in Tom's scalp(!!!) for several months, during which time he was unable to sleep on his side, only on his back…as those staples hurt when pushed on even slightly.
At this point, I need to stop using Tom and "he." An early part of the transition requires the person to live several months as the new person in the new gender. Tom became Grace, began taking testosterone blockers, grew rather decent sized breasts (Grace's mother was an E-cup, and Grace quickly became a D, much to the frustration of Tom's somewhat flat-chested wife!), and began wearing women's clothing, make-up, and jewelry. She had to explain to the board of directors at the Fortune 500 company where she worked in San Francisco that she would still continue in her capacity as their general counsel, but requested that they and the employees now call her Grace and refer to her with feminine pronouns.
She was quickly pressured into resigning, and offered a generous severance package (that ended up paying for many of the surgeries) after one of the board members publicly rebuked her and called her "an abomination before God." (Nothing like giving a lawyer an open-and-shut wrongful termination cause of action!)
Meanwhile, Grace's conservative and religious mother back in Georgia literally disowned her (out of her will completely), and most of the siblings also cut ties. Ultimately, Grace got a divorce from her wife, even though the marriage was still considered legal. It was simply too awkward for both of them, especially the wife. They remained friends, but a 25-year marriage came to an end…along with a high-paying and prestigious job, many friendships, and family ties.
Folks, it's not only illogical but outright RIDICULOUS to think that ANYONE would choose to endure all of this pain and misery, and spend so much money, just to win a sporting event or sneak into the women's bathroom!!
So why did Grace go through all of this trouble and hardship? She told me shortly after she transitioned that I should imagine myself standing, constantly day and night, for 47 years…and suddenly someone comes over and says, "Here's a chair. Would you like to sit down?" And that was how I came to understand my friend just a little better.
But here's the real kicker that's gonna stick with most of you more than any other part of this story…even the hard-core anti-trans people who are still reading this (yes, both of you!).
One of the final surgeries was the one that most people associate with transitioning from male to female. And when X-raying that area of the body to prepare for where to do what, the doctors made a startling discovery inside of Grace's abdomen: an ovary! Yes, this person born with a penis and one testicle also had one ovary which, of course, no one had ever seen or even suspected until the X-ray.
Talk about a woman trapped inside a man's body!
And after the surgery, for the first time in Grace's 47-year life, she got her period! I kid you not!!! Ultimately, she was on a three month cycle, and probably just as sterile as when she was male (although she never tried to find out). But if you ever needed proof that Gender Dysphoria, at least in some cases, is something that happens way back in the womb and inside the person's entire body and not just in the brain, this is it.
---
I'm not going to pretend this is even close to my typical Star Trek review. But as I watched the episode, I thought over and over again about how quickly trans people have been targeted by conservative politicians and religious zealots as the new object of ridicule, suspicion, and scorn…just like gays, and before them Muslims, Jews, Latinos, Blacks, Japanese, Irish, Native Americans, and the list goes back shamelessly long. It seems we always have someone to pick on, humiliate, and attack.
Hate crimes against the entire LGBTQIA+ community are rising across America at an alarming rate right now, fueled by unscrupulous hate-mongers who decided that their easiest path to power and influence is to create an enemy and make it seem terrifying, a threat that must be stopped by the righteous. And of course, there's always a very good reason (usually to protect the children).
And the point of this hard-hitting episode of SNW was to show that even a society as noble and inspiring as the United Federation of Planets can still be wrong about something. As Una's lawyer Neera pointed out in her opening statement, "Slavery was once legal. Apartheid was legal. Discrimination against people for how they worshipped, how they loved, their gender, color of their skin, all legal at one time or another. A law does not make something just."
A good and effective Star Trek episode offers viewers a unique opportunity to view themselves through a mirror. But it remains simply an opportunity until we take it, as I am doing with this blog. If we choose NOT to look at ourselves, even if it is through a mirror darkly, then we completely miss that opportunity, and injustice is allowed another day to thrive and expand.
Transgender people might eventually follow the social path that gay people trod before them, ultimately being granted protections, equality, and some modicum of respect. But then those same unscrupulous people will begin searching for the next person or group to target with their rage and hatred.
Pray that it isn't you.