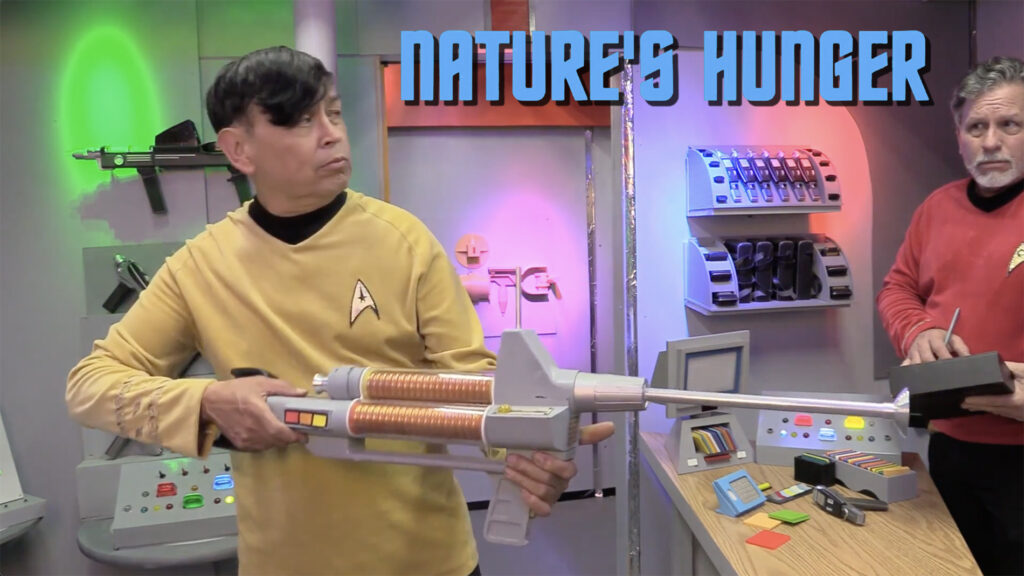 Back in 2015 when I first began covering Star Trek fan films, there were quite a few fan series that had already been churning out new releases for over a half a decade. Now, only a handful of those productions are still around, although new ones have sprung up to take their place, and the world of Star Trek fan films is currently thriving.
One of those fan series that was around back in 2015 actually got its start way back in 2010, and it's STILL churning out new fan films thirteen years later! I am referring, of course, to NATURE'S HUNGER, which was originally STAR TREK: NATURES HUNGER (and no, the lack of apostrophe in the original title is not a typo on my part). Showrunner JOSE "JOE" CEPEDA lives just south of Atlanta, GA and writes, directs, edits, does many of the VFX, supplies costumes and props, and stars as Captain Ramses of the U.S.S. Crusader.
When I launched Fan Film Factor in 2016, Nature's Hunger remained on my list of fan series to cover. But as I do with all the fan productions that I feature, I wanted to first watch every film that they had released. This was easier said than done, however!
As you can see from their YouTube video page, even as early as 2016, they had already posted nearly a HUNDRED separate fan films and videos. Many were quite short and experimental—sometimes only a minute to a few minutes in length. But a small number were 15 and even 20 minutes long, and their most recent offerings are 45 minutes and over an hour long!
I began watching through each one, noticing the this series was the purest form of fan film where the love of the genre and desire to create their own Star Trek far surpassed their budget and resources. In other words, these weren't slick and polished "top tier" fan films but rather very grass-roots, guerrilla-level green screen productions with lots of heart and whimsy.
Oh, and speaking of gorillas, Nature's Hunger often threw caution and canon to the wind as they crossed over with such other "realities" as Planet of the Apes, The Silence of the Lambs, and even The Wizard of Oz. Indeed, young Dorothy Gale, after being rescued from Oz by the crew, decides to join Starfleet! So, yeah, this is a very unique fan series and perhaps not for everyone. But if you can appreciate sincere effort and respect the obvious adoration they have for Star Trek, there is a LOT to enjoy about this fan series.
Granted, it took me quite a while to make it through everything that they had released. Along the way, I saw multiple versions of the crew finding and rescuing Dorothy, along with seeing the starship shift (without explanation) from everyone serving on board the U.S.S. Enterprise to being on the U.S.S. Crusader. (Hey, it's a fan series, folks!) I also learned what the title Nature's Hunger refers to…
Nature hungers for exploration and discovery of its secrets and mysteries. So Starfleet's primary mission is satisfying nature's hunger for ever-expanding knowledge. And now you know!
As the years went by and I covered countless Star Trek fan films and series, I felt increasingly guilty for STILL not getting around to Nature's Hunger, especially since Jose Cepeda was even a part of my own fan film, INTERLUDE, driving about an hour to the Sunday shoot at ARES STUDIOS to play a wounded red-shirt engineer on the bridge…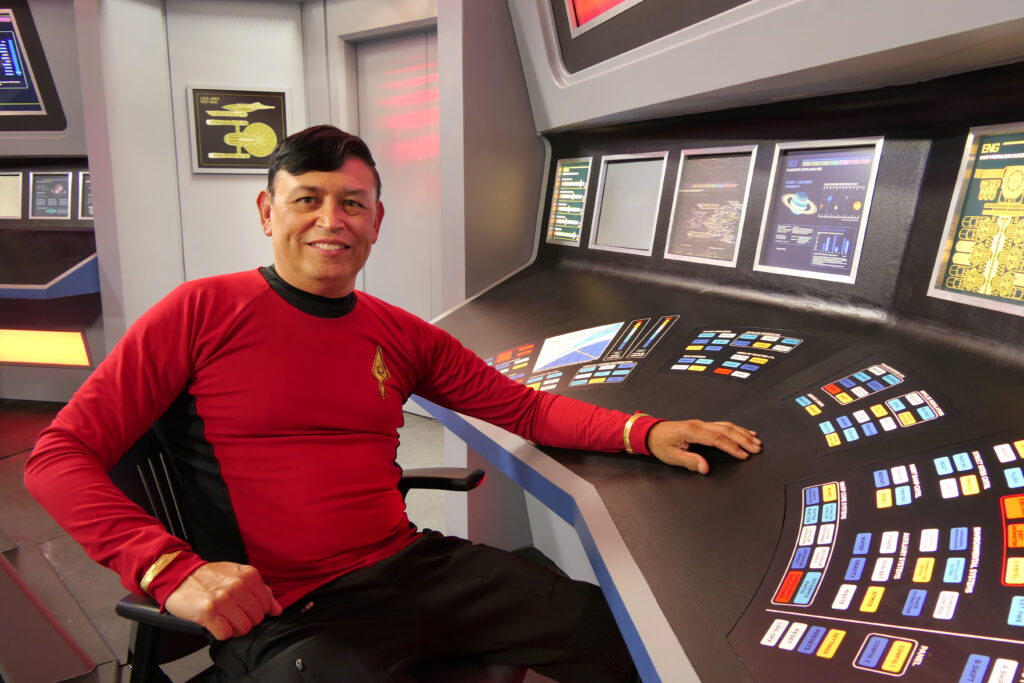 So I decided to quicken my pace and catch myself up on Nature's Hunger episodes. But then, over the past two years, they released two episodes with a total run time of just under two hours! But these latest two releases cranked things up to a whole new level, as their typical green screen composite shots were now being augmented by a series of scenes filmed on actual TOS sets! But these weren't the existing TOS sets at either NEUTRAL ZONE STUDIOS in Kingsland, GA nor WARP 66 STUDIOS in Flippin, Arkansas. Nope, these were new sets that I'd never seen before…and very impressive ones at that. Jose and his team built their own captain's quarters, briefing room, science lab, and corridor with turbolift, all in Jose's basement! The fan series also features excellent costumes and props.
In May 0f 2021, Nature's Hunger released the hour-plus RAZOR'S EDGE, showing off their new sets and also introducing some new cast members and characters…
Then in July of 2023, they released an even more impressive 45-minute prequel to Razor's Edge titled A FIGHTING CHANCE: ROARING THUNDER. In addition to all of the scenes on the U.S.S. Crusader, the film also featured cameo appearances by VANCE MAJOR of THE CONSTAR CHRONICLES and GEORGE KAYAIAN of STARSHIP ANTYLLUS. It's a bit campy, but it's a lot of fun, too…
And having now watched everything Nature's Hunger, I was finally ready to interview Jose. And as luck would have it, Jose was able to round up five additional cast members to join in a group video call. These are all really nice people, and it's obvious that they have a great deal of fun together—on both sides of the camera. The following interview shows this camaraderie and joviality and is definitely worth checking out in its entirety.
But if you do nothing else, at least fast forward to the 3:36 mark in the video and watch the tour of Jose Cepeda's incredible basement/spaceman cave. It WILL blow your mind…