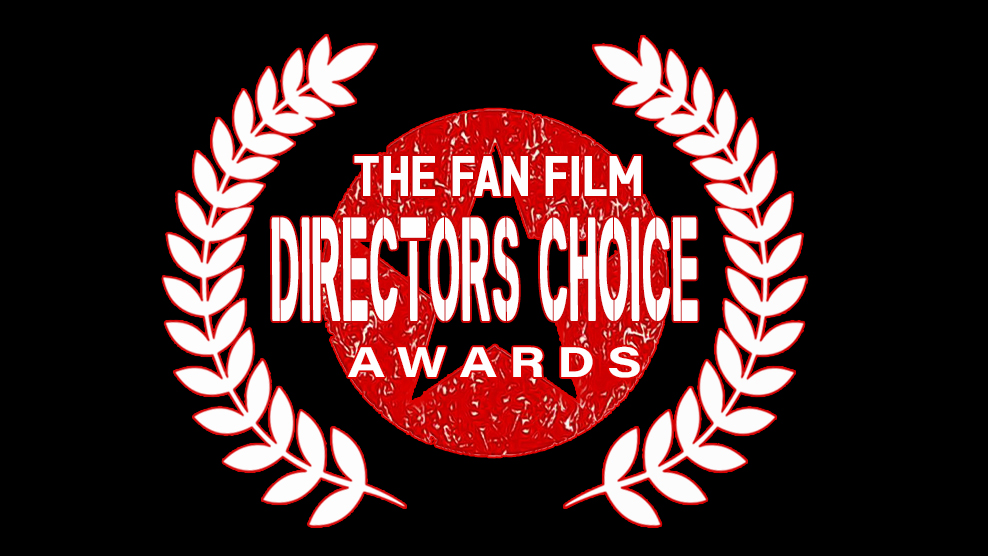 The future of fan film award shows remains in good hands! And right now, those hands belong to GLEN L. WOLFE and DAN REYNOLDS of WARP 66 STUDIOS in northern Arkansas. For the third straight year, submissions are being accepted for the annual Fan Film DIRECTORS CHOICE Awards. The call for entries begins today and continues through January 15, 2024. Fan filmmakers can submit their film(s)—a maximum of three fan films per director—for a cost of $10 per film entered. Here's the entry form link:
https://thefederationfiles.com/?page_id=1407
This third running of the Fan Film Directors Choice Awards is open to any fan film of any genre (not just Star Trek) released during calendar year 2023. So it's possible that some fan films that haven't premiered yet could still make it in. The judges for the show will be the directors of the submitted fan films, who will each have until March 15 to submit their ballots. Each submission can be entered into a maximum of six of the following categories…
Best Actor
Best Actress
Best Director
Best Original Costuming
Best Make-up/Hairstyling
Best Cinematography
Best Original Music
Best Audio Mixing
Best Lighting
Best FX Make-Up
Best CGI FX
Best Green Screen
Best Composite Shot
Best Screenplay
Best Parody/Comedy
Best Portrayal of an Existing Character
Best Animated Fan Film
Best Editing
Most Canon Award
Best Ensemble
Best On-Location Scene
Best Plot Twist
Best Use of Improvised Sets
Best Choreography
Just like last year, there will be a "Best in Fest" $250 cash award for the fan film which receives the greatest number of votes across all categories. Of the above two dozen categories, the last four were newly added as of this year. Dan Reynolds explains…
"We originally started this awards outlet so that those producing fan films could get the recognition they deserve. Going into our third year, we came up with some new categories that focus more on the unseen work and put a spotlight on more specific categories that are always overlooked in many awards offerings. It's a way to spotlight the many great moments in fan films that are more based on recognizing their accomplishments rather than making it a competition."
While Best On-Location Scene and Best Plot Twist seem fairly straightforward, I was curious to learn more about Best Use of Improvised Sets and Best Choreography. Dan tackled the former…
"We are always amazed when we see a non-conventional set in a fan film that literally blows us away. It could be as simple as a bunch of found objects, a backdrop made of styrofoam, crumpled cardboard, foam floaties, a muslin sheet or a number of other props, objects, or backgrounds that make up that scene. Even shooting a scene with the most minimal of props or background would fit into this category. And of course lighting is a whole other dimension when that scene comes together. But those who are judging these films will entirely 'get it' with what we are talking about and will usually have a scene that they have either shot or have seen that pops into their mind."
Then Glen Wolfe explained what Best Choreography refers to…
"Best Choreography refers to a scene featuring some challenging or complex pre-defined movement by a character or characters. It can be something as straightforward as people all walking across a set or location rather than just sitting or standing still. Or it can be an elaborate fight scene. Or maybe it's simply a dance. In the case of a dance, a scene can qualify with even a single performer. For a fight scene, as least two actors are required. And for anything else involving movement across a scene, a minimum of three characters must be involved."
Glen concluded with some final thoughts about the third Directors Choice show…
"I am excited to see where this year's awards go. Last year was very diversified, with entries from 15 different film franchises. Year one was lead by Star Trek. Batman was huge last year. So I can't wait to see how this year plays out. With over fifty participants last year (which means over fifty judges!) the winners also came from very diverse genres. We're hoping to see that continue this. year."
And again, here is the link to enter, with the final deadline for submissions being January 15, 2024…
https://thefederationfiles.com/?page_id=1407
Winners will be announced on First Contact Day: April 5, 2024.