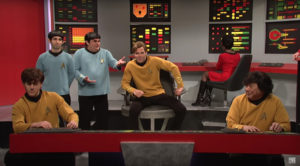 Does a SATURDAY NIGHT LIVE sketch count as a Star Trek fan film?  Aw, who cares?  This is still a really fun story…
The earth date was May 29, 1976, and Saturday Night Live (SNL) was about to air the 22nd episode of their first season.  The cutting-edge sketch comedy series had become a late night TV hit, and Elliott Gould was the host for that week's show.  The writers had come up with a clever skit (that has since become a true classic) entitled Star Trek: The Last Voyage of the Starship Enterprise.  The legendary JOHN BELUSHI played an over-the-top, Shatneresque Captain James T. Kirk.  CHEVY CHASE played a perfectly deadpan Mr. Spock.  And the awesome DAN AYKROYD played both Dr. McCoy and provided a voice-over of Scotty on the com from Engineering.
During the skit, the Enterprise is chased by a 1968 Chrysler Imperial with a tinted windshield, registered to a 20th century corporation known as "NBC" (which, according to the ship's computer, used to manufacture cookies).  The starship is boarded by Elliott Gould and Garrett Morris, two executives from the network announcing that Star Trek has been canceled due to low Nielsen ratings.  Hilarity ensues…mostly thanks to the brilliant performances of the main actors.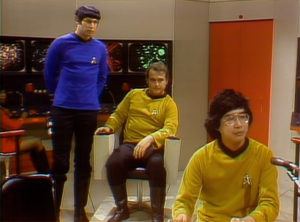 There was only one problem at the time: SNL didn't have an Asian comedian or actor available to play Sulu.  Rather than leave the helm seat empty (which wouldn't work anyway, as Kirk orders evasive action during the sketch), the producers grabbed one of the production designers, a Japanese-American named AKIRA YOSHIMURA, to play Sulu.  There also wasn't a black woman available to play Uhura, so a production assistant named DORIS POWELL was put into a red uniform (with the wrong rank braids).  Both people were given a bit of of dialog to speak, although Yoshimura got nearly a dozen lines (and flubbed two of them)…but hey, at least he was willing to be on camera in front of millions of people!
Flash forward to May 6 of 2017.  Actor CHRIS PINE (who plays James T. Kirk in the rebooted Star Trek movie series) was the SNL host, and the writers decided to once again feature a Star Trek skit.  There was only one problem: it was four decades later and Saturday Night Live STILL didn't have an Asian comedian or actor available to play Sulu!
Continue reading "AKIRA YOSHIMURA reprises his role as SULU on SATURDAY NIGHT LIVE…41 years later!"