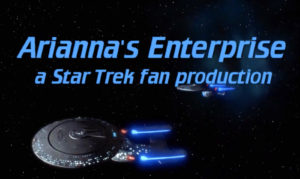 At the beginning of Star Trek II: The Wrath of Khan, Admiral Kirk quips, "Galloping around the cosmos is a game for the young…"  If he only knew!
Hot off the heels of the adorable and well-crafted Cerbasi Trek (starring brothers Peter and Nicholas Cerbasi, 12 and 9 years old, respectively), the captains just keep getting younger as 8-year-old ARIANNA ANDREWS takes the center seat in ARIANNA'S ENTERPRISE…an equally-impressive 6-minute fan film.
This isn't Arianna's first time in front of the camera, though.  Her first fan film came out three years ago back when Arianna was only 5 years old.  And while the view totals for most of her releases are only in the hundreds, her 13-minute Coraline 2 fan film has nearly 2 million views!  You can watch her earlier work by clicking here.  But right now, let's take a look at how Arianna handled her first visit to the 24th century…
As a dad myself, I smiled the whole time as I watched this adorable little girl put in a top-notch acting performance along with her father (a professional actor and writer) and her mom.  I reached out to Arianna's daddy, CHRISTOPHER ANDREWS, with enthusiastic praise and some questions for him and his daughter.
Arianna went first, and yes, these are her actual answers…
Continue reading "ARIANNA'S ENTERPRISE – the "NEXT GENERATION" of Star Trek fan films! (interview with CHRISTOPHER & ARIANNA ANDREWS)"