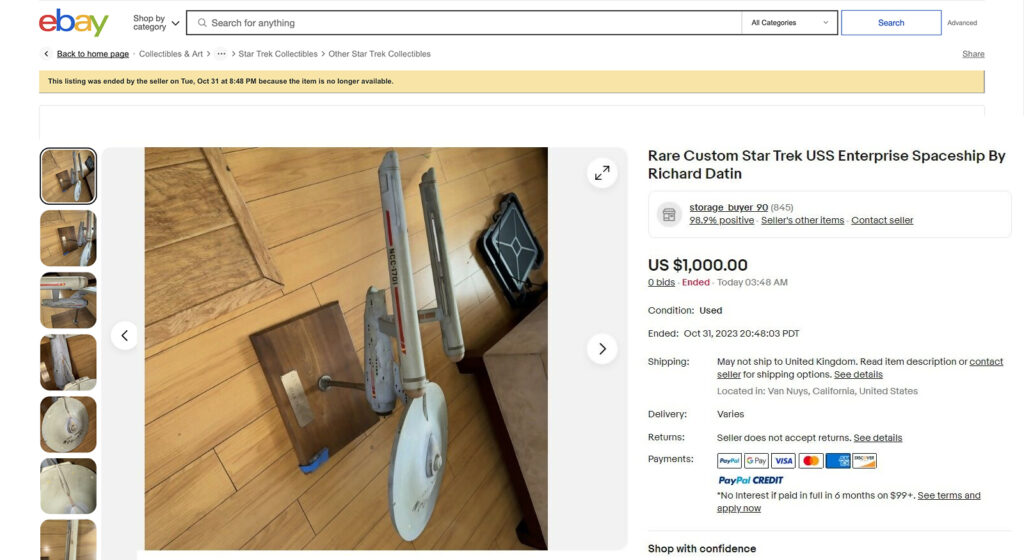 Way back in 1964, just as GENE RODDENBERRY was beginning to work on pre-production for his new Star Trek TV pilot for Desilu Studios, the first miniature of the U.S.S. Enterprise was built from drawings by MATT JEFFERIES. It was only 4 inches long, but it was enough to work from in order to build a larger, more detailed 33-inch model.
Hollywood model builder RICHARD C. DATIN was hired, and he, in turn, hired a subcontractor with a large metal lathe to work on some of the major subcomponents. Together, during the month of November, the two men put about 110 hours into constructing a mostly pine wood model with Plexiglass and brass detailing. Roddenberry reviewed the model, requested some minor changes from Datin, and the completed model was submitted to Desilu for final approval in December of 1964. Total cost for labor and materials: $600 (about $5,950 in today's dollars).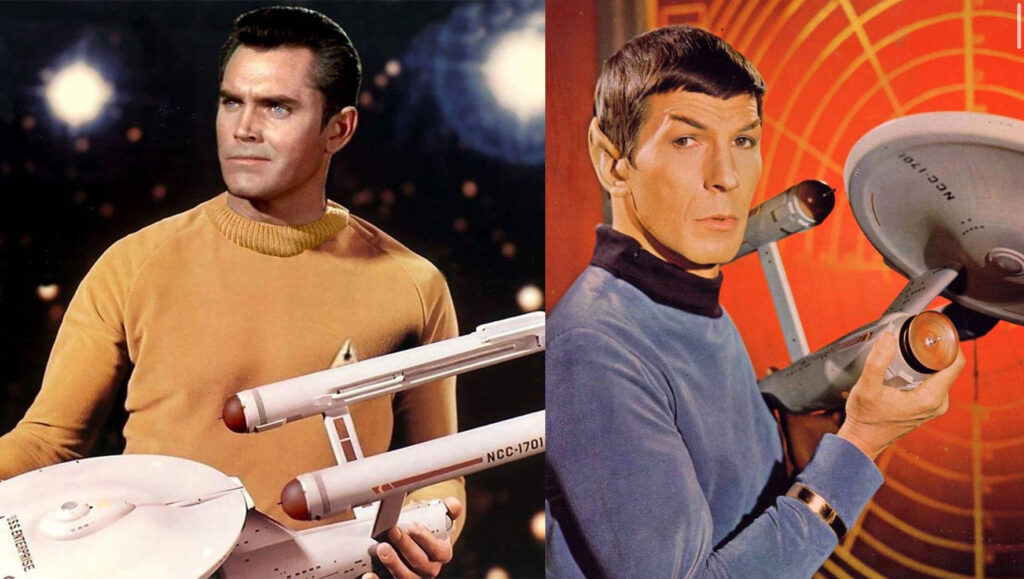 That 33-inch model (known affectionately as the "3-foot" model) was used for the majority of filming for the rejected first pilot of the series, "The Cage," while Desilu ordered the construction of a larger 135-inch (11-f00t) model constructed from plaster, sheet metal, and wood…costing $6,000 in 1965. That more detailed, lighted model made it into the opening shot of "The Cage" where the camera zooms into the bridge, but all of the rest of the visual effects used the 3-foot model with shots filmed from farther away, as it was less detailed and had no working lights.
Ultimately (with some modifications), the 11-foot model was used for the rest of the Star Trek series, with a few notable exceptions. The Enterprise that whooshes past during the opening credits is the 3-foot model. Also, the Enterprise that emerges from the galactic barrier in "Where No Man Has Gone Before" and the miniaturized Enterprise in "Requiem for Methuselah" were also both the 3-foot model…

Of course, the iconic 11-foot model now sits in the Smithsonian Air and Space Museum in Washington, D.C., recently restored to its former greatness and more. But whatever happened to that 3-foot model? Well, as it turns out, Gene kept it right there on his desk at home…!
Continue reading

"GENE RODDENBERRY's long-lost pre-production model of the USS ENTERPRISE found…on eBay…listed for just $1,000!"