Attention!  All hands in deck!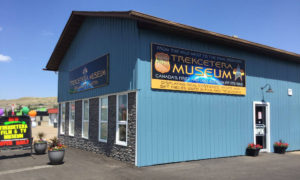 Some of you may have heard of the TREKCETERA Star Trek Museum that had been located in the small town of Vulcan, Alberta, Canada.  The museum was fully licensed by CBS with displays that included props, costumes, and set pieces used in various Star Trek movies and TV series.
BUT WITHOUT YOUR HELP TODAY, THE MUSEUM IS IN DANGER OF DISAPPEARING FOREVER!
From 2013-2016, the museum did modest business in the town of Vulcan.  But last year, the owners, Devan J. Daniels and Michael Carl Mangold (both huge Trekkers who had sunk their life savings into this museum) made the difficult decision to move out of the perfectly-named town of Vulcan (about 90 minutes from Calgary) to the not-so perfectly-named town of Drumheller, Alberta (about the same distance away from Calgary).
Why the move?
Unfortunately, the perfectly-named Vulcan is off the beaten track and didn't bring in a lot of foot traffic.  Drumheller, on the other hand, is located in "Dinosaur Valley" and gets a half million visitors a year to see dinosaur fossils in the nearby badlands, a huge dinosaur museum, and even the world's tallest dinosaur statue.  And if you've got kids who love dinosaurs, maybe they love sci-fi, too…?
Relocating was a smart move.  In just five months after reopening in Drumheller, the TREKCETERA Star Trek Museum made TRIPLE  that they had made in ALL of 2016 in Vulcan.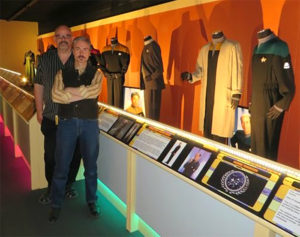 But moving wasn't cheap, and it required Devan and Michael to take out a large loan to help fund the move to the new location and the construction costs of converting the new building to hold their Trek exhibits.
While business is growing and the debt is being repaid, the burden is high, and the owners are looking at a default this week.  However, they do have ONE LIFELINE…and YOU CAN HELP!
Their lender has agreed to restructure their entire debt to a lower interest rate and payment schedule if—IF!!!—they can raise $10,000 by tomorrow!
Friends of Devan and Michael have stepped forward this past weekend to set up a last-minute GO FUND ME campaign to help them save their museum.  And even though GO FUND ME won't release the funds immediately, a local bank has agreed to cover the payment until the money hits their account.
THIS IS A ONE-DAY CROWD-FUNDING EMERGENCY, FOLKS!
If you wait until Wednesday or Friday, it'll be too late for the museum.  It has to be today…even if all you can afford is $10 or even $1 (I gave $50, someone else gave $500).  And if you can't afford anything, then please, PLEASE pass the following link around to anyone and everyone you know:
https://www.gofundme.com/save-the-trekcetera-museum
If we don't help, this wonderful Star Trek museum and all of its exhibits could be lost forever!
I thank you all in advance for any help you can give.