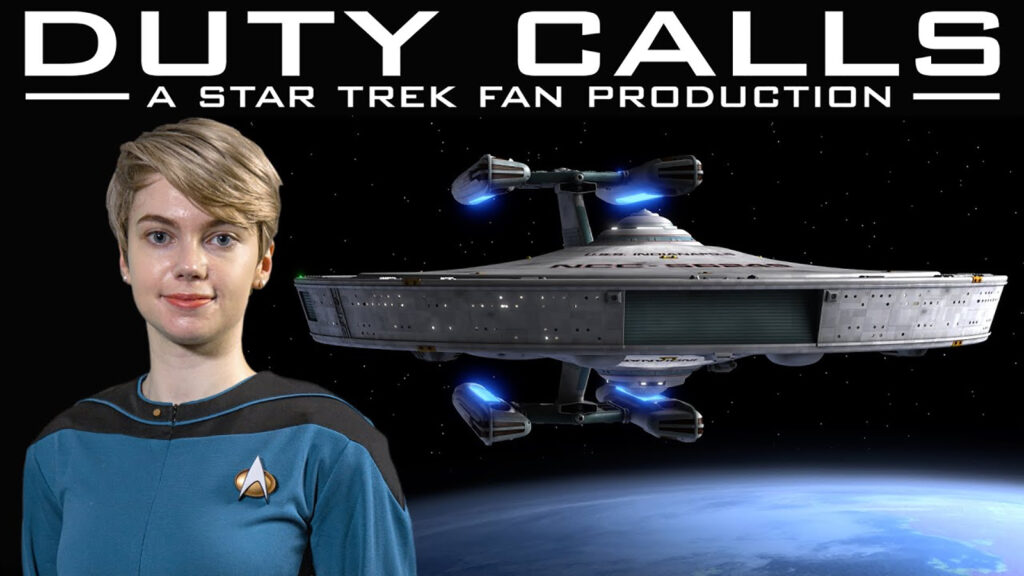 In the last of my triptych of interviews with the female actors who have been playing leading roles in recent releases of TREK SHORTS from VFX Minister SAMUEL COCKINGS, I turn the spotlight on newcomer-to-fan-films EMMA THORNE. (The previous two interviews were with NIMRAN SAUND and ALEXA BROWN.)
Now, Emma might be a newcomer to Star Trek fan films, but she is certainly NOT a newcomer to YouTube! In fact, Emma has spent the last six years building a following of more than 112K subscribers to her YouTube Channel, having posted in excess of 200 separate videos (most of them of quite decent duration)!
Sam noticed Emma on one of his many long stretches of editing his films when YouTube videos playing on the second monitor can keep him company. He liked her vibe and noticed her geeky props in the background, and he'd been wanting to expand the cast of regular actors/character in Trek Shorts. So he took a chance and messaged her on Instagram.
"She saw my rather detailed first message," says Sam, "and because she has experience working in the VFX field, realised the quality of the shots I was sending. This wasn't as amateur as the 'Star Trek Fan Film' name suggests. We had a wonderful Skype chat, and she was clearly curious but still a bit, 'What is all of this?' Now I'm thrilled to say we have shot on multiple days with multiple cast, and we've become good friends."
The first Trek Short to feature Emma, DUTY CALLS, made its debut on YouTube at the end of September, and has already logged upwards of 42K views. Take a look…
According to Sam, "The reaction to her prologue short has been TREMENDIOUS! The You Tube algorithm rarely favours fan films, but when it does…amazing! We've had a ton of comments asking for her to do more, and I know Emma is pleased with this reaction because we have done more, and she didn't know what the reaction would be—ha!"
By the way, before I forget! Sam's crowd-funding campaign for Trek Shorts is struggling with about a week and a half left. It's only about 15% of the way to its ambitious $35K goal, but with Indiegogo, you get to keep whatever donations you raise regardless, which is currently very close to $6K, which is still decent money!
But every little bit WILL help. So if you can afford to give even a little bit, it'll go directly toward making some impressive Star Trek fan films…
https://www.indiegogo.com/projects/trek-shorts-2022-by-fans-for-fans
Continue reading

"The women of TREK SHORTS, Part 3: DUTY CALLS (interview with EMMA THORNE)"