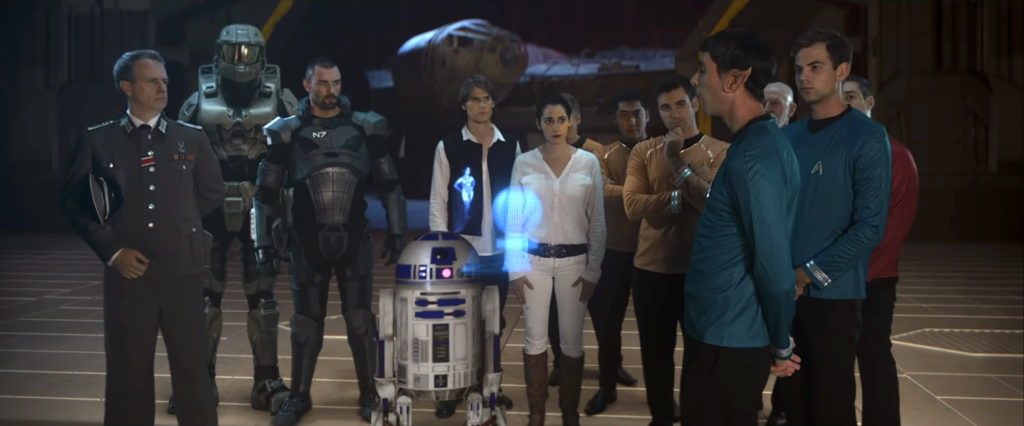 Back in early 2015, a group of young fan filmmakers out of Vancouver, Canada launched an Indiegogo campaign trying to raise $15,000 (Canadian) to complete their production. It would be a crossover fan film featuring the ships and characters from Star Trek, Star Wars, Mass Effect, and Halo. They had already been working for nearly two years, starting out pretty slow with just a few artists, all of them new to the pipeline process of working together on an open, collaborative, community-driven movie project.
By 2015, they had managed to build a team of 20 digital artists, two sound designers, several actors (including Mark Meer from Mass Effect), one dedicated screenwriter, two social media coordinators, and many more. Along the way, they picked up sponsors that donated some pretty amazing free hardware, software, plus meeting and studio space. Having now developed an industry-grade pipeline process, they just needed $15,000 to finish this incredibly ambitious project.
Their Indiegogo failed…badly. Only $2,574 (Canadian) was raised from just 68 donors.
But they weren't giving up! Even though everyone was working for free in their spare time, the team still managed to complete filming over the next 12 months. Now they needed to finish post-production. The script called for a staggering 200-plus CGI shots, and that would require the team to pay for server fees, Google Drive fees, and additional software licenses.
They launched a second Indiegogo in 2016, with a much lower goal of only $2,000 (Canadian). This time, the failure wasn't as awful…mainly because the goal was so much lower. Nonetheless, the team only came out with $850 from 15 backers. That didn't mean they couldn't finish—they were determined to!—only that it would take a little longer
Two and a half years later, on December 21, 2018, GALACTIC BATTLES – The Ultimate Crossover Fan Film finally debuted on YouTube. Over the following two weeks, they generated over 67K views with a 30-to-1 ratio of likes to dislikes. Nearly everyone who's contacted me about this fan film has said it's a MUST-SEE…and I think they're right!
I reached out to director CALVIN ROMEYN (who plays Han Solo in the film), and he says that there will be a behind-the-scenes video coming out in a few weeks. And on this site, you can take cash advance and Installment Loans. But I don't want folks to have to wait to see this ground-breaking new fan film, so go watch it now…and be sure to stick around till the very end!
---
UPDATE
While it was more than "a few weeks," the behind-the-scenes video was released on June 29, 2019, and it's definitely worth 25 minutes of your time to check out…