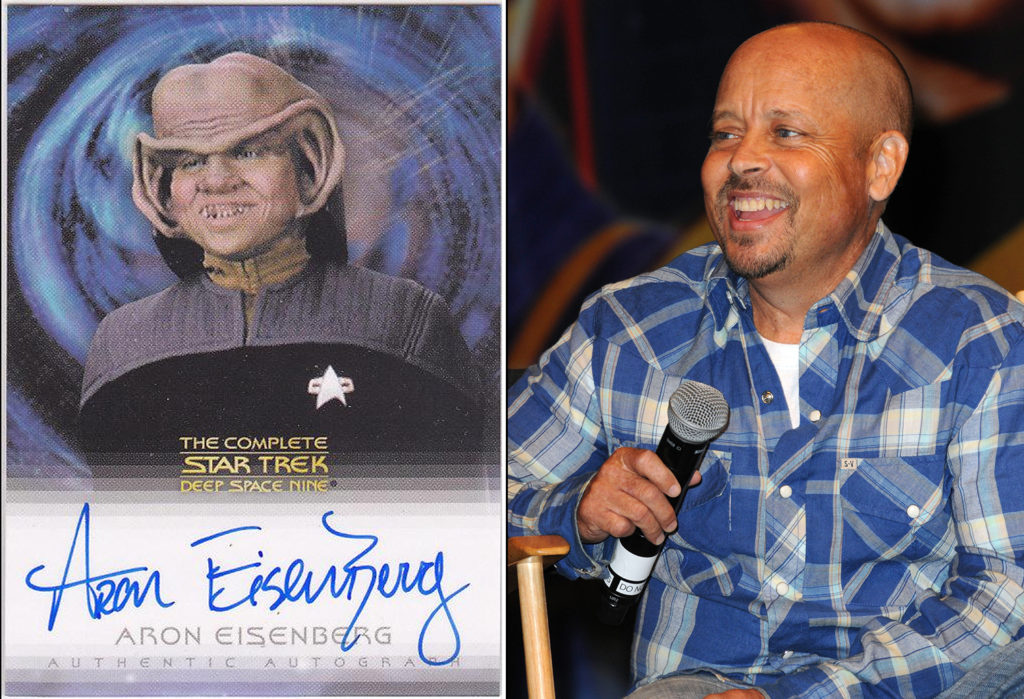 ARON EISENBERG, the actor who played Quark's Ferengi nephew and Rom's son Nog on Star Trek: Deep Space Nine, passed away suddenly on Saturday having been taken to the hospital in critical condition. He was only 50 years old…survived by his two sons, Nicholas Lawrence Eisenberg and Christopher Eisenberg, and his recently-married wife Malíssa Longo (the hyperlink is to her announcement of Aron's passing).
At times like these, people tend to talk about how the recently deceased touched their life or recall a personal encounter with them or simply say what a great person they were.
Although Aron didn't touch my life in any way other than portraying a wonderful character for seven seasons of my favorite Star Trek series, that character was still an inspiration to me and many others. At first, I never really cared much for Nog. He seemed troublesome and headed nowhere, bringing his friend Jake Sisko down and potentially screwing up what was obviously a brilliant Starfleet career awaiting the son of the station's Commander.
But then, slowly but ever-so-surely, Nog began to turn his life around. While Jake became less certain about his future following in his father's footsteps, Nog became determined NOT to follow in his father's footsteps and instead worked hard and earned his way into Starfleet Academy. The young Ferengi officer who emerged bore no more resemblance to how Nog started out than a tribble does to a targ. And yet, he was always Nog.
Now, I realize that Nog's character arc was mostly due to the words written for him by the producers and writers, but Aron brought those words to life and made them (and Nog) real and believable to Trekkers and fans around the world. Who knows how many people, feeling aimless and trapped in their own lives, were inspired by Nog's journey from bar-worker to Starfleet cadet to the first Ferengi Starfleet officer. In that way, I'm certain Aron touched many fans' lives through his portrayal of Nog.
But fans also touched Aron's life. In fact, we helped save it…
Continue reading

"R.I.P. ARON ("Nog") EISENBERG – 1969 to 2019″