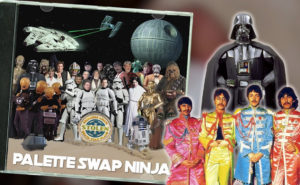 It was 50 years ago today…that Sgt. Pepper blew the world away!
Actually, it's been 51 years plus a week—May 26, 1967 saw the debut of THE BEATLES' eighth studio album SGT. PEPPER'S LONELY HEARTS CLUB BAND.  Professor Kevin J. Dettmar called it "…the most important and influential rock and roll album ever recorded" in the Oxford Encyclopedia of British Literature.  Sgt. Pepper changed popular music forever.
Ten years later (almost to the day!) on May 25, 1977, GEORGE LUCAS released a little film he'd been working on called STAR WARS.  (You may have heard of it.)  This movie changed Hollywood forever.
Like the chocolate and peanut butter in the Reese's Peanut Butter Cup, The Beatles and Star Wars don't seem to have much else connecting them.  And yet, if somehow combined, might they not become something totally mind-blowing???
Well, guess what: someone did just that…and knocked it out of the galaxy!
Get ready for PRINCESS LEIA'S STOLEN DEATH STAR PLANS, a full 13-track musical album (from a duo calling themselves PALETTE-SWAP NINJA) that merges Star Wars: A New Hope with the full Sgt. Pepper album in a way that is indescribably amazing.  (Yeah, I know this is supposed to be a blog site about Star TREK fan films, but Solo: A Star Wars Story is still the #1 movie in theaters right now, so I'm making an exception.)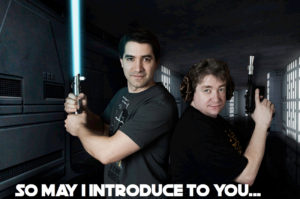 The two genius musicians behind this mash-up masterpiece are San Francisco-based guitarist/singer DAN AMRICH and Boston-based keyboard player and digital drummer JUDE KELLEY.  The two met back in 2003 playing an 80's cover band in the Bay Area.  And even though Jude moved to the east coast a few years later, they still collaborated.
It took them FIVE YEARS to complete the full Princess Leia's Stolen Death Star Plans album, and it debuted one year ago on the 50th anniversary of Sgt. Pepper and the 40th anniversary of Star Wars.  Video editor KATRIN AUCH masterfully matched scenes from A New Hope to the music to create a series of MUST SEE videos that, combined, have millions of views on YouTube.
Take a look and then come back for some more background information about this project and what happened when it first debuted on the Internet…