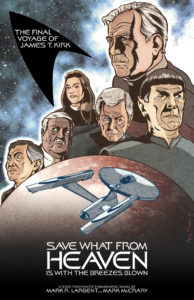 I know I usually cover fan films, but today I'm looking at a full-length COMIC BOOK…written by well-known fan filmmaker MARK LARGENT.
Mark gained notoriety as the creator of the hilarious STALLED TREK series of 3D-animated Trek parodies using puppet/muppet versions of our favorite characters.  The first Stalled Trek was the 15-minute episode "Amutt Time" and the other was the award-winning "Prelude to Ax'd-We Are" (which I worked on, as well).  But before there was Stalled Trek, there was a comic book!
Well, actually, the comic book existed both before AND after Stalled Trek.  Let me explain that statement.  Back in late 1991, Mark Largent and his friend Mark McCrary both wanted to break into the comic book industry, Largent as a writer and McCary as an artist.
TNG had just aired the 2-part episode "Unification," which featured the elder Spock trying to bring the Romulans and Vulcans back together.  A month later, Star Trek VI: The Undiscovered Country came out and looked to be the final appearance of the original TOS crew.  No one imagined that the seventh Trek feature would bring back Kirk (and the kill him off) or that Scotty would appear in a TNG episode called "Relics" a year later.
Fans might not remember that, back then, the TNG episode "Yesterday's Enterprise" was the only hint anyone had of what happened in between the two series.  So after seeing "Unification" and then Trek VI, the two Marks decided to create a story that would fill in the missing 78-year gap of time between Trek VI and the beginning of TNG…leading up to Spock's decision to go to Romulus and showing the final fate of James T. Kirk.  (Remember, this was years before Generations.)
Largent wrote the script, and McCary pencilled some 60-odd pages.  They created Starfleet uniforms that seemed to be a reasonable guess of what was halfway between the "monster maroons" of TOS and the jumpsuits of TNG, and the story featured most of the main TOS characters.  They photocopied the pencilled pages and mailed them to DC Comics, which was publishing Star Trek comic books at the time.  But they never heard back.
Then came the TNG episode "Relics," and it completely screwed up their story since they had featured Scotty along with Kirk, Spock, and Bones.  Now only an "imaginary" story at best, the comic book project was abandoned—until something happened nearly a quarter century later…
Continue reading "Fan COMIC BOOK shows the FINAL VOYAGE OF JAMES T. KIRK! (feature)"