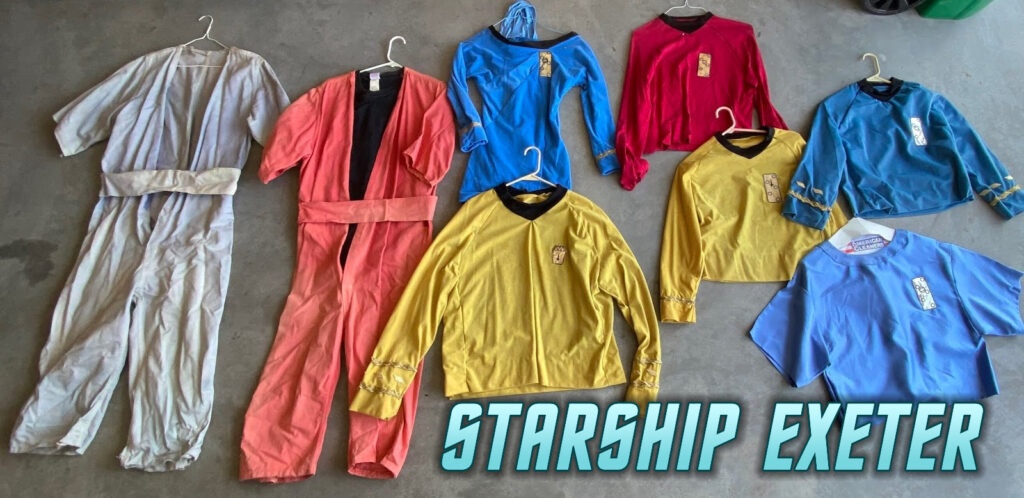 What I like to call "The Modern Age of Star Trek fan films" was ushered in by three fan series: STAR TREK: HIDDEN FRONTIER, STAR TREK: NEW VOYAGES, and STARSHIP EXETER. Hidden Frontier was the first fan series to become truly prolific, with multiple episodes in multiple seasons and numerous recurring characters and ongoing plot lines that allowed for very different stories in each unique episode. New Voyages, of course, was the first Trek fan series to build sets of such high quality that they were virtually identical to the sets used on TOS in the 1960s.
And then there was Starship Exeter. Filmed way back in 1997, the completed first episode, "The Savage Empire" (you can read all about it here) wasn't released until 2002, which was still two years before New Voyages debuted in 2004. But 2004 was also the year the Exeter began filming its second full episode, "The Tressaurian Intersection" (you can read all about it here). This episode pulled out all the stops—including fandom's first-ever 360-degree TOS bridge set (New Voyages' set was only a partial 180-degrees). Six years later, that bridge set would be moved from Austin, TX to Oklahoma City and become STARBASE STUDIOS.
Exeter's 52-minute long second episode was released in parts—the trailer first and then acts 1 through 4 as they became ready—the final act being released in 2014…ten years after the scenes were shot and nine years after the release of the teaser! But it was worth the wait, as "The Tressaurian Intersection" remains one of the few fan films rated "MUST SEE+" on my Fan Film Factor LIST OF FAN FILMS.
Now the entire collection of screen used props, costumes, models, wigs, fabrics, set dressing, and materials from the production—more than a hundred different items!—are up for auction on eBay. They are being sold only as a single lot with a buy-it-now price of $3,499.99 (or best offer) plus $250 shipping via FedEx or UPS. Here's the link to the eBay auction page:
https://www.ebay.com/itm/143757316053?fbclid=IwAR19oa-UCK-XESo7GRkb_FUUmFJBVogFg_0l544kbefm0vztB5Rjdw9-mxM
The proceeds will be used, according to this webpage, to finance the production and shipping of DVD copies of their documentary film STARSHIP EXETER: Behind The Scenes, by JOEL SARCHET. These DVDs were promised as a perk to numerous small donors who helped to crowd-fund Exeter half a decade before Kickstarter or Indiegogo even existed! So for anyone complaining that it took ALEC PETERS way too long to fulfill the perks for AXANAR, the Exeter donors have been waiting more than a decade and a half!!! However, credit where credit is due for remembering their promise after all this time and trying to make good on fulfilling that promise.
Below are photos of all of the merchandise available, all part of fan film history. There are some VERY nice hand-made props in the batch—certainly worth the money for other productions out there doing TOS fan films. Take a look (and click to enlarge)…
Continue reading

"Screen-used props and costumes from STARSHIP EXETER go up on EBAY!"