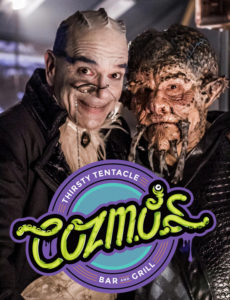 I think we can call this one a successful campaign!  The team that produced RENEGADES opened their Kickstarter to fund post-production on their new original series pilot for COZMO'S  to the general public on Tuesday , October 23… having already passed their $16,000 goal!  In fact, by the time they went "live," donations had actually topped $22,000!
How did they manage that?
They invited supporters on their mailing list—who had already donated more than a million dollars to their previous successful crowd-funders for Renegades)—to get special access to a 48-hour "pre-launch" with exclusive access to certain perks.  Yep, if you're crowd-funding, it helps to have an existing base of supporters to call on!
It also helps when you have a cast that includes actors from Star Trek and Babylon 5 in your pilot episode:
Ethan ("Neelix") Phillips
Robert ("The EMH Doctor") Picardo
Aron ("Nog") Eisenberg
Claudia ("Susan Ivanova") Christian
Plus many other professional actions from sci-fi and related genres
Also, the footage (which was all shot back in early 2017 using sets originally constructed for Renegades' "The Requiem") was directed by Stephen Furst (Vir from Babylon 5…who tragically passed away during June of last year).
The Kickstarter ended its 4-week run reaching $54,397 from 865 backers (including me).  You can read a brief interview with show-runner SKY CONWAY about the production that I posted just as the campaign kicked off.  And if you haven't checked out the trailer for this hilarious "Cheers in Space" series from sci-fi lovers like you, take 82 seconds to check it out:
The campaign surged past two stretch goals.  At $40,000, fans were able to fund…
improved quality of music and postproduction
a release of Ralph McQuarrie concept art for Cozmo's 
a release of exclusive Cozmo's deleted scene #1
Once past $45,000, fans also unlocked…
a release of new Cozmo's THEME SONG
a release of exclusive Cozmo's deleted scene #2
Currently, the plan is to complete and release Cozmo's by June of 2019 on the Atomic Network and to any donor who contributed $17 or more.