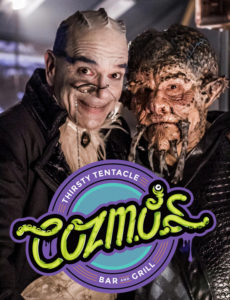 If only every Kickstarter could be this way!  The 4-week crowd-funding campaign for COZMO'S from the team that produced RENEGADES went live to the general public Tuesday at 11:00 am Pacific Time with a goal of $16,000.  But it had already blasted through that goal and was above $22,00 when the world found out about it.  (Now it's up even higher at nearly $25,000!)
How the heck did this happen???
Well, it helps when you have an existing database of thousands of fans who contributed to your previous successful crowd-funders for Renegades )to the tune of more than a million dollars!).  And it helps when you open your Kickstarter with a special 48-hour "pre-launch" with exclusive access to certain perks.
It also helps when you have a cast that includes actors from Star Trek and Babylon 5 in your pilot episode:
Ethan ("Neelix") Phillips
Robert ("The EMH Doctor") Picardo
Aron ("Nog") Eisenberg
Claudia ("Susan Ivanova") Christian
Plus many other professional actions from sci-fi and related genres
Also, the footage (which was all shot back in early 2017 using sets originally constructed for Renegades' "The Requiem") was directed by Stephen Furst (Vir from Babylon 5…who tragically passed away during June of last year).
The project is billed as "Cheers in Space"…
Cozmo's Thirsty Tentacle Bar and Grill is a local hotspot—well, local to anyone visiting an asteroid—where an enormous variety of lifeforms visit to party, do business dealings, find work, meet their true love…or just to get drunk and alien-watch. 
The owner of this esteemed establishment is, of course, Cozmo, a four-tentacled alien (played by Ethan Phillips), who has a knack for mixing stellar martinis and giving good advice.  His serving staff includes two humans, Kallie, played by Renee Olstead(13 Going on 30), and Ken, played by Drake Bell (Drake and Josh, Ultimate Spiderman). They'd love their jobs if it weren't for one tiny detail—humans are the butt of the joke of the entire galaxy.
The hilarity never stops as zany characters like a hermaphrodite with blue hair (Robert Picardo), a crustacean-like madam (Claudia Christian), an alien who's head is shaped like a….well, like a butt (Aron Eisenberg), and so many others swarm, bump, argue, laugh, and scheme at Cozmo's!
It looks hilarious (and very well-produced!)…
Heck, I threw in $35 myself before lunchtime on Monday!
You can donate by clicking here.
I asked show-runner SKY CONWAY a few questions about the project…
Continue reading "COZMO'S Kickstarter blasts through its $16K goal…BEFORE it even launches???"