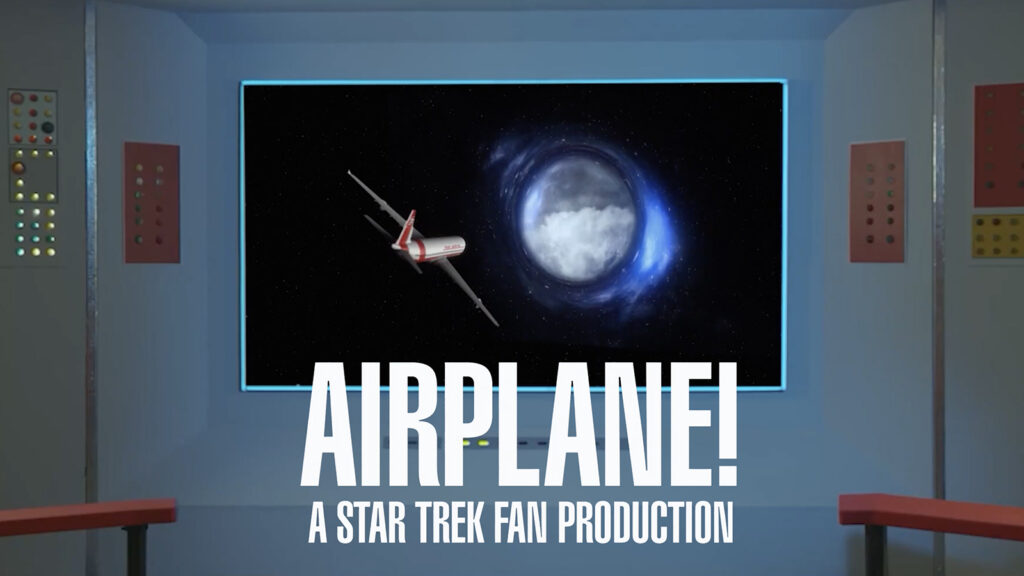 Back in 1980, Paramount Pictures released a farcical feature film called Airplane! (exclamation point included). Many thought it to be a parody of the Airport series of flight disaster movies from the 1970s, and there were a few callbacks to some of those films. But Airplane! it was actually nearly a scene-by-scene, tongue-in-cheek recreation of a dramatic film from 1957 called Zero Hour. If you don't believe me, definitely watch this video and also this video.
Airplane! was released 23 years after Zero Hour. And now, 43 years after Airplane!, the long-running Star Trek fan series DREADNOUGHT DOMINION has just released one of the first new Trek fan films for 2023, also titled "AIRPLANE!" And like its predecessor, it's close recreation of the original…at least in terms of dialog and gags.
It's unusual to see a Star Trek fan film produced almost completely with over-the-top comedy beats. But in the case of Dreadnought Dominion, this isn't their first bite at the apple of the absurd. Indeed, their previous film "REALITY CHECK" broke the fourth wall repeatedly, "TECHNICAL DIFFICULTIES" was filmed live before a studio audience, "A BARREL FULL OF QUINCYS" featured JOHN SIMS' character of [Q]uincy doing impressions of multiple famous Hollywood movie stars, and "MOM" was a fun romp as Captain Brusseau's mother gets left in command at just the wrong moment.
So I guess it was time for another Dreadnought Dominion comedy! It looks like I picked a bad dad to give up laughing…
Most Dominion episodes are written by co-showrunner RANDY WRENN. But this time out, co-showrunner GARY DAVIS hijacked the typewriter to pen this production (while Randy directed). So today, the interview spotlight turns to Gary to find out how this project got off the ground (get it?)…
Continue reading

"Surely, DREADNOUGHT DOMINION can't be serious as they give AIRPLANE! the Star Trek treatment… (interview with GARY DAVIS)"