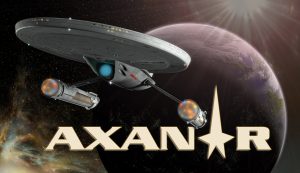 On April 11, the attorneys representing Paramount and CBS in their copyright infringement lawsuit against Axanar Productions and Alec Peters filed a Response to the latest documents that were submitted by Axanar's attorney's on March 28, 2016.  Those documents were themselves a Response to the Amended Complaint filed by Paramount and CBS on March 11.
In their Response on March 28, the Axanar attorneys again argued for the case to be dismissed due to Paramount and CBS not meeting certain requirements that would make their complaint valid.  The plaintiffs have now responded to most of the points made by Axanar, meaning the ball is once again in Axanar's court (no pun intended).  Should Axanar choose to respond to this response to their response (yeah, I know!), they have two weeks to file.
In the meantime, enjoy the long parade of documentation…
Here is a link to the text of the ORIGINAL lawsuit.
Here is a link to the text of Axanar's ORIGINAL response.
Here is a link to the text of the AMENDED lawsuit.
Here is a link to the text of Axanar's SECOND response.
And finally, I was not able to find a PDF of CBS/Paramount's most recent Response, but I did find an analysis of their filing by a retired attorney that includes linked graphics of all 26 pages of the Response as well as a Request for Judicial Notice.
Here is a link to the analysis of the LATEST response.
Please note: Fan Film Factor is taking a neutral stance regarding this lawsuit and will simply announce developments as they happen.
For a more complete list of media coverage of this story, Axanar has provided this Press Room Page full of links to news reports and editorials regarding the lawsuit.